Looming climate catastrophe?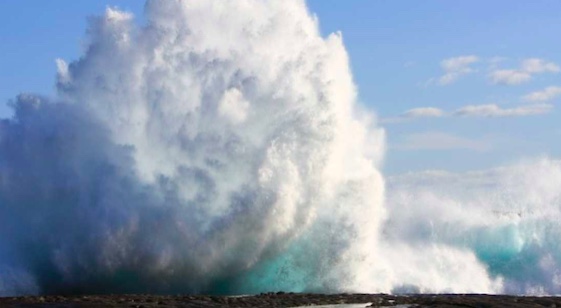 A methane hydrate deposit erupts suddenly from the sea floor off the northern coast of Norway

Reports from the Arctic are getting pretty grim.
The latest, from a blog called Arctic News, warns that by 2026 — that's just nine years from now — warming above the Arctic Circle could be so extreme that a massively disrupted and weakened jet stream could lead to global temperature rises so severe that a massive extinction event, including humans, could result.
This latest blog post, written by Arctic News editor Sam Carana, draws on research by a number of scientists (linked in his article), who report on various feedback loops that will result from a dramatically warmer north polar region, even in winter. But the critical concern, he says, is methane already starting to be released in huge quantities from the shallow sea floor of the continental shelves north of Siberia and North America. That methane, produced by bacteria acting on biological material that sinks to the sea floor, for the most part, is currently lying frozen in a form of ice that is naturally created over millions of years by a mixing of methane and water, called a methane hydrate. Methane hydrate is a type of molecular structure called a clathrate. Clathrates are a kind of cage, in this case made of water ice, which traps another chemical, in this case methane. At normal temperatures, above the freezing temperature of water, these clathrates can only form under high pressures, such as a 500 meters or more under the ocean, and indeed such clathrates can be found under the sea floor even in places like the bottom of the Gulf of Mexico, where the temperature is 8-10 degrees above freezing. But in colder waters, they can exist and remain stable at much shallower levels, such as a in a few hundred feet of water off the coast of Alaska or Siberia.
The concern is that if the Arctic Ocean waters, particularly nearer to shore, were to warm even slightly, as they will do as the ice cap vanishes in summer and becomes much thinner in winter, at some point the clathrates there will suddenly dissolve releasing tens of thousands of gigatons of methane in huge bursts. Already, scientists are reporting that portions of the ocean, as well as shallow lakes in the far north, look as though they are boiling, as released methane bubbles to the surface, sometimes in such concentrations that they can be lit on fire with a match as they surface.
As Carana writes:

"As the temperature of the Arctic Ocean keeps rising, it seems inevitable that more and more methane will rise from its seafloor and enter the atmosphere, at first strongly warming up the atmosphere over the Arctic Ocean itself — thus causing further methane eruptions — and eventually warming up the atmosphere across the globe."

A news collective, founded as a blog in 2004, covering war, politics, environment, economy, culture and all the madness
Source:
http://thiscantbehappening.net/node/3442