Apocalypse island: Tech billionaires are building boltholes in New Zealand because they now fear social collapse or nuclear war. So what do they know that we don't?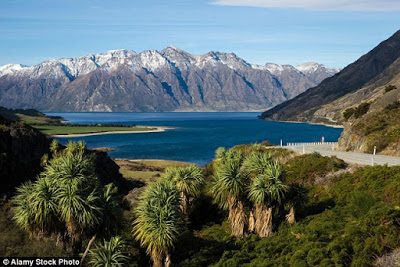 New Zealand – thousands of miles away from North Korea, ISIS and all the social tensions in Europe and the United States – is seen as the ideal 'safe' place for billionaires
You're all set — your bags were packed long ago, there's a dozen solid gold coins stashed inside your belt and a pistol strapped round your waist.
There's no need to say goodbye to the wife and children as they're already waiting for you 6,000 miles away in
New Zealand
, having slipped off quietly at the first whiff of global catastrophe.
Now, they're making themselves comfortable in that fortress home you've spent years preparing. They've got store-loads of food and enough guns and ammunition to start World War III – which might, anyway, have begun by the time you arrive.
New Zealand – thousands of miles away from North Korea, ISIS and all the social tensions in Europe and the United States – is seen as the ideal 'safe' place for billionaires
The high-powered motorbike you've never used is waiting outside to whisk you to the private airport where your plane sits waiting.
A helicopter-ride at the other end, pull up the drawbridge — yes, you have one — and you're ready to wait, for years if necessary, for civilisation to return.
Never mind the warnings about stocking up on vegetables after awful weather has ravaged the Mediterranean farming belt. Some of America's richest people are spending billions quietly preparing for a global Apocalypse.
The world of Doomsday survivalists or 'Preppers' — those preparing themselves for total social collapse — is usually associated with wild-eyed eco-beardies hiding in the woods.
Nuclear war is just one of the fears driving the billionaire 'refugees'
But the existence of a very different group of Preppers was laid bare by a political row in New Zealand this week.
Attracted by a remote First World country that has the potential to be self-sufficient and is on no one's list of nuclear targets, the super-rich kings of Silicon Valley and Wall Street are buying up vast tracts of its land — in anticipation of the day when they may need to live there.
The controversy has revealed the extraordinary precautions being taken by the mega- rich to ensure that WTSHTF — a crude survivalist acronym for 'when the **** hits the fan' — they and their loved ones will be safe and comfortable.
What the catastrophe will precisely be remains unclear, but possibilities include a devastating asteroid impact, giant earthquake, nuclear war, civil war, pandemic, zombie invasion and the Second Coming.
Tellingly, the geeks of Silicon Valley appear to be most worried that it will be a struggle between rich and poor in a world economy turned upside down by new technology — with them as the main targets.
The row in New Zealand involves scores of mega-rich Americans but has specifically centred on Peter Thiel, the billionaire founder of the internet payment system PayPal and an early investor in Facebook.
Thiel, a libertarian supporter of Donald Trump, paid $10million for a 477-acre lakeside estate in the country's beautiful but isolated Southern Alps, which provided much of the staggering landscape in the Lord Of the Rings and Hobbit films.
Amid a public outcry over the invasion of U.S. internet and finance billionaires, the New Zealand government has released papers detailing the 'exceptional circumstances' under which the American tycoon was quietly given a New Zealand passport.
Peter Thiel (pictured, centre) is a big supporter of Donald Trump but he has an insurance plan if it all goes pear-shaped, having bought a 477-acre estate in New Zealand
It is difficult to understand how this complied with the rules, including one that insists foreigners must live there for three years beforehand.
Mr Thiel has gushed about his 'great pride' in his new citizenship and how he has 'found no other country that aligns more with my view of the future'.
Perhaps what he really meant was exposed, after one of his Silicon Valley chums, the venture capitalist Sam Altman, revealed that, at the first sign of global disaster, he and Thiel would fly to New Zealand.
Other uber-rich Americans who have recently bought homes there include the billionaire hedge-fund pioneer Julian Robertson and the Hollywood film director James Cameron.
Local estate agents say their U.S. clients rarely intend to live in New Zealand, but cite reasons for their purchases such as the toxic presidential election and the spate of mass shootings in America.
In the first ten months of last year, foreigners — mainly Australians and Americans — bought nearly 1,400 square miles of land there, more than four times what they bought in the same period the previous year.
When they're not buying up land abroad (Chile is also popular as it has low taxes, a good climate and good air links), rich survivalists like to swap tips on private Facebook groups or at regular dinners.
Popular subjects range from buying internet currencies such as Bitcoin, as protection against a central banking meltdown, to which foreign countries are most likely to hand them a passport and so the chance to relocate there in a crisis.
Some have planned for every eventuality. Steve Huffman, the 33-year-old co-founder of the internet discussion forum Reddit, which is valued at $600 million, is one of several Silicon Valley barons who has had laser surgery to correct poor eyesight.
If society collapses, he reasons perversely, getting hold of new spectacles might be a challenge. Ammunition could run out, too. ..
Read more »
If you enjoy the TradCatKnight blogs, please recommend above as a contributor!
Watch Related Videos and Read more at link above!