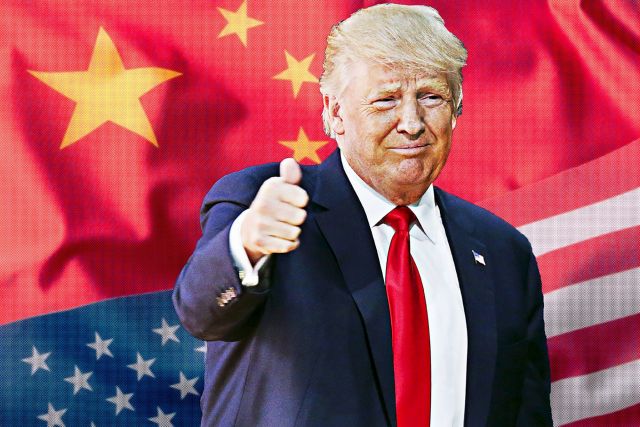 President Donald Trump declared China the "grand champions" of currency manipulation on Thursday, just hours after his new Treasury secretary pledged a more methodical approach to analyzing Beijing's foreign exchange practices.
In an exclusive interview with Reuters, Trump said he has not "held back" in his assessment that China manipulates its yuan currency, despite not acting on a campaign promise to declare it a currency manipulator on his first day in office.
"Well they, I think they're grand champions at manipulation of currency. So I haven't held back," Trump said. "We'll see what happens."
During his presidential campaign Trump frequently accused China of keeping its currency artificially low against the dollar to make Chinese exports cheaper, "stealing" American manufacturing jobs.
But Treasury Secretary Stephen Mnuchin told CNBC on Thursday he was not ready to pass judgment on China's currency practices.
Asked if the U.S. Treasury was planning to name China a currency manipulator any time soon, Mnuchin said he would follow its normal process of analyzing the currency practices of major U.S. trading partners.
The Treasury is required to publish a report on these practices on April 15 and Oct. 15 each year.
"We have a process within Treasury where we go through and look at currency manipulation across the board. We'll go through that process. We'll do that as we have in the past," Mnuchin said in his first televised interview since formally taking over the department last week. "We're not making any judgments until we go continue that process."
A formal declaration that China or any other country manipulates its currency requires the U.S. Treasury to seek negotiations to resolve the situation, a process that could end in punitive tariffs on the offender's goods.
The U.S. Treasury designated Taiwan and South Korea as currency manipulators in 1988, the year that Congress enacted the currency review law. China was the last country to get the designation, in 1994.
The current situation is complicated because China's central bank has spent billions of dollars in foreign exchange reserves in the past year to prop up the yuan to counter capital outflows.
The International Monetary Fund said last year that the yuan's value was broadly in line with its economic fundamentals. The U.S. Treasury also said in its last currency report in October that its view of China's external imbalances had improved somewhat.
Trump's pronouncements about the yuan could also complicate matters for Mnuchin as he prepares for his first meeting next month with his Group of 20 finance minister counterparts in Baden Baden, Germany. via Reuters
ANOTHER HUGE RISE IN GOLD AND SILVER: GOLD UP $10.60 AND SILVER UP 20 CENTS/ NO CHANGE IN SLV AND GLD INVENTORY/TRUMP ACCUSES CHINA OF BEING THE "GRAND MASTER" OF CURRENCY MANIPULATION
GERMAN 2 YR BOND YIELDS PLUMMET TO -.95% AS THE ECB IS RUNNING OUT OF GERMAN BONDS TO PURCHASE/ THE USA/YEN CROSS BREAKS BELOW 112 TO CLOSE AT 111.95 WHICH IS GOOD FOR GOLD
from Harvey Organ:
BITCOIN RISES ABOVE 1200 USA PER COIN AND APPROACHES GOLD'S VALUE/CONFUSION GALORE WITH TRUMP: TODAY HE WANTS A LOWER USA DOLLAR/TRUMP KICKS OUT CNN, THE BBC, NYTIMES AND OTHERS FROM PRESS CONFERENCES
This is options expiry week for both the silver and gold contracts. First day notice is this Tuesday, Feb 28.2017. Options expired on the comex yesterday and on the OTC market in London they will expire early Tuesday morning. For the first time comex has silver in backwardation February/March by 2 cents. The open interest on the silver comex is now over 1 billion oz and no doubt that the London OTC is multiples of that.
The gold/silver equity shares performed terribly again today against the huge run up in the physical price. Expect extreme volatility in the precious metals and shares in the next two trading days.
Source SGTReport.com
Most people who use social media have figured out that Facebook and Google are in cahoots with the government. For those who are well aware of the issues, it's high time you switched over to Seen.life.
Seen.life is a website that is similar to Facebook but without all the censorship. Firearm friendly, you may buy sell or trade anything allowed by site TOS rules.
Check out more contributions by Jeffery Pritchett ranging from UFO to Bigfoot to Paranormal to Prophecy