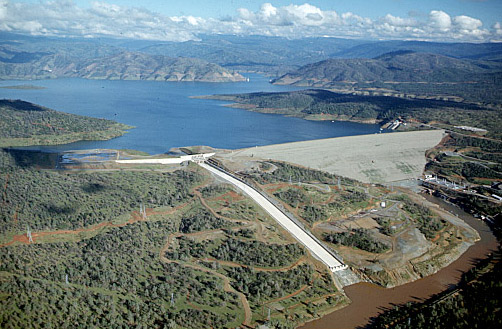 Also, the New Radiation Map has been saved and cleared. New Reports from Fukushima are saying 600 tons of Melted Fuel Rods have melted thru the containment vessels.
A helicopter tour over Oroville Dam and the Feather River on Wednesday, March 1, 2017, reveals the dramatic extent of damage suffered by the spillway, the adjacent hillside scoured down to bedrock and the streambed of the Feather River piled with rock and other debris by dangerous high flows that nearly caused catastrophe beginning on Feb. 12.
A series of storms filled Lake Oroville and taxed the dam's main and emergency spillways, while causing widespread flooding and evacuations downstream. – Randy Pench The Sacramento Bee
The California Department of Water Resources is advising the public of increased outflows to the Feather River near the Oroville Dam, the state agency announced Saturday.
Waterflow is expected to rise from 11,000 to 13,000 cubic feet per second beginning Saturday afternoon, with additional releases expected for the following week. The increase has prompted DWR officials to advise members of the public to steer clear of the waterway.
The department has been releasing water to the damaged Feather River through the Thermalito Diversion Dam and the Thermalito Afterbay River Outlet to meet environmental requirements.
Lake Orville is currently at an elevation of 850.5 feet, with inflows at about 12,000 to 18,000 cubic feet per second into Lake Oroville in the past 24 hours, a DWR press release said.
Crews have worked around the clock to clear the approximately 897,000 cubic yards of sediment and debris clogged in the Feather River underneath the Oroville Dam's fractured spillway, DWR said.
Check out more contributions by Jeffery Pritchett ranging from UFO to Bigfoot to Paranormal to Prophecy
~~~~~
Most people who use social media have figured out that Facebook and Google are in cahoots with the government. For those who are well aware of the issues, it's high time you switched over to Seen.life. It is a website that is similar to Facebook but without all the censorship.
Firearm friendly, you may buy sell or trade anything allowed by site TOS rules.