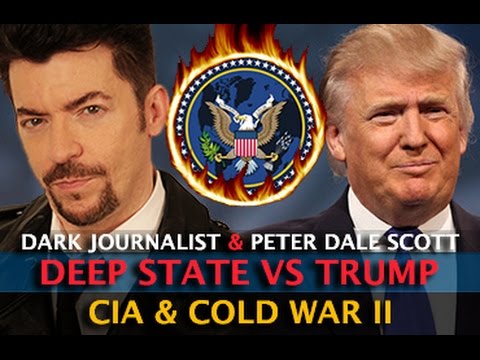 The Real Deep State
In this exciting part 2 episode on Deep Politics, Dark Journalist, Daniel Liszt's interview former Canadian diplomat, UC Berkeley professor and author, Peter Dale Scott. Scott coined the term "Deep State" and has been writing about it for 50 years. His works include 'Deep Politics and the Death of JFK', 'The Road to 9/11' and 'American War Machine'. His latest book, 'The American Deep State' studies the unelected, unaccountable, shadow government of the US.
Professor Scott explains how the Mainstream Media is conducting a disinformation campaign to try to minimize his concept of the Deep State by characterizing it as a 'conspiracy' and denying his in-depth research on what he has described as a covert political system. According to Scott this system exists as a coalescence of interests that include private contractors for US intelligence agencies, media conglomerates, Wall Street forces and Big Oil funding, which work together to manufacture "Deep Events", such as 9/11, the JFK assassination and their subsequent coverups, for motives of profit and control.
The Deep State and President Trump
The Deep State has looked at Trump with a weary eye since he becomes the Republican Nominee and have fought both his upset election and his smooth transition to the Presidency. This concerted effort has included unsubstantiated leaks about Trump's personal life and conduct, damaging information about his high profile aides, and the concoction of bizarre narrative picked up by the media that President Trump is somehow in 'collusion' with Russia and its leader President Putin, even though they have provided zero evidence to support the wild accusation.
The CIA & Cold War II
Professor Scott opines that the real reason behind the Deep State's efforts to bring down the Trump Administration may have to do with their deep desire, which became visible during the Obama Administration, to heat up a new Cold War II to ramp up some profits for the War Machine. He describes a program developed under Obama to 'modernize' America's Nuclear Forces to the tune of One Trillion Dollars. This type of inflated budget will have a hard time being allocated without a Nuclear enemy in sight so these covert forces are busy developing an entire anti-Russia campaign with help from the media. He sees it as a dangerous game and makes the observation that since the time that President Kennedy resolved the Cuban Missile Crisis peacefully, there have been forces inside the Deep State that are willing to recklessly bring the world to the brink of Nuclear War!
Strange Patterns in Deep Events 9/11 and the JFK Assassination
In Professor Scott's terminology, a 'Deep Event' like 9/11 is sometimes initiated by the Deep State to make a dramatic impact on public and foreign policy. Strange movements and price fluctuations of stocks and financial concerns prior to Deep Events like 9/11 and the JFK Assassination suggest foreknowledge by powerful covert groups of the impending historical tragedies to come. These patterns suggest that the hidden groups are interested in making a huge profit while initiating foreign wars and changing the very face of American society with an agenda that has not been voted upon or debated in any public forum.
The major changes put in place after 9/11 have given us warrantless detention and a state of emergency that has been renewed under every president since George W. Bush. This state of emergency puts an army division on American soil for the first time under Joint Special Operations Command to quell domestic unrest should it arise. This subverts the laws relating to Posse Comitatus in the United States that explicitly state that federal personnel shall not be used to enforce domestic policies. Professor Scott sees this as a great breach of Constitutional Authority and believes that a campaign should be waged that removes the State of Emergency now in place.
Compelling, fascinating, informative and shocking, you don't want to miss this powerful Dark Journalist episode!
Check out more contributions by Jeffery Pritchett ranging from UFO to Bigfoot to Paranormal to Prophecy
~~~~~
Most people who use social media have figured out that Facebook and Google are in cahoots with the government. For those who are well aware of the issues, it's high time you switched over to Seen.life. It is a website that is similar to Facebook but without all the censorship.
Firearm friendly, you may buy sell or trade anything allowed by site TOS rules.