Peter and his mother had originally fled the UK because of Grandma B's persecution, which even Lord Maginnis had brought up in parliament [see below for 15/05/2012 video of Maginnis in parliament talking about the Grandma B case, trying to get something done]. Peter came back to the UK in 2014 to bring charges against his brother, the [alleged] root of these troubles. Alas, when Peter went to the York hearing in December 2014, he was arrested and has been inside on remand ever since to, we suppose and allege, shut him up. What is behind his remand is the Grandma B case, which has been ongoing for years… Please see this radio show to hear Peter tell the story in a nutshell – well, a lot of it =
Radio interview with Peter on "Anonymous Radio" December 2012:
2 interviews with Sonia Poulton + the Hofschroers:
LORD MAGINNIS – PARLIAMENTARY SPEECH RE: THE SHOCKING HOFSCHROER CASES 15/05/2012 WATCH VIDEO: https://vid.me/Ia27
Letter to Cameron, the Serious Fraud Office [see below], + more did nothing
—————————————————————————-
"Peter has already had to spend one Christmas locked away for something he says he didn't do – and it looks like he'll spend another Christmas the same as the first – in HMP Hull. Peter, 59, has been held since 4 December 2014, with a supposed "trial" next July 16 at TEESIDE court, and his mother Grandma B, in her eighties, is now far from being well, we are told. Peter is the official carer [alleged] for his mother Barbara, otherwise known as "Grandma B", but being in prison he can do little about what he alleges is the plundering of both his mothers property and assets, and his own property, The official site with much information is: http://www.grandmabarbara.wordpress.com "
Lord Maginnis has raised Grandma B's case in Parliament several times now, openly accusing North Yorkshire Police and York Social Services of colluding to defraud her of her house and of persecuting both her and her loyal son and carer Peter Hofschroer.
LORD MAGINNIS – PARLIAMENTARY SPEECH RE: THE SHOCKING HOFSCHROER CASES 15/05/2012 WATCH VIDEO:
[From the 15/09/15 update [below], re: Lord Maginnis: From the House of Lords session with Lord Maginnis = In 2011 and 2012, Lord Maginnis of Drumglass kindly tabled a series of Questions in Parliament on this case, as the corrupt politicians and officials involved in the Abuse of Grandma B, now into its fifth year, have failed to see that it is stopped. However, the government will not accept responsibility for dealing with official corruption. Lord Maginnis's question can be seen on video, a few minutes after the beginning, at 14mins 45secs into this video from the House of Lords Main Chamber session: http://www.parliamentlive.tv/main/Player.aspx?meetingId=10756&wfs=true
Among the more revealing questions – to which the government evaded giving any proper answers – were: "The Hofschroer case has been on my desk for several years now. A widow in her 80s was dispossessed of her home in a way that implies collusion between certain family members and the Social Services. A son who has come to the rescue has been harried by the North Yorkshire police (that particularly dubious constabulary merits careful investigation) to the extent that he and his aged mother have been pursued through an Interpol warrant to their "refuge" in Austria. [source: http://www.epolitix.com/latestnews/article-detail/newsarticle/proper-delegation-please-not-abdication/
"One may be advised to speak to the Independent Police Complaints Commission. I have, only to be told that the fairly obvious injustice that concerns me was not within its bailiwick because my complaint overlapped with social services. I belatedly referred the issue to the Justice Department, but it could not intervene. I am referring to a case where a lady in her 80s was cheated out of her home. The Minister knows it well and over the past three years the Home Office has received hundreds-yes, hundreds-of communications through me about the matter. Successive Secretaries of State have been so concerned that none would meet me, despite the fact that Interpol was activated to pursue this elderly lady all the way to her son's home in Austria. Does anyone in authority care that social services and police in North Yorkshire have conspired in the persecution of Mrs Hofschroer and her son? Are details of dismissals, forced retirements and other shady and costly measures pertaining to North Yorkshire Police available to legislators in Parliament?
UPDATE: Email received 15/09/15:
"HOW SAVILE POLICE FORCE COLLABORATED WITH PSYCHOPATH IN MAJOR CROSS-BORDER FRAUD We have recently been given sight of a thread of emails, dated 22 April 2014, in which Grandma B's [alleged] abusers, along with a senior CID officer in North Yorks Police [NYP], detail on the progress of the frauds they have committed against Grandma B and her carer – her loyal son Peter Hofschroer. As you may recall, Robert Hofschroer is employed by York Council to run "York + District Deaf Society". Last December there were calls in the press for an investigation into what had happened to the proceeds of the sale of the Society's Grade 2 listed premises in York – see "Call for probe into sale of deaf society site" – http://www.yorkpress.co.uk/news/11641192.Call_for_probe_into_sale_of_deaf_society_site/
We have heard no more about this and the probe requested does not appear to have taken place. This leaves open the question if this sale was another property fraud involving Robert Hofschroer and his associates in NYP and York Social Services [YSS]. They already stand accused in Parliament by Lord Magginis [see video https://vid.me/Ia27 ] of defrauding Grandma B of her house in a joint enterprise – see above Parliamentary link + "Questions in Parliament" here: https://www.grandmabarbara.wordpress.com/2-the-abuse-of-grandma-b/questions-in-parliament/ T
hen we have had confirmation from a suitably qualified observer that Robert does indeed suffer from incurable paranoia and is also so insanely jealous of his younger brother's achievements that he would be likely to commit criminal offences to harm Peter, and any other people he decides to target. He is also likely to pose a serious threat to the lives of his victims. No wonder he gets on so well with NYP and YSDS, where he has found a number of similarly disturbed accomplices. As we already know, after Robert and his family seized Grandma B's house and other assets, they placed her in a home, where she is being held against her will, while being subjected to further abuse and neglect. The persecution to which Robert and his associates have subjected Grandma B have left her severely traumatised. Their objective would appear to be to weaken her will to live.
We fear for her life, particularly as she is now being held incommunicado. The emails we have seen are very revealing. NYP CID officer Ian Murray addresses both Robert and Martin in familiar terms, indicating their relationship is more than merely professional. Robert refers to a letter Martin has received from the lawyer representing them in a civil matter in Austria and asks Murray what he suggests they should ask his lawyer. The civil matter referred to here is regarding title to Peter's house in Austria to which Martin and his sister Diane are alleged to have obtained title by deception. One may wonder what this private, civil matter in Austria has to do with the British police. What interest do they have in this fraud? Martin's lawyer mentions that the Austrian courts have appointed an attorney to handle Peter's affairs, as he has been declared as "lacking capacity". The role of the Austrian authorities in this affair has been documented – see below, footnote 3]: " 1
0) CRIMES COMMITTED BY THE AUSTRIAN AUTHORITIES" https://www.grandmabarbara.wordpress.com/6-crimes-committed-by-the-austrian-authorities/
We have also had sight of a recent psychiatrist's report on Peter's mental health, which states that he is perfectly sane and doesnt lack capacity. So why have the Austrian authorities determined otherwise, so facilitating a major fraud? Robert also mentions that his "case" in Bradford will be "finalised" in August. The case in question here would appear to be that being undertaken by Grandma B to recover title to her house in York and to claim aggravated damages from her abusers – see below, footnote
4]: "YORK SOCIAL WORKER FACING CONTEMPT COMMITTAL" https://www.grandmabarbara.wordpress.com/10-crimes-committed-by-robert-hofschroer/york-social-worker-facing-contempt-committal/
"INJUNCTIONS SERVED" https://www.grandmabarbara.wordpress.com/10-crimes-committed-by-robert-hofschroer/injunctions-served/ Note the date of this thread of emails – 22 April 2014. Just days later on the 6th May 2014 Robert personally directed the raid by German police on Grandma B's refuge there in which she was kidnapped and brought back to Robert's house in York, where she was held prisoner until recently. So Robert had a "case" in Bradford he was expecting to be "finalised" in August. Once he had Grandma B under his control he would be in a position to "finalise" the "case" by preventing her from continuing to litigate against him. Clearly the reason given for the German police raid – that Peter had kidnapped his mother – was false. The German police certainly knew this at the time, so why did they facilitate this fraud? see: "GERMAN POLICE KIDNAP GRANDMA B – 2nd UPDATE" https://www.grandmabarbara.wordpress.com/7-crimes-committed-by-the-german-authorities/german-police-kidnap-grandma-b/ and: "WHO PAID FOR THE ABDUCTION OF GRANDMA B?" https://www.grandmabarbara.wordpress.com/york-council-corruption/who-paid-for-the-abduction-of-grandma-b/
So why did Robert need to brief a senior British CID officer on a civil matter in a foreign court? Does anybody need 3 guesses? What is very disturbing about this case is that there is a person known to be dangerously insane who is involved in a series of substantial frauds undertaken against vulnerable people with the support of the authorities in three countries. How can this be possible and what is going on here? Does this have anything to do with Robert's association with Savile's friend Jane Kenyon, with the "Scream Killer" and the stories of "al fresco" ritual sexual activities on Yorkshire Moors? see below, footnote 8]: "Robert Hofschröer & the "Scream Killer"- 1st Update" https://www.grandmabarbara.wordpress.com/10-crimes-committed-by-robert-hofschroer/upcoming-story/
A parting thought – NYP state they have spent at least a 6-figure sum on this case in which they have tried to cover up their participation in major frauds undertaken against vulnerable people. This contrasts with their persistant refusal to investigate any complaints made against the Savile – Jaconelli – Corrigan child abuse ring that was active in the force area for decades. NYP will not reveal the names of the senior officer who were members of Savile's "Friday Morning Club". A whistleblower gets stitched up, while serious criminals are allowed to walk free. Why is this? "
[15/09/2015 update ends]
—————————————————————————————
Letter to: Mr. Cameron, the Prime Minister, 10 Downing St., London ? SW1A 2AA?
From: J. Graham,
3 September 2015
Dear Mr. Cameron, the Prime Minister, I am writing to you again in the interests of justice, and the proper enactment of the laws as they stand at present in the U.K., and it is my duty as a U.K. citizen to inform you, as Prime Minister, about very serious matters that need your attention, concerning pensioner Mr. Peter Hofschroer.? To validate what I have written you about, I attatch 2 communications from Peter, the first [marked "1"] received in early July, before his supposed "trial date" was altered, and the 2nd attatchment [marked "2"] from a letter received during late August 2015.?
Mr Hofschroer, son of Barbara, Hofschroer, 85, is a highly educated man, a historian & an author. He believes (rightly or wrongly) that there has been serious malpractice on many levels by North Yorkshire Police, York Council & others, relating to his mother – 85 year old Barbara Hofschroer, who, Peter alleges, is being very badly treated by other family members – Peter Hofschroer is the official carer, being her son, but he is unable to do anything about what he alleges is happening to his mother because he is imprisoned in HMP Hull, on certain charges that can only be described as questionable. Peter has been in HMP Hull since December 2014, and is expected to be there at least until next January 2016, when a "trial" has been reported as to be taking place on these charges he questions.
Peter, along with others, has published much about his mothers [and his] predicaments prior to his imprisonment, but the reason I am writing to you is because the situation has worsened considerably regarding his mother's position since Peter's imprisonment last December, in that on seeing his mother on a prison visit a very short time ago, for the first time since last December, 2014, when he was put in prison, he has reported that his mother is allegedly being mistreated by certain characters who are purporting to be caring for her – one such person being Peter's brother Robert – employed allegedly by York Social Services.
Peter has reported that, on seeing his mother recently on that visit, his mother's face allegedly showed "bruising", she had on an inappropriate pair of eyeglasses, she was "disorientated" and "confused", had no idea where she actually was residing (only that she thought it maybe "a home"), and whats more, and infinitely more worrying, was the fact that she was being "stripped of her assets", eg. her house, and finances, those exact possessions which she would not have had taken from her had she been in Peter's official care during the past months recently. Peter also alleges his own property is being taken from him and being sold, without his permission or guidance. Peter has has awful problems getting and working with legal representatives to defend him, and has taken on new representatives and the previous ones he was unhappy with.
Whether this, getting a new legal team, was the real reason for his court hearing being put so far in the future is questionable also, as surely any legal team does not need more than 6 months to get up to speed on a case against Peter, if indeed such a case exists. Was this time delay of many months before his hearing could be heard made so that the sale of homes Peter was connected to, as his mothers official representative and carer, could be sold and all financial and other details completed without Peter having any say in any matters? It is thought that this is exactly the reason Peter's hearing has been dragged out for so long – if not the main reason for his imprisonment in the first place – so that he would remain in prison and be completely unaware of the details of these actions he objects to so strongly.
More facts are these:
Barbara was living happily with Peter in Austria: He had been caring for his mother for several years: He was (& still is) her OFFICIAL carer: He had Power of Attorney (& still has): Peter believes (rightly or wrongly) his brother Robert does not have his mother's best interest at heart, & is only interested in getting his hands on her assets.
Peter & his mother moved to Germany, where there was a surprise attack: Peter was arrested by German police & held for long enough for his mother to be abducted (against her will) by Robert Hofschroer & a posse of accomplices: Once that had been achieved, Peter was released without any charge whatsoever: Peter only went back to England because, being concerned about his mother, he was taking steps through the English courts to have his mother restored to his care: As he went into court for that purpose, he was arrested & taken off in a police van, thus preventing him progressing the action.
There was no reason to arrest him BEFORE the hearing: IF the arrest was justified, they could just as easily have waited until AFTER the hearing. That they did so before could be classed as 'Perverting the Course of Justice', a very serious crime. Following Barbara's abduction from Germany, it is understood she was first taken to live at Robert's home, but has now been placed in a Home of some kind. Friends of Peter and Barbara Hofschroer ask you to intervene in these outrageous happenings befalling these completely vulnerable citizens, and ? ask ?please that you attampt to correct matters. Noone will even tell Peter where his mother is residing!!
Thank you for your time.
signed J. Graham
attmt. 1: The Abuse of Grandma B: Update 1st July 2015
There have been significant developments in this case since the unlawful abduction of Peter Hofschroer, Grandma B's carer, on 1st December 2014.Since being kidnapped from her refuge in Germany in May 2014, Grandma B's abusers have been holding her prisoner in York. A report from York Social Services indicates she is fully aware that corrupt police officers were party to her abduction.
Grandma B also told the social workers that it is her wish to spend her remaining days living in peace and safety in the care of her loyal son Peter.We have also heard a few weeks ago, Grandma B managed to sneak a letter to Peter passed her abusers. She again expressed her wish to be in Peter's care in her own home.So how have Grandma B's captors reacted to that wish? They have placed her house on the market. This is, of course, fraud and financial abuse. How have North Yorkshire Police and York Social Services reacted to that?
Her carer Peter remains in custody in HMP Hull with bail being denied him despite there being no compelling reasons to keep him locked up, as the law requires. Grandma B's abusers seized the opportunity to not only steal her house, we have seen reports they have also seized Peter's house in Austria. In view of the role of the Austrian judiciary and police in this sordid affair, it doesnt take much imagination as to what is going on here [see "Crimes committed by Austrian Authorities": http://www.grandmabarbara.wordpress.com/6-crimes-committed-by-the-austrian-authorities/
A trial date has been set for the 27th July 2015, in York Crown Court. The trial is expected to last at least one week. We have heard that it appears the "sex assault" allegation has been dropped, but that the number of "indecent images" found has increased from 6969 to around 28,000. Peter has pleaded "not guilty" to all these allegations. He also disputed every one of more than 20 different sets of allegations made against him by the police and others over the past seven years or so, all of which have been dropped due to there being no credible evidence.
Last but not least is that certain of Grandma B's abusers have had Leeds High Court issue "gagging orders" against Peter and various other journalists. As well as being ordered not to say any more about Grandma B's case, they have also been prevented from making any further revelations in the child abuse scandal involving Savile, Jaconelli and Corrigan, as well as in the expenses controversy involving chief officers of North Yorkshire Police and their failure to investigate frauds, allegedly committed by former Police Authority chair Jane Kenyon [see articles from the "Yorkshire Post":
http://www.real-whitby.co.uk/north-yorkshire-police-musical-chairs
The claimants here apparently include Grandma B's abusive family members, a social worker dismissed for making false allegations against her carer, senior police officers and Jane Kenyon-Miller.What they want the court to accept is that when victims of crime are subjected to persecution by the police for having the nerve to complain about this, and journalists expose official corruption, then this amounts to harassment of the perpetrators.To any reasonable person, that is utter nonsense, but that is not how the courts seem to have seen this.Then, a letter dated 26 September 2014 is circulating in the public domain.
It is from North Yorkshire Police and was sent to Peter stating that all the allegations of harrassment made against Peter by a group of people including Jane Kenyon have not resulted in charges being made against him as the CPS have determined there is no credible evidence.The biggest concern is the story circulating that police resources amounting to over £400,000 of public money has been spent on observing three critics of their actions and that the police appear to be funding a private civil action on behalf of civilians against a person the CPS have determined has not committed a criminal offence.It is unlikely this is lawful, but the courts do not appear to have a problem with this.We continue to remain very concerned about Grandma B. As well as being held prisoner and denied her wish to live in her own home cared for by Peter, she is being subjected to further serious financial abuse – with the support and blessing of the police and social services.Is anybody safe in Brave New Britain?
Google "The Abuse of Grandma B"."
attmt. 2:
—[message ends]
Reply from the Prime Minister's office, dated 10 September, stating the above details in the letter sent to the P.M. have been passed to the Ministry of Justice. As of 2 October the MoJ still have not written regarding the horrific cases relating to "Grandma B" and Peter Hofschroer:
Likewise the Serious Fraud Office was written to, regarding the alleged theft of both "Grandma B"'s house, as well as Peter Hofschroer's house in Austria, but they will not act either, despite these being serious frauds: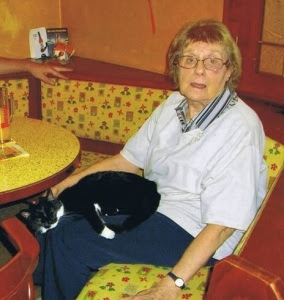 More:
Radio interview on "Anonymous Radio" December 2012:
2 interviews with Sonia Poulton + the Hofschroers:
CRIMES COMMITTED AGAINST GRANDMA B
As the deeply disturbing case of Grandma B, as Barbara Hofschroer has come to be known is now in its 8th year we thought it a good idea to remind everybody what this 86-year-old great grandmother has been forced to endure from estranged family members and their associates in North Yorkshire Police [NYP], the City of York Council [CYC] and others. In 2007 Grandma B signed over her house to certain family members in return for the promise of care services, which they did not provide, and with the agreement she would live in it for the remainder of her life. However, these family members unlawfully evicted her in 2010 and have made several attempts to sell her house. Legal opinion here is that they have committed fraud under Sections 2 and 4 of the Fraud Act 2006. Neither NYP nor CYC have upheald the law here and prosecuted Grandma B's abusers.
Since April 2008, these abusive family members have made incessant attempts to seize her life savings as well, a further criminal act that NYP have refused to investigate. Instead officers of NYP have made several attempts to oloocate her life savings presumably with the intention of handing them over to her abuser for a share of the proceeds. The most recent attempt was in July 2013 when NYP applied to York Crown court in order to facilitate this act of extortion. Grandma B has persistently refused to hand over her money to her abusers. Instead, she gave her younger son Peter powers of attorney to run her financial and property affairs.
Since then her abusers have made over 20 sets of false allegations against Peter culminating in his detention and imprisonment in December 2014 after incriminating material was planted in her house in York as well as in Peter's house in Austria. On the morning of the 3rd January 2009, a couple of hours after her husband of 60 years had died Grandma B's abusers barged into her house with a police escort, assaulted her and then hurled abuse at both her and her husbands corpse.
When Peter tried to protect her, the police assaulted him and threatened to arrest him? ? see interviews with Sonia Poulton dated 15 Jan 2014 = https://www.vimeo.com/84524221 and 3 Feb. 2014: https://www.youtube.com/watch?v=PER__Kx-EPs The IPCC has determined there was nothing wrong with the police action here. Throughout the summer of 2009 the abusive family members stalked Grandma B and her carer. On one occasion, when Peter was out her abusers attempted to break in. Grandma B was so frightened that her carer has never been able to leaave her alone since.
NYP has refused to record and investigate any of these offences. In December 2009, when Grandma B and her carer went to Austria for Christmas, a prearranged plan was implemented. Her abusers noticed she was not at home. York Social Services contacted her day club to establish she was away. Inspector Colin Moreton of North Yorkshire police had his officers make enquiries with neighbours to confirm this. On 22nd february 2010 Grandma Bs aledged abusers forced entry to her house changed the locks and unlawfully evicted her. Neighbours called the police,who stood by and watched while Grandma Bs aledged abusers removed her belongings.
The IPCC has determined there was nothing wrong with the police action here. In november 2010 Grandma B's alleged abusers then made their first attempt to fraudently sell her house. Just after that the local goverment ombudsman called on NYP and CYC to urgently reopen the safeguarding investigation in to this care as he considered the original investigation to have been irregular as NYP and CYC council withheld all evidence of abuse. Five years have passed after this call. Grandma B has still not been safeguarded. In July 2011 bailiffs acting on behalf of Grandma B regained control of her house.
She made ready for her to return home, but as NYP and CYC confirmed to refuse to safeguard her, she would not. A year later Grandma B's aledged abusers broke in to her house again changed the locks again and started this second attempt to fradently sell her house. NYP has failed to record and investigate this crime as well. Grandma B's alleged abusers contrived to force her and her carer to leave their refuge in Austria.
They then went to Germany where the authorities gave them persecuted persons status. Despite that the German police broke in to their refuge on 6 May 2014 and handed her over to the abusers, who brought her back to York,where they are alleged to have continued to abuse her. NYP has refused to record and investigate these crimes. Grandma Bs abusers then had the DWP [Department For Work And Pensions] divert her pension in to a bank account under their control.
They then put her house on the market. NYP have refused to record and investigate these crimes. All Grandma B wants are to spend her remaining days living in her own home in peace and safety in the care of her loyal son Peter. Instead of that,she has been kidnapped, then handed over to her aledged abusers,who are plundering her assets unhindered, while her loyal son is held allegedly in jail unlawfully so he cannot do anything about this. In the past seven years, Grandma B has been the victim of serious criminal offences including fraud, extortion, kidnapping, theft, and harrassment. T
he perportrators of these crimes aledegedly include family members, North Yorkshire police and the City of York council, York social services, goverment officials, judiciary, and politicians. When are these people going to stop abusing Grandma B ? Grandma B recently smuggled a letter [below] past her captors to her loyal son Peter. We have reproduced it here. Sadly, she is too old to write it so she got a visitor to write it for her. The words are clearly hers and the signature genuine.
This letter shows all the accusations against her loyal son Peter are fake. Peter did write back with information on how Grandma B can visit him but she has been prevented from doing so which is emotional abuse. This is how the police and social services treat the elderly. Sonia Poulton describes this behaviour as obscene. For more information on this case Google the abuse of Grandma B or visit: http://www.grandmabarbara.wordpress.com
LETTER: a copy of a letter from Grandma B to Peter H.
? July '15?
—————————————————————————–
The "Indecent images case" – "York Press" 4 Dec. 2014
above: York Magistrates' Court •First published 11:04 Thursday 4 December 2014 in News Last updated 11:05 Thursday 4 December 2014 A 58-YEAR-OLD man has appeared before York magistrates facing 18 charges relating to around 7,000 indecent images of children. Peter Hofschroer, formerly of Rosedale Avenue, Acomb, is expected to deny all the allegations he faces. Between them the charges allege he made indecent images of children on different dates over a ten-year period between 1999 and 2009. Magistrates decided the case was too serious for them to deal with and sent him to York Crown Court where he will appear on December 15. Hofschroer, who represented himself, was remanded him in custody. " source: http://www.yorkpress.co.uk/news/11645266.Indecent_images_case/
Videos of the Arrest of Peter Hofschroer:
https://www.youtube.com/watch?v=KW6Fn_nrIO0 https://www.youtube.com/watch?v=HjQamzv1tJQ https://www.youtube.com/watch?v=vWspaHSXDOk
UK WAR ON PENSIONERS: 'The Abuse of Grandma B'
How corrupt Officials are plundering the Assets of the elderly 'Grandma B' is now 83 years oldRotten Borough She is wheelchair-bound and very frail. The past four years of her life have been horrendous. She lost her husband of 60 years, but that was the easy part. She has also been the victim of sustained and systematic abuse in which she has been defrauded of her house, subjected to threats and harassment because she will not hand over her life savings to her abusers, then unlawfully evicted from her house and stranded abroad, with her abusers trying, fortunately unsuccessfully, to sell her house fraudulently.
You may well ask who would do such an awful thing to a little, old lady in a wheelchair. Sadly, most abuse takes place within the family and this is very much the case here. The main abusers are Grandma B's older son, his wife and her two adult grandchildren. Grandma B's younger son was working abroad when he noticed something was very wrong. He immediately rushed back home, where his worst fears were confirmed.While he was travelling, his 87 year-old father was admitted to hospital with a serious heart complaint caused by neglect. His mother too was seriously ill due to neglect. His older brother and his family lived just around the corner, but had done little to help Grandma B and her very sick husband. A year before this, Grandma B and her husband had signed over their house to the older son and his family on the understanding they would care for them. Their younger son agreed to this, because he was living and working abroad and could not provide the level of care needed. Hardly was the ink on the agreement dry when the older son and his family started running Grandma B and her husband down, hoping they would pass on as soon as possible.
When, in April 2008, the younger son arrived in the parental home, he was horrified by what he saw. He dropped what he was doing, gave up his job and home and became the full-time carer for his parents. His father led a full and happy life in his last months. His mother's physical health has improved dramatically since the younger son took over her care.As soon as the younger son took over the care of his parents, the older son and his family started a campaign of harassment designed to drive him out of the parental home and to seize control of their finances. Matters reached such a level in September 2008, that the younger son reported the criminal offences to the police and the abuse to social services.What followed from there can only be described as a nightmare.
The police made several attempts to arrest the carer on the basis of false allegations, while social services fabricated allegations against him in an attempt to have his powers of attorney revoked and the care of his parents placed in the hands of their abusers.A few days after the younger son made his complaint, the police arrived at the parental home to investigate a complaint he has "stolen" his parents' money. They had no evidence to support this allegation made by the abusers, but refused to record a complaint of harassment by the abusers.Social services blocked all attempts at getting the abuse investigated. Grandma B's social worker made a false allegation of assault against her carer, an unfit, middle-aged man. Social services withdrew this allegation when they were shown evidence that the social worker was a black-belt in martial arts. His claim to have been overpowered and physically ejected from the parental home without injury looked a little ridiculous, to say the least.
On the morning Grandma B's husband of 60 years died, the police unlawfully raided her house. They allowed her abusers to charge in, assault her and bawl insults at her over her husband's still warm corpse. When her carer stood between her and her abusers to protect her, the police officers pushed him out of the way and threatened to arrest him.In the following months, the abusers stalked Grandma B, attempted to break into her house and send her abusive letters. The police refused to uphold the law and arrest the criminals in question.An independent investigation into Social Services' handling of the case criticised them and required them to reopen the safeguarding investigation. Months later, they did, but the police and Social Services withheld all evidence of abuse.
Instead, they fabricated abuse allegations against the carer and applied to the Office of the Public Guardian to have his powers of attorney annulled. The Office of the Public Guardian established the allegations made by Social Services were false and rejected the application.Grandma B then went on her wheelchair to a local council meeting to hand out a leaflet protesting about the way the police and social services were treating her. Her local ward councillors set police officers in stab-vests on to her, threatening to arrest her for distributing a "defamatory" leaflet. When her carer pointed out that defamation is a civil matter and not a police matter, the officers looked a little flummoxed, but still tried to prevent her from exercising her democratic right of peaceful protest.
Grandma B is a veteran of the Second World War and stood her ground. When her carer called out to the police sergeant attending the meeting in front of the 30 or so members of the public present that she should arrest these officers for harassing a vulnerable person, they beat a hasty retreat. The sergeant refused to uphold the law.Instead, two days later, the local police fabricated the first Harassment Warning against her carer. A couple of weeks later, they fabricated a second warning and were clearly intending to fabricate a third, at which point the carer could have been arrested.
A file recently obtained from the Office of the Public Guardian shows this was planned to be on Christmas Day 2009, when the main abuser and corrupt police officers were planning to raid Grandma B's house – unlawfully again, of course.In the ensuing two years, the carer's legal representatives both in Britain and abroad have made dozens of requests for sight of the evidence to support these unsigned, undated harassment warnings which are not legally valid. The police have produced nothing other than excuses and have refused every opportunity to sign these warnings for fear of perjuring themselves. The police inspector that issued the warnings took "early retirement" when challenged by the carer's solicitor to produce the evidence.
Exhausted by this constant harassment, Grandma B went abroad on holiday for Christmas 2009. The police tipped off her abusers she was away from home, who then forced entry, changed the locks and unlawfully evicted her. After stealing her valuables in full view of the police, they tried to fraudulently sell her house. Fortunately, Grandma B's solicitor prevented them from doing so.
However, her abusers and their friends in the police and local authority, then fabricated a kidnapping allegation against her carer. This request to arrest the carer went from the local CID to Special Branch, to SOCA, to New Scotland Yard, to Interpol London, Interpol in the country in question, then to the national police headquarters and provincial police headquarters before landing on the desk of a local police officer in a remote Alpine village.
The expectation here was obvious: the local country bumpkin plod would be so impressed by the provenance of this request that he would summon up reinforcements before daring to attempt to tackle this known, hardened, serious international criminal.It did not quite work out like that.
Two weeks before this request arrived, the police officer and his good wife had been among the many guests at the local pub at Grandma B's 82nd birthday party. He had been sceptical about the stories he had heard about official corruption in Britain, but now he was supposed to arrest the carer for kidnapping his mother, holding her against her will and incommunicado. He obviously knew these allegations were false, but being a professional, he carried out a proper investigation. His report made it clear that the British police had knowingly lied to Interpol to help corrupt officers defraud a little, old lady on a wheelchair.
This attempt by corrupt British police to abuse honest local police officers to carry out criminal acts on their behalf is now under investigation by the local foreign ministry.
Had the carer not been so lucky, then the chances are he would have been remanded in custody pending extradition, while Grandma B would have been returned to Britain and to the tender mercies of social services. Her assets would then have been plundered and divided up between the gang of criminals running this racket. There have now been five independent reviews of this case. All have called for it to be reopened. Both the police and local authority have ignored these requests. So what is going on here and who is involved? The main abuser is employed by local social services. He, his wife and daughter have provided support services to the local police.
They all know who the isolated old people in their area with assets are. It would seem they are systematically targeting defenceless old people and seizing control of their assets before bundling them off into a council home, then selling their assets. The cash then gets laundered through a dodgy private care company as "care fees" and the police officers, social workers, council officials and local politicians involved then pocket the money. The perfect crime, as who is going to listen to a confused, old lady in a home, whose contact with the outside world they are controlling? This is rampant corruption and serious, organised crime. Nobody in authority in North Yorkshire will respond to correspondence and deal with this case. Questions are now being asked in Parliament about this case.
##########################################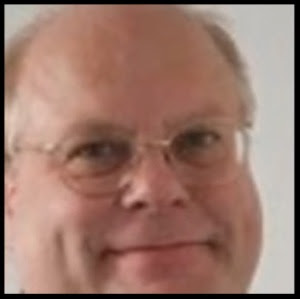 Peter Hofschroer and Grandma B left the country, as they feared for themselves here, but, after a while…:
8 May 2014 = GERMAN POLICE KIDNAP GRANDMA B* In the early hours of Tuesday 6th May 2014, a dozen or more officers of the German police broke down the doors into Grandma B's place of refuge. She was in bed, ill, having just come out of hospital. He carer was sitting on the bed when the police officers burst into the room. They struck her carer so hard on the head that he was knocked to the floor. They then jumped on his back, pinned him to the ground and handcuffed him.
Defenceless, they then squirted pepper-spray into his eyes at point-blank range, before carrying him out into the street in his underpants to the outrage of his neighbours. One neighbour attempting to film the incident was attacked by the police. Grandma B's carer was then thrown into a police van and thence into a police cell, where he remained handcuffed for four hours. The police were fully aware that her carer suffers from chronic rheumatoid arthritis and refused to take off the handcuffs.
One officer dangled the key in front of him and laughed. In the meantime, Grandma B was carried out of her bedroom in her nightdress and taken away. She has not been seen nor heard of since. She is now a "disappeared" person. The German police also stole her passport and holiday money. Concerned neighbours mentioned the presence of two British ladies and some British men they thought might be police. Her carer has written to Joachim Gauck, the President of Germany, as follows and awaits an answer:
——– Original Message ——–
Subject: Barbara Hofschröer, aged 85, victim of abuse and crime
Date: Wed, 07 May 2014 21:16:23 +0200
From: Peter Hofschröer
Dear Mr Gauck,
Y ou have spent your life fighting injustice and state-organised crime. I am hoping there is one serious injustice and state-organised crime you can help me fight. Two days ago, my 85 year-old mother Barbara Hofschröer, a British citizen, was kidnapped by the German police. She is now a "disappeared" person and I fear for her life. The same German police officers who forced entry into our flat in Germany, where we took refuge six months ago, attacked me, tortured me for four hours and then released me without charging me with having committed a criminal offence. I was imprisoned without lawful reason. In those four hours, they abducted my wheelchair-bound mother. They are refusing to tell me what they have done with her.
In 1948, my mother met and married my father Paul Hofschröer, a German prisoner of war, who later worked in the German Embassy in London. When they retired in 1986, they moved from London to York, where they bought a house. About the same time, I started working in Germany and later in Austria. When, in 2008, my parents became so feeble, they needed care, I moved into their house in York to look after them. However, they had been targeted by the police and social services, who were determined to defraud them of their assets. When I got in the way, many attempts were made to arrest me. I fought back. Lord Maginnis raised our case in the British Parliament several times, openly accusing the British authorities of corruption.
The government refused to act and my mother and I – by now my father had died as a result of this stress – fled to my house in Austria, where we sought refuge. The British police pursued us through Interpol and the Austrian authorities supported them, forcing us to flee to Germany, where we expected to be given protection and support. Instead of that, yesterday morning ten or more German police officers broke down the door of our flat, attacked me, punched me so hard I fell to the floor, then jumped on me, before handcuffing me. Pepper was sprayed into my eyes at point blank range. I was then tortured for four hours in a police cell, while my mother was kidnapped. Like my mother, I am a registered invalid and am defenceless against such brutality.
Nobody will tell me where my mother is. She is chronically ill and needs medication to keep her alive. She is not getting that medication." see more: grandmabarbara.wordpress.com. There you will see more about the story and part of the evidence. And this is what Lord Maginnis said in the British Parliament on our case: "The Hofschroer case has been on my desk for several years now. A widow in her 80s was dispossessed of her home in a way that implies collusion between certain family members and the Social Services. A son who has come to the rescue has been harried by the North Yorkshire police (that particularly dubious constabulary merits careful investigation) to the extent that he and his aged mother have been pursued through an Interpol warrant to their "refuge" in Austria.
http://www.epolitix.com/latestnews/article-detail/newsarticle/proper-delegation-please-not-abdication/
.
From the main site: https://grandmabarbara.wordpress.com/ The Abuse of Grandma B – How Corrupt Officials are plundering the Assets of the Elderly and https://www.grandmabarbara.wordpress.com/1-new-items/german-police-kidnap-grandma-b/
and
FAIR USE NOTICE: This item may contain copyrighted (© ) material. Such material is made available to advance understanding of ecological, political, human rights, economic, democracy, scientific, moral, ethical, and social justice issues. This constitutes a 'fair use' of any such copyrighted material as provided for in section 107 of the US Copyright Law. In accordance with Title 17 U.S.C. Section 107, this material is distributed for analysis, commentary, educational and intellectual purposes. In some cases comedy and parody have been recognized as fair use.
Creative Commons Attribution-NonCommercial-ShareAlike 3.0 Unported License. For more information please visit:
http://www.law.cornell.edu/uscode/text/17/107
NB: Everything posted on this site conforms to the meaning of the word "alleged" as defined under UK and US Laws and Statutes.