Earlier this week I went to my local "Santander" bank in an attempt to report the ID frauds and fraudulent bank accounts at this bank connected to these criminals Carol Woods reports, but was told by the receptionist at my local Santander that the manager had said to go to the police regarding these alleged frauds – which must, by now, involve a vast amount of money. I had already gone to my local police recently to report these frauds and many more blatant crimes Ms. Woods speaks of, but was unable to see any police officer, nor tell anybody anything but was called by the local "Dorset Enquiries" department after filling in their "contact form", but before I could arrange to give any information proper the phone call was terminated without a word by my being hung up on. I then wrote to certain departments reporting this, but so far have been totally ignored, so it seems it is impossible to report serious crime nowadays, which, of course, is echoed throughout Ms. Woods reports in these archives beginning last Febuary 2016, something that has been happening for years to Ms. Woods when trying to report the serious crime she knows of.
And why is there an illegal tracking device installed in Ms. Woods car – put there, apparently, by Lancs. police?
Regarding the Royal Mail irregularities concerning Carol Woods, eg. where mail to Carol Woods has been misdelivered deliberately to nearby addresses on so many occasions, or not delivered at all, the CEO of Royal Mail was approached more than once recently and the irregularities reported to him. Sadly there was no response from the head of Royal Mail other than for Ms. Woods to make an official complaint to the Customer Services department – something that has already been done since at least 2006, achieving nothing whatsoever.
"———- Forwarded message ———-
From: carol woods
Date: 9 March 2017 at 16:32
Subject: How TREASON aids FRAUD Lancs.
To: "[email protected]" , "[email protected]" , "[email protected]" , "[email protected]" , "[email protected]" , "[email protected]" , "[email protected]" , "[email protected]" , "[email protected]" , "[email protected]" , "[email protected]" , "[email protected]"
Cc: "[email protected]" , "[email protected]" , "[email protected]" , "[email protected]" , "[email protected]" , "[email protected]" , "[email protected]" , "[email protected]" [email protected]
Dear Mr —- ,
I send here a few photos to show you how the TREASON is organised and PLANNED. I appreciate that you can do nothing about this sending of mail in my name BUT your staff generate the FRAUDS when they send responses addressed to ME to such as AGNES JACKSON in 26 Fell View, LA2 9RP known thief and worse, who claims to be me, Jarvis in 41 Fell View ditto who runs bank accounts and such like and while she also claims to be me she claims to drive me about and care for me as I apparently live in 41 their tiny council house as Mrs Invisible. Without going on in detail as to ALL who have MAIL ADDRESSED to me when the postmen known full well what they take part in and indulge in related "entrapment" incidents as well, are in it up their eyeballs: TREASON. That you can do something about.
I always know when the deluded go and post as me as they follow the same routine every time and assume I am stupid and will not know. JARVIS went to post as me yesterday: 8/3/17, this morning Jackson sneaked out from 26 to post as me, I have all this as well as total strangers recruited to stand about where I am seen and they post as me. The routine is this I have worked out: those from FELL VIEW post as me. Those standing about hoping I pass a post box post junk; if I do not see and take a photo, the Gestapo retrieve their junk from the post and REPLACE IT with something they claim is from me. If I do see, the junk is retrieved. PAUL MARSDEN former MP did confirm he received drivel which he assumed was from me years ago, for example. He is not the only one. The photos show the recruited to post as if I have posted.
The MOTIVE is always about claiming in FRAUD from DWP, benefits and so forth and running false bank accounts which handle the monies gained in FRAUD. Carol Woods cc to those who are likely to receive the mail in fraud. DO ask if you want to know how your postmen take part in entrapment and manufacturing of "crime" said to be committed by me."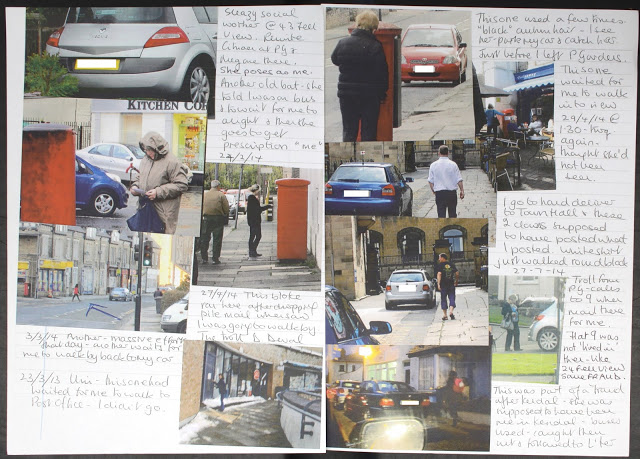 TREASON IGNORED Royal Mail corruption 14 March 17
This I will also send to show how OTHER Royal Mail Masonic thieves committing TREASON operate. I rented in LONGTOWN in Sept 09 to mid Jan 2010. I tried to deal with a tax rebate matter; the MAIL SENT TO ME FROM COURT AWARDING ME A HUGE AMOUNT OF MONEY FOR INJURIES I HAD SUFFERED AT THE HANDS OF THE THUGS IN LANCASHIRE was intercepted, and I was sent JUNK instead written by the Gestapo legal rep IAN YOUNG. They always slit open my envelopes to remove what I was not have and replace it with junk. MY award document had had the base slit open with the document removed and they thought I wouldn't notice: I keep them all, all the envelopes with malicious communications sent to me from miles away, other counties and not so much as a frank mark anywhere, just local IN HOUSE stamps. The tax rebate was linked to that. Into Jan 2010 and I could see the envelope had been unsealed: the document of 8 pages had been separated with pagination so I could see that 2 pages were missing, the Gestapo had been handed my mail and copied it but omitted to replace all the pages. That is ONE example.
In 2011 I rented in Lewes and found the deranged landlady JANICE BOURNEN posed as me and applied for jobs as if she was me. BOURNEN claimed to have my qualifications when she could barely write. Obviously when she was phoned with the offers of work she had to make an excuse as to why it was not suitable for her after all. I asked if I could collect my own mail; no I could not. That was pointless anyway after my experiences in Lancaster with the thugs there; they just told me there was no mail when I went to ask. ONE decent staff member DOMINIC GLEASON found a pile of MY mail hidden and it took me days to deal with it all. I had postmen climbing my garden wall long after delivery time and trampling all over my plants when the Gestapo manufactured junk they made sure I did get,(my photos of all events are excellent).
Then we had RYAN sitting on a wall taking my photo on his phone to send to Gestapo to make sure I was the one he was to pose as a bailiff to serve more junk of me, POSE AS COURT OFFICIAL and Mr Diamont knows and thinks that's OK.
I have hundreds of examples and at this address 28 Fell View LA2 9RP where those in 20, 22, 26, 30, 32, 12, 14, 23, 41, 33, 37 all receive mail for me PLUS others who do to allow for the organised fraud. Stores used in fraud have confirmed where mail for me goes: it does not come to me. Banks alerted all confirm fraudulent accounts, 5 Santander, 2 HSBC 2 LLoyds, at least 2 Barclays Bank and Williams in 30 Fell View LA2 9RP with their 5 cars IN MY NAME, with Agnes Jackson in 26 with MY DVLA mail and Mr Diamont talks of my missing pay slips. Yes well he would, wouldn't he, let's pretend nothing else took place.
No Mr Diamont could not explain how the sleazy go to collect store leaflets to then deliver to me and take MY mail elsewhere but claim they have delivered to me. I have been to stores who will confirm they have not ever paid Royal Mail to deliver junk mail. Yet I get the junk and watch the sleazy who then amazingly, have no junk for anyone else. That is so they can deliver MY mail then to the number written on by sorting office staff who say where it is to go,thus catching Mr Sleazy in LA3 2QA with MY MAIL addressed to ME in the address then he was taking to one who claimed to be me then with HER address writ large to make sure he delivered NOT to me but to her. I saw the junk mail just for me and went to give it him back, saw MY mail being delivered and he said "Oh, do you want your mail?" That is how I got that fine example,. I got more after storms blew about recycle bins, MAIL for ME had been going to that address and at least 2 others.
That address was LA3 2QA area prior to where I am now. And what I INTEND TO PUBLISH IS MY EVIDENCE OF TREASON. Yours etc Carol Woods Ms. MR Diamont has less than no idea what "through" means. Or else he's a recruited liar "Tell her this".
FRAUD IN PROGRESS LANCASTER UNI 14 March 2017
Data Analysis
14 Mar (2 days ago)

to andy.cooke, contact, tom.winsor, clive-grunshaw, hq1-profession., hq1-profession., confidential
Dear Sirs This will be sent wider when I next have access, those I always cc into emails will have seen enough for today; this shows when the data was generated. It is 19 02 and I have just parked up at Lancaster University after driving from being parked up MOORLANDS area Lancaster. That is about 3 miles away. The Gestapo would not have expected me to then drive to University as I had used up all my allotted time in the town library so managed to do quite a lot.
Given that the Gestapo try to make me others they had the usual lowlife males sat about in the library (open until 7pm on a Tuesday) and they are ALL to pretend they are me as MR CAROL WOODS or with me as yobs from Caton like to delude themselves.
They always have at least one sat next to me playing games and nothing else, the games I think are brain damaging but as the males presumably have no brains they have nothing to worry about. They are also of varying ages. Leaving, the now usual outside to have been sent a text to be ready as I packed up and he CYCLES OFF, that is 3 cycles I apparently have ridden today as MR CAROL WOODS to cover for THIEF and FRAUDSTER Gestapo employee MARK A RIDING aka MARK S RIDING who claimed to be my brother to GAIN. All that has been sent out enough times. BUT I also apparently drive a scooter with L plates. I took a photo of the male outside the library waiting to then ride off (no sunset so, no perfect photo) and ANOTHER was waiting to be tipped off; the Gestapo drove round to confirm they saw a cyclist thus he must have been me in the library. But by then they had another cyclist as my photos of earlier ones suggested they were not me or even near me at that time. One cycled up-hill all the way to be me at my car! What was in it for that idiot? What EXACTLY did he achieve and prove? The Gestapo were not expecting me to drive to University: I did not park at the first available and so convenient space, why was there just one when it was busy? I would find out. I drove round to a quieter area and there we had it: a RED TOYOTA Yaris PN61 ZRT with a 2 hour ticket as paid amazingly right from when I walked into Lancaster library and logged on there. Apparently I was there as MR CAROL WOODS with a cycle and not me with my car parked elsewhere. Checking my till receipts for shopping I found I could not possibly have made my last purchase and then been at Uni. for 4pm. I took a photo of the RED YARIS right next to mine: we still cannot play "Snap". Then I walked back to see why a space was so conveniently left where I would NOT see that Yaris had I not known about the traps and "convenient" parking slots. Instead I found the usual overdressed dummy in the gas guzzler watching, KJ66 BYR and he started his engine as I walked by. We had a FRAUD IN PROGRESS of someone meeting me here over 2 hours earlier. And to be PJ60 BYR the car used in FRAUD with MARTIN BRANKIN aka others associate of RIDING's and same fraud also using Barclays Bank. I took a photo of the gas guzzler about to pull out: it was not a silver VW POLO.
I do not need to explain more: the INTENTION is seen to make me using my email addresses seem to be a male but any one of 3 today, not the same as yesterday, or weekend, and that is how I am thousands of males now, all ages, races etc. This is typed without my having registered to use the WiFI, my email will state the time I register and, I have no parking ticket today, the lunatics have taken my refs of last week and my paid to park time then and had an "idea" which was as good as all their others; pathetic. That found the fraud as recorded and sent out then. Now some who thought I was being over cautious about saving every single till receipt for YEARS from 2008 can see just why I save them. For example 23 Oct 08 and officer Tracey Kennedy posing as me in Liverpool Magistrates Court and my till receipt showing I was in Lancaster shopping with a daughter. They never learn: too stupid I guess. Carol Woods Ms. Registered from 19 30pm this sent to my other well used email address for fwd when I can.
Cars used in ID THEFT of Lancs W'blower. 09 March 17
———- Forwarded message ———-
From: carol woods
Date: 9 March 2017 at 17:19
Subject: Cars used in ID THEFT of Lancs W'blower.
To: "[email protected]" , "[email protected]" , "[email protected]" , "[email protected]" , "[email protected]" , "[email protected]" , "[email protected]" , "[email protected]" , "[email protected]" , "[email protected]" , "[email protected]" , "[email protected]" , "[email protected]" , "[email protected]" , "[email protected]" , "[email protected]" , "[email protected]" , "[email protected]" , "[email protected]"
Dear Sirs, this is for the record: I have sent to DVLA car details saying they are nothing to do with me. I have reason to believe that all these are registered to me or are claimed to be linked to me as if I am a driver of someone "disabled, in the case of PF08 WDJ she claims to be my dead mother driven about by me. Naturally with all the TREASON unabated mail addressed to ME is not delivered to me: it is delivered to who the staff in Lancaster Sorting Office writes on the envelope. Any reasonable minded person would wonder also why I have not have my P60 for HMRC in regard to my teacher's pay slips for year end accounts for 3 THREE YEARS, who has those? My guess is either WILLIAMS in 30 Fell View with her ID as me provided for her by Lancs Gestapo to help her work as "volunteer" in HMYOI Lancaster Farms to try to make her into me with my qualified, experienced teacher status. Or Jackson in 26 who thinks she is also me and Jarvis who thinks that if she stands outside 41 Fell View and shouts about school meetings it is proof she is me. (All three, plus others, found out thieves and much worse. Jarvis also claims to drive me about in forgery and fraud for GAIN.)
I have not had my car tax reminder for 2015, 2016 and wonder if I will be allowed to have it this year; it is due any time now.
Moving into 28 Fell View LA2 9RP end March 2014 I found that LAMB in 32 was taking mail for me and passing it to a troll in 28 QUERNMORE RD about 1/4 mile from Fell View as that was PROOF I in 28 was a) not there at all and b) was driving about Lamb as her daughter. Lamb has no family; the troll on Quernmore Rd knew she took part in TREASON to defraud.
I do have photos showing how the TREASON is arranged. If I send photos with this, some agencies will not receive it so, please ask if you want photos of how mail to me for example when I rented flat 3 Penhale Gardens LA3 2QA was delivered to flats 2, 4 and 5 despite the address clearly MINE and with MY name. Please ask if anyone wants to see how the postmen all take part, know what they do and aid and abet in such as manufacturing "crime" said to have been committed by me which they not suprisingly "witness". Today being the 9th of any month the harassment is intense with various council trolls and thugs, Gestapo, bogus new claims from Jackson in 26 Fell View, Jarvis in 41 and others paid to stand about by Morecambe Town Hall as I walk by as that is "proof" apparently I have been there and they have driven me, so, what is the "anniversary" the 9th? Aside from major harassment by GMP thugs flooding into Lancaster on 9 Aug 2008 (Vol 2 book) on 9 Sept 2008 after the first raid on MY house of 5 Sept 08 with no legal jurisdiction or search warrants, with the utilities wrecked and I supposed to ring lowlife fraudsters to be allowed back in, I regained MY house on 6 Sept so they arrived again on 9th and tried it all again, they failed but the lunatics PRETEND that that is NOW and 9 March 2017 is thus 9 Sept 2008 at MY HOUSE miles from where I "live" in council bungalow hence the sleazy council racing round and round to harass to PRETEND, Gestapo and 2 TWO removal vans, various besuited half wits who want to claim they are "trustees" and so forth. (The fire service refused to come out to deal with the wrecked utilities; they were told not to. I paid private contractors to do the work.)
These then are the cars that are linked to me in FRAUD partly to PRETEND I drive as "disabled" and allow such as WILLIAMS in 30 Fell View to pose as me. Obviously when I found out the HMYOI ID FRAUD I went to explain to the Governor and security what had taken place, HER car PK62 NXJ was on the CCTV BUT IN MY NAME to match her FALSE ID.
R205 XRJ a red Toyota Starlet that was bought for officer Tracey Kennedy to be parked outside MY house as she lives there pretending to be me. She was bought that by YOU as I had then my red Toyota Yaris so to be me she had to have something similar. It was then passed to a seedy old man to be MR CAROL WOODS. Kennedy does not drive.
PJ60 BYR used at 298 Oxcliffe Rd LA3 3EJ when I rented caravan 1A and the MARTIN BRANKIN aka others claimed I drove him about in that car: he did not live at 298 and he was a total stranger buying the car with DWP monies in FRAUD, it is a silver VW.
PK62 NXJ as above a dark grey Peugeot.
PX14 LRJ a silver Peugeot after PK62 for WILLIAMS who used that PX14 car to go away as ME as Mr and Mrs Carol Woods.
PX15 KHW a red Peugeot when they seemed to realise that MY car being red was not mistaken for a silver or grey car of any make.
Prior to that they had HIRED a red Ford in my name PE64 OUG but obviously DVLA are not interested in hire cars BUT the FACT that they would not be insured suggests something very wrong. The garage retrieved the car when I went with photos and my passport.
PJ65 WLL a dark grey Peugeot was then bought for them; imagine the cost of constantly changing insurance details, who pays for all that? YOU DO.
NL03 WKM was a lookalike of PX14 LRJ and why WILLIAMS were bought PX14; the "owner" of NL03 WKM had pretended to be my partner and claimed in FRAUD using SANTANDER Bank, he from 298 Oxcliffe Rd where he did live in caravan 2. Williams were to be out as seen to be a couple Mr and Mrs Carol Woods to validate the thief and worse in NL03 claiming a link to me he KENNETH NICHOL aka as MALCOLM and ALAN.
I have reason to believe he bought that via bank fraud and a loan in my name.
PF08 WDJ the black Mitsubishi Colt used at 32 Fell View MARY LAMB apparently by a total stranger who claims to be my dead mother. That too will be linked to DWP fraud. Lamb driver herself which I saw by chance.
Without TREASON none of this would be possible. There are other cars and I currently draw up a list of ALL cars used which drivers use Blue Badges in FRAUD etc and PRETEND to drive me about. The MOTIVE is one the Gestapo keep returning to: they claim I "lost" MY house because I was too disabled to live in it! Carol Woods Ms.

Corruption in Green Party ignored. Police link 09 March 2017
Dear Sirs, Please see this, sent to Green Party and ignored. Carol Woods Ms. Please feel free to quote me.
"On Thursday, 23 February 2017, 21:45, Data Analysis wrote:
This document outlines some of the involvement of TRACEY KENNEDY. I am Carol Woods Ms and drawn up these showing individuals who are used to be me.
Tracey Kennedy apparently police, Green Party councillor, self employed alternative therapist, and manager of Lancaster Homeless Unit all at the same time. And she is also ME apparently.
The use of Kennedy was from YEARS before I knew with the PLAN being that a false friend JANET WOODALL sent to befriend me in 2005 was to recruit Kennedy and her partner in a convoluted plan which failed to a great extent and which is why so many others have been said to be me as well.
Janet Woodall was a lesbian which I had not known as she told me of her "boyfriend" Paul and I knew she had also been married. "Paul" I found was a figment of her imagination but used to make me believe something untrue. The INTENTION was for Woodall to claim, behind my back that she and I were partners and recruited TRACEY KENNEDY and her partner ANNA JUDITH PERELES lesbians to then take over the "me and her routine". Woodall had posed as me in the Employment Appeal Tribunal on 19 April 2006; it was after that she met Kennedy and PERELES and the plan was hatched.
A lesbian was chosen to be the opposite of me: in this Masonic lunacy the inversion nonsense principal is applied thus I was not married twice with 4 children, I was really a lesbian with no children and not even a farcical marriage. Kennedy was to be a "better me" than Woodall as Woodall had had one marriage albeit brief.
The Green Party link? In 2002 I was invited to be guest speaker at the AGM of the Green Party then held in what was S Martin's College Lancaster. Thus KENNEDY had a rigged election "win" and that somehow was proof she in 2014 was me as guest speaker in 2002. I guarantee Kennedy could not speak on the subject matter of my talk.
In 2008 in the seizing, wrecking and looting of MY house, Kennedy and Pereles having been identified, KENNEDY was used to appear as me in LIVERPPOL Magistrates Court. The Gestapo attempts to seize MY house prior to that date all having failed, they tried to get something "legal" to justify their actions. Others were involved which led me on my trail and as to what I found out. I want to keep this simple so leave out those others but anyone can ask.
At least from 2006 to 2008 KENNEDY had lived in hiding in 29 Blades St Lancaster to avoid REAL court debts, debt collectors and so on. Pereles owned that house. If one checks KENNEDY's claptrap about herself NOW she has rectified that hiding period saying she had M.E. when she is a liar at best. The INTENTION was to make HER debts seem to be mine and then make her into me, debt free. The EXTORTION, DEMANDING MONEY WITH MENACES and so on with the MIKE TODD GMP link had to be covered up somehow. Thus the idea was to get her into MY house and pretend to be me so that anyone asking questions could be told that "Carol Woods is in her house" (so there was no seizing and wrecking, extortion etc.)
After my house was stolen, wrecked and looted I followed a trail of persons involved and eventually was led to LIVERPPOL MAGISTRATES COURT by June 2009. (I have had no help at all from anyone so have all this to find out and follow up myself.) There I found that KENNEDY had appeared in the court AS ME charged with Anti Social Behaviour with an ORDER supposedly of wrecking seizing and then looting my house (as if a jury will believe that). The court staff knew she was not me and that it was a fraud on the court and gross contempt as well as forgery, perjury, deception and more. IAN LANGLEY and PAUL HEALEY set up DISTRICT JUDGE LOMAX who would not have known that Kennedy was not me but they did. And that was why MY house was seized, wrecked and looted days later. I have made my Sec 7 Subject Access Request to the Gestapo, I have paid my £10, I have asked for ALL documents from this matter, date of arrest, witnesses, who transported me and so forth; I have been to the court in Liverpool, I do my homework. Only I now have any PROOF of that travesty; all other records have been destroyed. That destruction is a CRIMINAL OFFENCE.
But that did not "see me off" and by 27 Nov 2009 KENNEDY was posing as me in NEWCASTLE MAGISTRATES COURT when all involved knew she was not me. In that IAN YOUNG legal rep for Lancashire police compiled a statement dated 3 Dec 2009 so he could see into the future backwards apparently! ONE neighbour of mine had been "persuaded" to claim he saw me at my house when he did not. I was at my house, he was not at his; PERJURY. The charges then? I harassed Kennedy and Pereles but Kennedy was posing as me thus I appear to be harassing myself. I have asked for ALL data on that matter but all has been destroyed.
27 Dec 2009 to rewrite that and make it more suitable for any enquiry I was arrested for harassing Kennedy and Pereles. 2 tapes were made of the interview, I requested copies on leaving but was denied copies. The court date was set 14 Jan 2010 and the amazing FACT is that PC JIM EDMUNDS with KENNEDY arrived to pose as me thinking I would not turn up. They saw me with 2 witnesses and ran away. (I used to get Pereles and Kennedy mixed up as I did not know which was which but all this was Kennedy with Pereles supporting actress. Woodall was written out of the script in autumn 2009 found out to be a false friend, liar, thief and worse.) Kennedy started to dye her hair a red colour to be me when I returned to my home area after living in the far north of England for some months.
On 14 Jan 2010 the bench were astonished to find I had been issued with no paperwork, charge sheet or anything at all. (I still have had no custody record.) The CPS totally corrupt GRIFFITHS (to confuse her with GRIFFITHS who represented LCC in my tribunal claims) and RACHEL GOUGH totally corrupt "clerk" of the court. The bench ordered Griffiths to give me what she had so she banged down in front of me 2 tapes and paperwork, statements and what I needed. The confusion then showed the bench that something was seriously amiss. The CPS had to explain how the paperwork had all gone to MY HOUSE and IN MY NAME when MY house was seized wrecked and looted a YEAR earlier. It had gone to KENNEDY as if she was me with the INTENTION of her appearing as me AGAIN. Obviously I had not known about 23/10/08 or 27/11/09 or I'd have arrived then as well.
The bench wanted to know where the "evidence" of harassment was. What was it? Apparently I sent emails and letters to Pereles' place of work which was MY former place of work as Pereles has never worked in her life. Where were they? In Lancaster police station for "safe keeping". So, no, we could not see the evidence. There was also a Notice to Quit my house served on Pereles at MY house which instruction to do so had been issued to be my District Judge Stephen Earl in Oct 2009. That was apparently a serious offence, sending that to her as the thief she was/is.
The bench adjourned for 20 minutes while I checked the papers looking for perjury which I knew I would find and did. I could not listen to the tapes until weeks later. The bench knew something was amiss with Gough and Griffiths tying themselves in knots about MY address. I had to help out as usual. A "not guilty" plea was entered and GOUGH and GRIFFITHS then said Lancaster Judge was not of status to hear a trial so they moved the case to PRESTON. Why? No witnesses had a Preston connection. No crime had been committed in Preston, the Judge in Lancaster was a district judge the same as Preston, what motive could there be in insisting it went to PRESTON? Later I saw, when I had more time to scrutinise what I had, MY name was not on the paperwork it was all MRS CAROLE WOODS that is not me but they then had started to INVENT a person and I was to take on the role so others could be me.
When I listened to the tapes it was KENNEDY posing as me and they were the tapes they had used for the 27 Nov 2009 FRAUD which was why they arrested me on 27 Dec 2009 to try and get right what they had got so wrong. This is what we have to believe as all this is on formal sworn documents which only I seem to have. Kennedy with all her jobs lived in hiding or had M.E. whichever a jury believes but did the Home Office pay her the salary of police while she was off sick? A police officer cannot have political affiliations yet there she was GREEN PARTY COUNCILLOR and so on. Thus KENNEDY is in Lancaster police station being interviewed by her colleagues and they thus know she is not me yet interview her as if she is me and FORGET to swap the tapes which is how CPS had KENNEDY's tapes and banged them down for me when told to do so.
On 13 January 2011 Kennedy and Pereles went to the High Court in London to pose as me AGAIN. Only I seem to have the paperwork AGAIN. The case they started with ROGER FRANKLAND an inept probation officer now retired who posed as their solicitor, knowing neither was me and knowing it is a criminal offence to pose as a solicitor in a court, and as I moved south, the person chosen to be me on that same case changed to be someone nearer to where I was thus Kennedy posing as me was impersonated when someone else took on the role. All that is ANOTHER NAMED person with PROOF and that case went on until Aug 2011 with the PERJURY yet again not dealt with but reported.
My Sec 7 Subject Access Request asks for all data as to arrests, transporting of me, names, ranks and badge numbers of police involved, I can be sent nothing at all.
What happened in PRESTON for the "trial"? There was no trial; it had apparently taken place between 14 Jan 2010 and the dates set 18/19 March 2010 only I was unaware of it. The judge that HAD to deal with the matter did so in a closed court, literally closed as it was before the staff could allow in members of the public and the person he dealt with was MRS CAROLE WOODS invisible of course and he totally corrupt WARD, chosen as he ranks high on the list of corrupt judges. He of course is a FREEMASON. The MoJ confirmed there were no records of any of that so, yet again only I have what I have and that includes 2 tapes of Kennedy being interviewed as me. The emails and letters said to be kept safe, never existed. ONE email I sent to MY former place of work was returned as undelivered because I had an incorrect email address. Thus despite my Sec 7 S.A.R. list of items that MUST exist, there are no "letters and emails".
C WOODS moves again – fraud LA2 9RP 10 March 17
———- Forwarded message ———-
From: Data Analysis
Date: 10 March 2017 at 16:53
Subject: C WOODS moves again – fraud LA2 9RP
To: "[email protected]" , "[email protected]" , "[email protected]" , "[email protected]" , "[email protected]" , "[email protected]" , "[email protected]" , "[email protected]" , "[email protected]" [email protected]
This document is drawn up and will be sent out as many times each week as the FRAUD demands. Some background: Fell View Caton (LA2 9RP Lancashire for those CC this) and environs hot bed of unemployed lowlife all earning "free money" in theft, fraud, ID theft, claiming to be me, claiming that as me "I" have just moved to various addresses round Hell View, running bank accounts in forgery, TREASON and so on. Clearly all aided and abetted by corrupt council, Gestapo and Royal Mail ALL KNOW EXACTLY what they do. In this the lunatics organising this do the same old things on every date of every month and try to make past events NOW. Cars are used as well as dates, see the prime example below. It is complex as fraud always is but unravels quite easily. Ms Carol Woods.
This is a classic example: prior to my leaving 298 Oxcliffe Rd LA3 3EJ where I rented caravan 1A from 4/3/12 to 1/7/13 (which is why the lunatics pretend I move on the 1st and 4th of every month since) I noticed a bronze Citroen Zsara PJ11 PPX seemed to be where I was much of the time which struck me as "odd". I also noticed YE09 AMK seemed to be where I was much of the time when out in MY car. MY car has an illegal GPS fitted to the ignition via Gestapo issuing threats to a garage after I bought my car in Jan. 2012 so stalking and harassment are easily arranged. YE09 AMK took me months to find out was a GRAHAM WOODS of flat 18 Penhale Gardens LA3 2QA who PRETENDED in his stalking to be linked to me as I am WOODS. Retired Gestapo; he was a fraudster. Leaving him aside but anyone can ask, I move to the bronze Citroen PJ11 PPX which was then filmed by me on Penhale Gardens in Aug 2013 using flat 4 where a roughneck old parasite SHIRLEY RYCROFT claimed to be me buying a large fridge freezer. PJ11 PPX was used in the arranging of that FRAUD and FORGERY and obvious BANK ACCOUNT FRAUD in that organised crime which I caught on camera. Thus the car PJ11 PPX had to be "covered for".
I move to rent 28 Fell View on 24/3/14 and find various deranged thieves in 23 houses claim I live with them and am driven about by them. I am mother, daughter, sister, aunt, niece, partner and so on; those who are not "related" are actually me so some double as daughter in law, daughter and being me such as HUNTER in 22 Fell View. In 31 Fell View I apparently "lived" as it was not a council house it was, with 29 Fell View, LENNON aka JANE SLATER, a secure hospital and I lived there being cared for local roughnecks, unemployed deranged who wore hairdresser overalls and posed as NHS. That ceased end of Feb. 2015 when I had found out much and enquired via planning when 2 council houses had applied to become a secure hospital and when the application had been passed with all NHS inspections and so on. Clearly those involved need a secure hospital. One involved was a CATHERINE ROWBOTTOM who has at least 2 addresses; many have at least 2 addresses. She also lives at 2 Copy Lane off Leslie Ave which is off Fell View. Various unemployed used 31 Fell View; it has been used for over 2 years for vans to hide in the yard given it has a large yard which cannot be seen from me in 28, it has had lowlife hide at night to race off when they see I retired for the night and PRETEND they drive me to a SECOND address without actually thinking about how I return to be in 28 every morning such is the crass stupidity. Yobs have been recruited to stay in 31 and they have all been MR CAROL WOODS – apparently stalking and harassing me when I drive off in my car. I have hundreds of photos, all cars can identify the drivers and times and dates especially of deliveries in FRAUD. I then found a bronze Citroen Zsara BK53 EWE was used from 31 driving about AGNES JACKSON in 26 Fell View who was ONE who claimed to be me.
Rowbottom I had found hiding in 30 Fell View allowed in by WILLIAMS who then went out and left her using the phones etc to claim as they were out the use must have been mine from 28. At that time ROWBOTTOM used a small black car with "partner" which is on photos stalking me to pretend they drive me about. Jackson does not drive is driven EXACTLY as RYCROFT, who was me in 2013, was driven but by Y96 OBU 2 council employees PAID to driver her about to make her me. The use of PJ11 PPX prior to my leaving 298 Oxcliffe RD was to "establish" it was linked to me in PLANNED and ORGANISED fraud to be conducted after I left. Fast forward to 2014, Rowbottom found out in ML53 TWJ, and BK53 EWE was used and with Jackson posting for claims as extra monies needed DWP and so on in the usual frauds I have discovered from March 2012 – reported yet all ignored. But another also drove BK53 EWE from 31, how funny and clever they all thought they were. Then BK53 EWE "disappeared". PE08 ZRX, a red Citroen Zsara was being heavily involved then as I also apparently lived in 41 Fell View with JARVIS who were also in 2015, "me" as Mr and Mrs Carol Woods and she still is so deranged she thinks she is me. That fraudster validating as FACT that Jarvis had an invisible person living in 41 being driven about by them, the invisible person was ME.
Then PN06 XPY another bronze Citroen was used, not as much but was noticeable and I found it at 5 Fell View. Those trolls have been used a few times to harass and the use of 5 is because I have a daughter who lives in a house numbered 5 which is miles away but for the lunatics organising this, the number 5 is 'good enough'. PF55 SPX ANOTHER BRONZE CITROEN ZSARA was used but by then "I" was moving into 37 Fell View yet again as I had also lived there as the mother of a Malaysian thief and she cared for and drove me about (yes while I was in 22, 26, 30, 41, 5 and so on). The Malaysian thief found out, she "disappeared" overnight, literally and the house was/is used by various, some who I have caught parking and hiding by lying across the front seats of their car and PRETENDING that they seen there with no driver meant the driver was indoors with "someone" which "someone" was to be me, e.g. OEO6 APF. PF56 SRX another bronze Citroen was then drawn in and he was to be at 20, 22 and 41 to "clean windows". More red Citroen Zsaras were found to pull up outside me and then drive away after a few minutes.
On 11 Oct 2016 I went to Preston to do something for an associate who was too far from Preston to attend himself, I looked round the shops and set off back to Lancaster finding a pair of dullards in BRONZE CITROEN stalking me MM53 JHX; the FRAUD and LUNACY was to pretend that I was just moving from Preston and they drove me! Why the 11th? I apparently move on the 11th of everything as well, why? Because a thief, fraudster and more DIANE LENNON yet another who claimed to be me, she with X486 DDC BLUE CITROEN SAXO would call to 298 Oxcliffe RD when I rented there and steal MY mail pretending she was me living at 298. She found out "disappeared" on 11 Aug 2012 with at least 2 items of mail addressed to me which the landlady handed to her knowing it was TREASON. That LENNON is not related to the one in 29 who was advised to change her name to Slater and change her appearance by growing and dying her hair in late 2015 when the going got tough. Thus BRONZE CITROENs used and they are all supposed to be ONE and the same and all linked to me via lowlife thieves and worse.
I then find a loud mouth on LANGDALE rear of Fell View which is off Copy Lane; I knew that loudmouth was used from March 2014 but not why. I know no one there at all. That lunatic is apparently another MR CAROL WOODS, why? He keeps a few chickens in his rear garden which almost meets the end of my rear garden in a small corner: he thinks he is me as qualified and experienced teacher to "A" level standard of horticulture. AND photos looted MY HOUSE on 19 Nov 2008 by Gestapo show me and family on LANGDALE which is in SURREY not Caton and that yob would never his wildest dreams be anything to do with me. The Gestapo decided he could be linked to me because of a late 1960's photo hundreds of miles away! That yob used more and more with his shouting which is laughably known as "brainwashing" – I hear – I believe! The use of his dog when he torments it to make it bark for 30 minutes at a time is to make me think I have a dog as RYCROFT one version of me has a dog thus I have to at least THINK I have one. That yob, found out, was used on Saturday 4 March 2017 as the "plans" to "see me off" and plans to "have me said to have just moved in" (on 1st again) had failed so the Gestapo resorted to entrapment using the unemployed lowlife and those around him as "witnesses" as they are all the same types of dullards. One was to wait along the main road and PRETEND in his "removal van" that I was just moving to or from New Parkside Farm with the holiday caravans there as it was the 4th March it was to be confused with my moving to 298 Oxcliffe Rd to caravan 1A on 4 March 2012 which was a Sunday anyway, not a Saturday. He sends his text to lowlife on Landgale and Copy Lane so they get "organised" and he from Langdale races out to be ahead of me as I approach and the "witnesses" all claim I am seen stalking him! I pulled over and then went straight to my bungalow; they all wasted their time. BUT I saw he drives a BRONZE CITROEN of which I took a photo of it racing out in front of me. The plate includes the "54" which is used often as in YD54 VYR the BLUE HYUNDAI from 22 Fell View which apparently drove me about for over a year from 24/3/14.
Thus his bronze Citroen so "conveniently his" was to be linked to me to be BK53 EWE again, 31 Fell View and Jackson in 26 Fell View but how? The deranged Jarvis had been sent away for 2 days to be me with "a daughter" when I have 3 so that is a clue she is not me which any jury will see. The 1st having failed, JARVIS was sent away to try and make it for the 4th amid the INTENTION to manufacture "crime" to make sure I "disappeared" so that deranged old thief in 41 could return and carry on as if she was me just returning as I returned from a short holiday end Feb 2017. The lunatics decided to make that MY JUST MOVING IN on 1st March. They failed in that, resorted to the 4th, now try for 11th again as it is the 9th. On 8th Jarvis went to post as if she was me. I did not go out so that suggested I had posted nothing. At 5 10pm I saw a BRONZE CITROEN race to 31 Fell View and drop off an invisible person; that would be a NEW CLAIM as if I had just moved in there among unemployed lowlife lunatics yet again. Jackson then goes out to post as a new claim early on 9th. Thus "someone invisible" (me) has just moved to 31 Fell View all linked to a bronze Citroen.
But I am Williams in 30 am I not? Surely Mr and Mrs Jarvis out and about as Mr and Mrs Woods with Jackson out as me, suggests Carol Woods is the most common name for bother sexes and all ages and most live round Caton area. Do not forget DALTON in 45 is also "me" and apparently she is on more LOOTED photos from MY house: she was me in Tenerife in 2007 apparently.
Thus as the organised deranged all claim I move in to at least 6 addresses at least 3 times every week, I will send this EVERY TIME I SEE THAT TAKING PLACE. I will not detail any more than I have but I sent out my letters to lowlife end Oct 2015 and warned them of harassment, that I would report to DWP, HMRC and anyone else I felt like reporting to and they thought they were untouchable – we will see.
Lowlife in DK51 HVL from 8 Beck Side off Copy Lane cannot be the only thief and harasser with a BLUE BADGE pretending she drives me about. I suggest Williams in 30 has one, as Jarvis will have, as Hunter will have, Lamb in 32, Clarke in 23 and various in 31 AT LEAST. Kind Regards:
10 March 2017 I feel I need to resend: last evening the lowlife JOANNE NOLAN from 17 Fell View was to hide and pretend after I parked up that she had driven me, (she pretends to be my daughter, you will know her as Caton school cleaner), the shopping fraud at 20 was agaian underway also to be "behind my back" but wasn't. Y191 SLF was driven from 31 Fell View by one who claims to be MR CAROL WOODS and he was to drive to Morecambe area and PRETEND he had collected me. PE56 NXB the sleazy who set up Jarvis in 41 with a "second invisible person" was at 41 pretending again, 2 taxis pretended to collect me, one as I passed Morecambe Town Hall just after 6pm on 9th. One again from 45 Fell View at 8 am on 10th, Jarvis "away" again to be last weekend all over again and Jackson with a total stranger who called, "Are you Agnes" and they out in small silver car to be seen as "identical twins". That is the 6th identical twin for Jackson so we have identical sextuplets I think. My photos show them all. This one was younger than Jackson but the same type. This is how "revisions history" and FRAUD compound matters by adding to after shaking the kaleidoscope.
Let me add that the taxi calling to 45 to take a "ME" somewhere I guess reminded me how such as THOMAS/TERENCE GATENBY/GATEBY was collected from where he really lived in Morecambe to be dropped off at 298 Oxcliffe Rd e.g. 24 Jan 2013 and hope I believed he lived in a wooden shack with no water, power, gas or anything else. He was collected and dropped off by the FREE taxi service provided by the Gestapo. 24/1/13 was only ONE occasion. I also add that the deranged old thieves in 30 WILLIAMS have put on in the rain on their pathway in full sight of me a charity bag with a few items clearly in there. That reminds me of ANNA JUDITH PERELES taking MY antiques and collectibles from MY HOUSE in THEFT to a charity shop (YOUR STEEL DOOR ON MY HOUSE AIDED THAT THEFT) and at 298 in 2012 the times they were told to leave bundles of clothes on the roadside by my car hoping I was a thief like they all were, steal them and take them to a shop that apparently bought sacks of old clothes. Diana GARNER and LYNNE AUSTIN from the now closed Assembly Rooms King St Lancaster dealt in old clothes and both were so deluded they thought they were me; GARNER in DOREST and AUSTIN in BLACKPOOL. The use of NEW Parkside Farm takes place as does the use of males using SCARTHWAITE HOTEL and their holiday chalets as MR CAROL WOODS.
Jarvis was obviously used to about 1pm, then the van of "gardener" SG54 XOK (obviously no work to do) was left again outside me to hopefully make me "forget" the "white van man" at MY HOUSE who claimed to have bought it by being outside from May 08. He is a link to loud mouth yob on Langdale who also claims links to me, and the van NL04 JXG used at 20 Fell View and at 7 Leslie Ave MILLS thieves and worse. That van was also a "gardener" and I was to "forget" my qualified work in that field. (No pun intended.) Going out I saw the lowlife ONE who claims to be MRS CURWEN (one of at least 6 all different like Jackson's "identical twins" in RED Honda SA55 XHD which was bought to give that lowlife "proof" she was me after an RTA. I watched that fraudster park up, had been told to wear "black" and buy a hat supposed to be PROOF she is me, she walks about, sees me going out and grabs her crutches then walks carrying them to 24 and lets herself in. Along the main road I ignored much BUT add the delivery from a brewery I guess was going to 30 Fell View like many they have had and NOT paid for, and found a BLACK NISSAN NA55 YDK waiting to PRETEND: he drove along the M6 south so I appear to have gone south again. In Sainsbury's I had yet another deluded old fraudster to replace the rough neck of one week earlier who PRETENDED that "seen" at Sainsbury's was PROOF she was meeting me. This one was not the usual cheap, bleached haired/dyed black haired old doxy, roughneck, but still stuck out like the fraudster she was. I noticed that she had managed to find nothing she wanted in the store at all in all the time I shopped and checked out. Amazingly, she entered with me and left with me; her car, Silver Hyundai PN14 OSL and nothing to do with me.
I drove to the University and found the lowlife PL02 THK parked on Greaves Rd and this will amuse readers: the Gestapo had told the driver to park there, why? MY data of my photo with PL02 THK at BLEASDALE's 2 Hall Drive on blocks to be the Gestapo helicopter and AX03 car in Wiltshire was "revised"; how? That short stretch of Greaves Rd is built on an incline away from the road, a common way of building in Lancaster. The Gestapo were near- by to confirm they saw that and the younger troll like the half-wit at Morecambe Town Hall on 9th which was rewritten today as being MILES away south Lancaster. I will confirm he saw all that. Near the University was a blue MINI not McGUIRE thief from 14 Fell View, not the dollop "professional" caught hiding under my kitchen window on 2/8/13 at Flat 3, not the troll racing from Caton in Aug 2014 to PRETEND that was 2013 again and miles away, she on her phone, with the now usual large black pick up with rear cover added like the one MILLS in 20 Fell View used for over a year to hide in the back with the cover on, park outside me in 28 and PRETEND their use of phones was mine; VD06 VVN was that black Mitsubishi. On campus I had the usual BLACK male another, MR CAROL WOODS stood to take a photo of himself on campus as he saw my car which photo he sends to someone in the now well used photo fraud. I waited, watched all the lunatics act their roles then I drove back to see which fraudsters were still parked: they had all gone. I return and find the now usual male with his man bag and PRETENCE he has met me. I then find a woman "gardener" to start taking photos so I engage her in conversation, we talk of plants and she talks of "IAN" arranging everything. Yes, that will be the lunatic in residence IAN YOUNG I guess. I fully expect another pair of council trolls to call and PRETEND I am found living in the library. I have only paid for 2 hours on my car so if I have been living in the library it raises certain questions. Where was I prior to 3 25pm when I paid for my ticket for example. The part sent out on 8th will be reduced as you have seen that. This now suggests I have moved into 41 or that they are me; 26 as her identical twin (she sneaked in the back door and wasn't out anyway), 32, 24, 22 HUNTER went out in KW54 XDO so she'll be busy pretending something as that car rarely moves except to stalk me which she left prior to me today. Williams in 30 we know about, 45 and so on. I have no doubt I will be moving into a few others later today and then tomorrow.
Part 1 of 2 how DWP can be corrupt Lancs. 10 March 17
To all sent this: I sent out some emails recording serious, organised crime continuing in Lancashire, certain cars used all linked to me, those who claim to be me, those who claim to be linked to me for GAIN, and the part the Gestapo and council trolls play in all this. Obviously there would be reprisals as there always are; this is the edited version of those reprisals; I could not record all as this would be lengthier than it already is but this shows what, who and why they are used. Leaving the library about 5 55pm (it is open until 7pm on a Thursday, I was in Morecambe for a change), I watched the usual male dollop then immediately switch off his computer where he had been playing games: he had been keeping watch to see when I logged off as this is done to cover for lowlife DALTON in 45 Fell View found using MY email address in serious E-CRIME so the Gestapo PRETEND by using other dullards that I use MY email address while they play games as if it is a "togetherness" that only the deranged could dream up to cover for serious crime. By 6 05pm I was walking back to my car and went by the Town Hall, scene of harassment earlier on my arrival via Gestapo and council as recorded and sent out, on camera, so expected something, there were at least 4 incidents which I ignored but took a photo of the taxi thug waiting to PRETEND he drove me from the Town Hall after they'd been closed at least an hour; trying to link earlier harassment with that of later. BUT that was linked to a seedy looking troll I caught driving round to try and park at Morecambe DWP centre as I walked by there: her car RED, PE08 was to be RED CITROEN ZSARA PE08 ZRX subject of data sent out earlier, yet another corrupt council employee aiding and abetting serious fraud from 41 Fell View mostly but also 32 which information in regard to that went out. The car NOT a Citroen anything, NOT ZRX, but red, I watched the troll enter DWP with a pass card so decided to type up the events and send with them the data below which shows what corrupt PUBLIC SERVANTS I DEAL WITH. (Related information below.) Thus the INTENTION was to somehow relate the thief and fraudster PE08 ZRX with 41 and 32 Fell View and somehow make it a DWP FRAUD which we already knew. How much time went in finding one with PE08 RED car? YOU PAID FOR THAT. See any DWP office and by 5pm they will be empty of staff as any council office.
I took a photo of the taxi so expected another would be sent to PRETEND they drove me. I was not disappointed: he cleared off when he saw I saw. YOU PAID FOR THOSE 2 AS WELL. I decided to get some petrol which I often do when returning to Lancaster area, I use Sainsbury garage. They ALWAYS have something staged IN CASE I call in. A troll waited; it was becoming busy: she went to pay for her petrol but seemed too interested in keeping just in front of me. She paid, had plenty of time to drive away as I then paid but she waited keeping others waiting: what was she waiting for? That troll waited for me: I am never wrong, I can smell them. She was to buy many packets of cigarettes and pay by SANTANDER CARD and then wait to leave with me to be "with me". Why? I sent this out to the Gestapo as data that MUST exist that I require after paying my £10 as requested which they then stole from me. In Sept 2010 I found that a daughter of mine had bought 2 cushions while I lived in London; she was to buy them via VISA card and PRETEND it was MY purchase to PRETEND further than I in London was not me but that I was still in Lancaster. In late Sept and early Oct that daughter was to use a Visa card for purchases she would not make but those I would thus AGAIN to be PROOF the card use was indeed my use. All that was instructions to my daughter so I will have all that. You will know what bank was involved: I can only guess. YOU CAN ALSO INDICATE WHERE THE MONEY CAME FROM TO BE SPENT VIA VISA CARD.
That is what they wanted to "rewrite" using a rough old troll to be "seen with me she using a SANTANDER bank card". How would the Gestapo make anything of that silly action? They had one waiting to drive behind her and along the new M6 link road which I use to return to Caton; she in black FORD PJ06 SSZ was as stupid as the rest: I spotted her from 100 paces. The Gestapo were to claim they saw her enter the M6 link road AFTER me thus PROOF of something. But they didn't; they saw her, I saw them; I pulled in, waited and was behind both of them; I expected EXACTLY that. Who paid for her travel miles along the M6 link road and the Gestapo time? YOU DID. (My Freedom of Information request for petrol costs over certain years remains ignored.) Someone else might like to try?)
Leaving the link road the usual took place which is? The Gestapo have lowlife from Fell View all (yes, always at least 6) racing to Morecambe where they PRETEND to collect me and drive me back to Fell View in such lunacy that YOU ALSO PAY FOR. One of note Y191 SLF a small red which is from 31 Fell View and which car was BOUGHT BY YOU so the troll could drive about the thief in 26 Fell View, AGNES JACKSON so Jackson was at least "seen in a red car" thus was "me" as she is ANOTHER who thinks she is me. All that on many photos, the Gestapo then brought in a male unemployed older idiot and he MR CAROL WOODS took charge of the car driving it about in stalking me to PRETEND he drove me in that while I was in mine in front! The GIVING of cars used in serious fraud is usual: R205 XRJ apparently MY car at MY house when it was not my car at all, found out, on photos and the Gestapo gave that to a seedy old man to stalk me and PRETEND the same as the idiot in Y191 SLF from 31 Fell View. I decided to park off Fell View and go to 31 and take a photo of those in the yard as it was obvious I was not going to get one of Y191 SLF: all I could do was show it was not at 31. I was glad I did that: YJ03 car had been found and was hiding to then drive out and PRETEND to drive me to 28, but I wasn't there, I was watching that lunatic PRETEND.
Why was that used after almost 2 years of not being as a licence plate YJ03? Because on data to be sent out listing ALL cars used by thieves, fraudsters, stalkers, harassers who claim to be linked to me YJ03 UNV was at 24 Fell View CURWEN which 3 fraudsters all claimed to be Mr and Mrs Carol Woods and HIS sister so also Woods, they were all me apparently after an RTA so they "suddenly come into money" when I move to 28 Fell View. They had no RTA: I have never had one. Occasionally as the COUNCIL,THAT IS YOU, fund them to leave 24 empty while they at tax-payers' expense are re-housed in a flat as "disabled" or "ill" after a non-existent RTA, Mr CURWEN, late 70's calls to 24 and puts out sacks of what he likes to suggest are "medical waste" (he brings household rubbish) to show "Look, someone ill is in 24 and this is medical waste to prove it" and again, the bin men refuse to take it seeing it for what it really is DUMPED RUBBISH. I took another photo of it left. The car at 31 was as usual,PL07 ZRR a black Ford not surprisingly and supposed to be the troll in black Ford PJ06 SSZ (how much time went into finding that to hopefully link it with lowlife in 31 to PRETEND that seedy old troll was my daughter driving me about; the daughter who does not drive?) PL07 another roughneck who has at least 2 addresses one along Copy Lane off Fell View as they all seem to have an address there as well as on Fell View. Another found out stalker and harasser. Another car there, BD54 DSA, one not on my extensive records so will be being used in this. And then outside 41 was the council fraudster in PE56 NXB she found hiding by 5 Fell View recently PRETENDING to be linked to me. This sleazy did on 24 April 2014 arrive at 41 after I had been out for a day to another town. The Gestapo do this after EVERY day out, EVERY holiday and so on; PRETEND that my return is my JUST MOVING IN.
On 24/3/14 I moved in to 28 Fell View and PE08 ZRX arrived and PRETENDED she "oversaw" the move, she being noted and reported then returned and introduce herself to JARVIS with Jarvis fraudsters then validated as having an invisible person in 41 – ME to be driven about and cared for by Jarvis. Thus I go out for a day a month later 24/4/14 and this sleazy arrives in PE56 NXB and repeats the process so JARVIS then has TWO invisible persons in 41 and that is validated. Bank accounts are set up and run with TREASON, FORGERY etc apparent. But then the Gestapo find out that I know all about the old thief in 32 MARY LAMB who claims to be my dead mother being driven about by me. They know I found she drives herself so they have PE56 NXB driver seen to drive about LAMB 2 or 3 times to PROVE LAMB needs a driver when she does not. That is AIDING and ABETTING. PE08 ZRX then tries the same and BOTH sleazy stalking me when they think they are not seen. PE08 ZRX driver yet another to park up and lie across the front seats of her car and PRETEND that not being seen is PROOF she is with someone – ME.
IN AMONG ALL THAT JARVIS FOUND OUT THEN CLAIMS TO BE ME AND THE GESTAPO FIND HER A CLEANING POST AT LANCASTER UNIVERSITY AS SHE IS UNFIT FOR ANYTHING ELSE. I FIND OUT AND GO AND GET PHOTOS OF HER CAR GN07 AHO PARKED AS STAFF. THAT WAS AFTER THEY HAD JUNE WILLIAMS IN 30 FELL VIEW WORKING AS VOLUNTEER IN HMYOI LANACSTER FARMS POSING AS ME AS IN DATA SENT OUT OFTEN AND AGAIN 9/3/17. Like Williams found out, Jarvis had to resign. They are not the only ones found work posing as me. All enquiries replied to.
Thus the lunatics had the seedy troll at DWP in PE08 (but not ZRX) and then PE56 at 41 which somehow validates a NEW claim for Jarvis which mail she posted on 7/3/17 using MY name. I take a photo of PE56 at 41 Fell View and wonder who else is driving about thinking it is behind my back; the roughnecks in SK02 VLL call at 20 Fell View K MILLS thieves, liars and much worse, with yet more deliveries. YOU PAY FOR 99% OF WHAT MILLS HAS. Remember the COUNCIL at your expense did dump on the front yard of 20 Fell View a squalid caravan and paid MILLS rent claiming I rented that hovel as her aunt. The mail of course went to MILLS although addressed to me. The Gestapo also call socially to that lowlife to aid and abet using PO60 JUW Vauxhall. (That is not the one used today at Morecambe Town Hall. I now have so many unmarked cars on camera they will have to replace them all soon.) MILLS is a screecher; she is yet another who thinks if she stands at the front of 20 and shouts then what she shouts is FACT. The Gestapo told her to do that as they were annoyed I recorded via email that JARVIS stood at the front of 41 and shouted about a school meeting as proof she was me as a qualified teacher. They then got her the cleaning job at Lancaster University; I am sure the staff there knew she was not who she claimed to be. BUT that was not all: another cleaner in PG03 WGU blue Skoda who, in 17 Fell View, was moved there in late 2015/early 2016 in another "major all change" as they were all found out again and she stalking me, found at 24 Fell View, then hiding at 31 to set off when HUNTER in 22 sent a text to tell them when I was leaving/arriving at 28 so she in PG03 could drive round and PRETEND. She is JOANNE NOLAN and apparently is really a niece of mine JOANNE HALL who lives about 60 miles away, who doesn't drive, who does not work as a school cleaner. YOU PAID FOR ALL THAT. And I was to be indoors and not know it was all taking place behind my back when I was out with my camera recording it all.
Part 1 of 2 MORE HARASSMENT Lancs to defraud. 14 March 17
This was the end of my data sent out on 13/3/17 mid afternoon re harassment in organised serious crime Lancaster area. At 298 the Gestapo found a "daughter" for Margaret Middleton aside from the Santander bank fraudster, ELIZABETH MASON. The other "daughter" (Middleton had one son in his 60's) the 2nd one found was young enough to be her grand -daughter. She had 2 small girls, the younger one hated being at 298, "She's not my grandma" when told Mrs Middleton was. (Jackson in 26 has been found grand children who are old enough to be her children, she has none.) Jarvis had been found a "daughter" a deranged troll who was almost as old as Jarvis, that was when Jarvis with her 3 young children was to be me with my 4. They made up the numbers. They also then used CHILDREN IN CARE when the Gestapo found that my eldest was my son not a daughter. Jarvis, totally unfit, was provided with young boys nearer to the ages of her children to make her have 4 with the eldest a boy. Would a jury fall for that? Hardly, I have 3 daughters, she only has one. Even with borrowing, she still does not have 3. Thus now, Jarvis to rewrite that is to have HUNTER's boy to play and somehow that makes me forget the child abuse that has gone on undiminished from my moving in on 24/3/14.
And as usual when the Gestapo don't get their "result", like the peevish, small minded bullying dimwits they are, they again resort to having someone use the Internet via computer as if it is my use. About 3 30am I was woken by the loft noises which are loud when the computer link is established as it is linked illegally via devices in my loft. Usually Hicks and McHarran up all hours in 43 do that. The INTENTION is to expect me to go out which they assume I will do after not being out in the day Saturday or Sunday, and arrange for a delivery to be made behind my back while (if) I go out. The delivery is for thieves who claim they take it in for me. How does the driver know that I will not be in and to take it elsewhere? They are told, they are told wait until they see my car drive off and they sneak from hiding behind 29 or 31, along the office block car park end Fell View, far end of Fell View on Roman Crescent and far end Copy Lane all vantage points for seeing my car drive off. And they are all on photos as well.
Thus I had to be "punished" for sending out the information. Omitting much, I have to ignore most because the INTENTION is to drive me mad with the bullying half-wits, most unemployed, some council staff which YOU FUND to take part. Ignoring all on my way back to my car, I did take a photo of a local yob I know as CARL who in his 50's has never had a job in his life choosing to be one of the "alternative society". He is used every so often as he is me as well. He lives on RYELANDS estate on the far side of Lancaster so has to walk to where he is told to; a known druggie and dealer, he is protected by the Gestapo, so he can be used to do some of their dirty work. YOU FUND "Carl". He was to be behind me and "seen" as apparently walking back to my car and he sneaking up behind is PROOF he is me. He had been found a stage prop, a terrier as many of those who claim to be me have dogs, one being my ex-sister in law JANET and she has a terrier so apparently that is PROOF she is me and I was married to my brother – apparently. JANET will go out as a document exclusively naming her a.s.a.p. "Carl" has a dog, it is not the one on loan today; he had the one on a leash today because it was not his and likely to run off being so far from its home. He has his own dog which he walks in front off, no leash, lets it foul the pavements and pretends it is not his dog. See what lowlife you fund. The usual cars all waited to drive off with me; the usual vans joined in, and at Caton, 5 miles east of Lancaster there were more. It was so surreal only an idiot would have taken part. The best thing I could do was to ignore it all so they wasted their time driving about in cavalcades all pretending.
The red cars of earlier had disappeared, others had been found, one not used before at 2 Fell View, as we all known I also live there as WOODRUFF and seemed to be being dropped off again. Another black VW parked at 45 Fell View, WOODRUFF's partner in serious crime, with L plates. To extrapolate that: we know she Mrs Margaret Dalton in 45 Fell View is me as the Gestapo say she is so, as I drive and have done for about 30 years then she already drives so the black VW is not hers. That leaves only the grey hoodie uniformed yob TRAVIS. But he already drives; he had R629 MUY a red Corsa when I moved into 28 on 24/3/17 and in that he, unemployed late 20's could stalk me, which he did. He used that car for about 8 weeks and then it "disappeared" to be replaced by a dark green R48 GMA which he drove sitting ready to PRETEND he drove me with WOODRUFF the troll from no. 2 Fell View as passenger as she was also me and was to be seen as passenger with him driving as he stalked me in MY RED car as PROOF somehow I was not only WOODRUFF from 2 Fell View but also M Dalton, mother of Travis in 45. I let them again drive off as if with me then I would pull in, re-park and wait at 28 so they were driving off without me. I have all that on photos. the car R48 GMA was then passed to a seedy old man and he stalked me and pretended he was me as MR CAROL WOODS with the car the supposed link to 45 Fell View. That is also on photos.
So, who is the "L" driver at 45? Travis Dalton told me late Aug 2016 that he did not drive; he said he could not recall the red Corsa, and declined to look at photos. He said he could not recall the dark green Toyota and declined to look at photos of him driving it. He could not recall moving any car from 30 or 32 to hide them so that it looked as if they in 30 and 32 were out when they hid indoors but wanted to PRETEND to be out. I have to think he does not actually have a licence and thus was uninsured all that time. BUT end August 2016 admitting he did not drive he also produced a teenager, 6 months pregnant as his girl friend: he unemployed and I was to "feel sorry" for them and think their situation was much worse than mine. Apparently, my letter to Dalton of Oct 2015 had caused her stress in her condition. Really? How long did they think a pregnancy lasted? They don't know. In my letter I told them their HARASSMENT and FRAUD was reported and I would report all the DWP, HMRC and anybody I felt like. Apparently I was harassing them by sending my ONE letter. No, the contents were not addressed and Travis Dalton, the pregnant teenager and his mother (another "me") called to tell me I had followed them to Manchester airport on 5 Oct 2015 and they had a friend who had made a statement to the Gestapo confirming they saw me on Fell View while I was in Barcelona. I had followed them to Manchester airport apparently as they went to fly to Tenerife. No, they had no travel documents, no holiday photos; no they did not know where they stayed in Tenerife. They did not know when they returned and there were to flights to Tenerife that day anyway. They had no passports which was another "minor detail". Most know what happened because I "followed someone to a local airport" which someone was Dalton but not identified until almost a year later, the "local airport" was Manchester which is hardly local to Caton LA2 9RP and they only found the date end Aug 2016 so we seem to have persons who lie; imagine that! I showed them my travel documents, holiday photos, car parking at Liverpool airport from 5 Oct 2015 which suggested I was nowhere near anywhere they were (in bed actually, they were when I drove away from 28 for LIVERPOOL airport).
Who drove them as they have no car? One who drives about WOODRUFF in SV08 HEU from 2 Hall Drive off Fell View making the "2" most useful. That is out of scope of this. The pregnant teenager has not ONCE been to 45 to show Mrs M Dalton what grand-child she has!!! How does he support a baby and girlfriend and now have driving lessons? He doesn't; it is all BOGUS like their trip to Tenerife. It will come as no surprise when I record that Dalton in 45 have aided and abetted WILLIAMS in 30 (more who are me) in serious fraud and ID THEFT and that involved yet another who claims to drive me about she from 2 Copy Lane off Fell View; thus I also apparently have links to every single house with a no. 2 in a 5 mile radius. MY HOUSE had no number: it only has a name, 28 fell View is NOT MY HOUSE, it is a council bungalow I was to accept in exchange for my memory and MY HOUSE.
I saw the lout who drives the dark green VW hiding round the corner, X341 YBV and he was used only a few days ago hiding with Jarvis from 41 also hiding in GN07 AHO to race out when I drove off as they drove me, both of them at the same time and I loved into 41 yet again. All that sent out among the obvious NEW DWP CLAIM IN FRAUD to be made, they were left looking even more stupid that I know them to be as I had not driven off anywhere; I merely collected something from my car.
I had been indoors about 30 minutes and the deranged JUNE WILLIAMS sneaked from 32 into 30; she had been in 32 and the INTENTION was to pretend thus: I was right about the grey haired old trolls trying to stalk me, she from 30 was to pretend she was me OUT and the grey haired old trolls were with me/her thus PROOF the old thief in 32 LAMB was really my dead mother being driven about by me. How do I know she had been hiding in 32 and pretending to be me "out"? Obviously I was out in my car and even seeing all the RED cars driven in to PRETEND did not make me think my car was anything but RED, the GREY car in THEFT and FRAUD, PJ65 WLL that Williams have had not moved again. And she had not locked her rear door, he MR K WILLIAMS aka Mr CAROL WOODS was indoors keeping quiet as she pretends he is not there and she is me alone! I told you I couldn't make this up.
By 10 am on 14 March 2017 the lunacy was in full swing: I am not recording it all as it is best to ignore much, but they started at 8am with those having nothing better to do. Then Williams in 30 were up but as often, told just to use the toilet without flushing and no water for washing. This is an old ACT OF FRAUD, why? They pretend that MY water use in 28 is theirs in 30. Thus they in 30 are really me in 28 or, I am in there no. 30. Or, 28 is 30 and there are only 3 bungalows here not 4 in a row. A "professional" (liar) called to 26 amid the usual use of vans etc; this is to cover for the deranged Jackson in 26 who claims to be me. The bleached haired woman waved about a clip board so we knew she was a "professional". My guess is NHS to cover for Jackson's FRAUD FOUND OUT and sleazy NHS perjury and worse. NHS car used via Jackson's unemployed son Dec 2014, black Ka when he shouted, so I would hear, that it was HIS car, which I had no reason to doubt, NK06 KXX then it was used by at least 2 others, one NHS using it at 26 to bring 2 small children and wait indoors at 26 to then send out the small children when they saw me park up and walking along my path to 28. The children were to try and provoke me into taking their photographs so the unfit parent could scream I took photos of children. (An arrest for such was included in Nov 2015 without so much as a single photo or one single person who could prove they saw me take a photo of children EXCEPT ALL MY OWN CHILDREN OF COURSE). I took a photo of the car that was with its 3rd driver. Thus this one sent NOW is to "revise" all that. And as she in NK06 KXX left as soon as she saw I took a photo of the car parked with mine; she left, as did the troll this morning, not in 26 for 5 minutes. But then we had had all the sleazy NHS sneaking round the rear of 30 and PRETENDING as they went in at the rear of 30 they were calling on me. As I have recorded, the rear door of the tiny bungalow no. 30 is for Mr and Mrs Carol Woods the apparent identical twins of Mr and Mrs K Williams. When they use the front door they are Williams so, NHS sneaking to rear (and how fast they left when I went out to take a photo of their car) were apparently seeing Mrs Carol Woods (PN64 OWR a white Renault was one used in a series of such frauds) and now that they have called to 26 that will be to see her identical twin as well. Jackson has one and she is Carol Woods.
To consider: 4/5/6 July 2014 and Jackson admits herself to local mental hospital which has since been closed. How funny and clever they all thought they were returning her to 26. In that BEV CRAW manager of the new one now in Lancaster knew Jackson was not me. She and Jackson were just about the last out of RIDGE LEA when it closed July 2014. Thus the PLAN was to then "lose records" and not many would know of that FRAUD as most staff and patients had left. 5 Dec 2016 amid the usual lunatic plans she "left" late afternoon to be away as ME again. She could only go when I was not in 28 to see her leave so, as I went out much later than usual, she had wait to leave. That was almost 2 weeks after corrupt bullying liar had called to ask me if I would admit myself as a patient to help them out of their predicament in illegal detention of me (Nov 15 to March 16). They left after receiving my reply yet did not find it anything like as amusing when they returned Jackson to 26 as me in July 2014. Thus Jackson went away as me as her identical twin on 5 Dec 2016, was sneaked back to 26 on 5 Feb 2017 and told to hide for at least a week. In that week the Gestapo and their thugs had plans to "see me off" and then would have Jackson in 26 be Jackson with me HER AS BEING STILL AWAY. The Gestapo did not "see me off". Thus after a week Jackson showed herself as if I had not known she hid in 26 all that time. The walls being party walls one hears everything. Jackson I was amazed had no NHS follow up visits, yet here we are today more than a month later and they send a bleached haired old troll to wave about a clip board and pretend for 3 or 4 minutes. I wonder who the troll went to see, Jackson or her identical twin. But one of her identical twins, (I told you I couldn't make this up) as we know from photos of only days ago does not live in 26; she drives a small silver saloon and drove to collect Jackson to take her out so 2 could be seen. As usual, as Williams are told to hide and not use water to pretend to be me in 28 as if 30 is 28 thus 28 is 26 and therefore there are only 3 bungalows in this row not 4 as I think, Jackson has a favourite game as well. She did not go out with the latest identical twin; she was dropped off round the block and sneaked into the 26 via the rear to pretend that she indoors was the identical twin of herself OUT. But I went out and spoiled all that; Carol Woods was out not in. In 2015 JACKSON was deemed to be me "ill and disabled" and YOU paid for a small bus sent just for her to collect her and drive her about as CAROL WOODS. In her lunacy she thinks wearing RED is proof she is me. Off she went to climb on the bus sent all this way for her as "disabled" (ME). On my excellent photos, seen, it never called for her again.
Part 2 of 2 Org FRAUD Lancs. Harassment 13 March 17
There is another IAN I should record if only to illustrate the lunatics I deal with. 34 Fell View, house swapped in the "great all change" 2015 and a JUNE and IAN BLENKINSHIP found and moved in. She of course was to be JUNE Williams (me) in 30 Fell View AND JUNE Carradice in 17 Fell View also "me" moved out in the "great all change 2015" so now there is JOANNE NOLAN apparently driving me about as a "relative" as I moved into 17 Fell View at least twice on 11/3/17 again. Ian Blenkinship was the link to JUNE (Williams esp) and as she is me then it apparently follows that anyone else JUNE married to an "IAN" is bound to be at least related to me. It will come as no surprise to anyone to find that Blenkinship were others TOLD to get a dog to establish a strong link to me as apparently I only think I don't have one. The pair FOUND must be linked to council someway: their sudden appearance was NOT coincidence. Their car is black Volvo YH08 KDK and apparently I have been moved into 34 via that car. 34 is used in conjunction with 34 QUERNMORE RD about ¼ mile away. A cluster of privately owned bungalows, 34 is rented out to various lowlife and, I also live there as well being driven about by whichever lowlife has been in after a previous lot have been found out and moved out. Thus whoever is in 34 Quernmore Rd PRETENDS they drive me and they park at 34 Fell View as PROOF. All unemployed they have time to do all this and THE TAX-PAYER FUNDS IT.
In the fraud found out about R205 XRJ a red Toyota Starlet parked outside MY house so that officer TRACEY KENNEDY IN my house could pretend to be me (she doesn't even drive) THE CAR YOU BOUGHT for that FRAUD and ID THEFT, the Gestapo moved a roughneck into 34 Quernmore Rd after I found that a GREEN Toyota R208 MKN was being used from 39 Fell View O'CONNER deluded, another ME, hoping to "confuse" R205 with R208 both being Toyotas. Mine is X165, there is no confusion not even with Williams in 30 and their PJ65 WLL. The troll moved in to 34 Quernmore Rd was a single parent with a small son. She was chosen as I had also discovered that the MALAYSIAN thief in 37 Fell View with her single parent status, young son and high spending power had been claiming from 24/3/14 that I was her mother living in 37 being cared for and driven about by her which is how she had high spending power. She was moved out literally overnight and while 37 continued to be used by deranged from the council to PRETEND I lived there as needing 24 hour care after an RTA, I will not focus on that here. The woman moved into 34 Quernmore Rd with her young son and various yob callers in their uniform of idiots, the grey hoodies and trackies, had a SMALL RED CAR, R128 HBM a Nissan Micra. She would park outside 34 Fell View and they would pretend it was all one address and all drove me about. She, caught red handed at least 5 times up to no good and on camera, from 34 Quernmore Rd was moved out and ANOTHER was moved in minus, it seems, the single parent status. The yobs still collect; the car she has is RJ03 YGE a small Renault, RED of course. She drives to 34 often with a "passenger" and the lunatics pretend that the passenger (ME) is moved between 2 houses in a sort of "shared care system". Trust me, seeing any of these recruits, any at all including council, you would not want them to look after your dead budgie.
All attempts on 11th to claim I was out so my return was a moving "in" to any one of a number failing as I did not go out, had I gone out the lunatics would claim I had moved out in order then to claim I had moved in, please remember this is 11/12 Aug 2012 and miles away at 298 Oxcliffe Rd. LA3 3EJ, we all only THINK it is March 2017 apparently. The Gestapo and council have their lowlife all acting behind my back so, what else did I find? In July 2013, moving to Flat 3 LA3 2QA from 298 LA3 3EJ, I was told that moving to the flats the policy was that the Gestapo would call to advise me how to keep safe. After I stopping laughing, I told the council staff that I could guarantee they would not call on me. I knew they'd claim I was not there. That filtering back after added comments from me after July and Aug 2013 had passed, I then found the old woman in flat 5 was posing as me. The Gestapo had provided her with a provisional licence IN MY NAME which the POSTMAN MUST HAVE DELIVERED knowing she was NOT Carol Woods. She had been in that flat years. On 5 Sept 2013 they sent PCSO DENNIS NELSON to call on her in flat 5 ('LOOTER OF THE DEAD' AS I KNOW HER) and PRETEND he called on her as the "new tenant" to tell her, as looter of the dead, thief, fraudster and more how to keep safe! (I told you I couldn't make this up.) The stench from her flat when she opened the door to him must have told him she had been there years. SHE IS ONE POSING AS ME TO HAVE A DOG which is why I have to at least THINK I have one so I can be her so she can be me. I took photos: Nelson at HER flat 5 on 5/9/13 pretending she was me as the "new tenant".
The photos being seen ILLEGALLY when I scanned them they tried to "rewrite" that FACT and make it NOW. How? Some months ago, I found a car parked at my gate alongside of my car but there was no driver anywhere. I went out to take a photo and a woman appeared from 39 Fell View and drove away. She was not the old doxy "meeting with me to sell my house" type. Two hours later I went out to my car and found she had returned, hidden her car and was with a male PCSO; they had been to 32 Fell View and PRETENDED that she had just moved in and they were calling about 'keeping safe'. She, they knew, was LAMB, nothing to do with me except they all pretended she was my dead mother and they thought they had rewritten 5/9/13 miles away at Flat 5 Penhale Gardens. There is no policy that states anyway that Gestapo call TWICE and in 2 cars all the way from the Bunker to tell someone how to keep safe. Even a simpleton would not believe that. (Someone could make a FOI request and ask how much police time is spent on such matters.) I took photos of that. How then to rewrite that given that they wanted to at least PRETEND I moved in somewhere? They had to link it to a "moving" date which, as 1st and 4th were used but failed, ditto the 9th they then relied on 11th as those earlier dates had failed to show a "move". I was going out on 11th at night and found the Gestapo hiding at 34 Quernmore Rd. I took a photo. I can guarantee that Gestapo was PRETENDING "someone" (me) had just moved in and was being given a "how to keep safe talk". Returning, I drove by Langdale off Copy Lane and went to see what cars I could find on LANGDALE seen stalking to harass. I found they try to operate those 10 council houses in a "U" shape as if it is 298 Oxcliffe Rd complete with a replica bank fraudster and worse MARK A RIDING aka MARK S RIDING cycling in and out. RIDING claimed to be my brother at 298 when he never lived there: he just arrived every so often and PRETENDED to.
WHY IS 34 SO IMPRTANT? Because JACKIE HUNTER thief and worse of 34 Buckley St Shaw about 60 miles away was used to be me within the GMP MURDER of MIKE TODD matter. HUNTER in 22 Fell View claimed from April 2014 for a YEAR that I was Mrs Hunter HIS mother in 22 Fell View for which the tax-payer funded them as parasites they are. After a year when such as the Malaysian thief had to run away from 37 as found out, HUNTER then decided I was HER mother not his. After another year in the great 2015 "all change" they in 22 like Jarvis in 41, Williams in 30, Jackson in 26, CURWEN in 24 all decided they were me after all. Thus 34 is highly relevant to use. The lunatics pretend that 34 Buckley St is 34 Quernmore Rd and those in 34 then drive to 34 Fell view and PRETEND to have moved JACKIE HUNTER to 34 Fell View and that is PROOF she is me after all. Hunter in Shaw has never been out of Shaw and knows no one in my area at all except me vaguely; she is my sister's neighbour so knows me from my visits to my sister. 12th March 2017 and MORE insult to the our intelligence; more McCann drivel, the Gestapo claim they want to interview a man; well they would, wouldn't they trying to mesh that with the murder of MIKE TODD 13 March 2008. Weeks ago in another attempt to bury the murder of Mike Todd within the McCann case they said that she walked out of the apartment herself amid the usual nonsense as if we can all forget what was said as FACTS at the time in 2007. Weeks prior to that and "Cops are at crisis point" on McCann case and ere we are, ANOTHER unidentified male to be interviewed. Is it Freemason Mr McCann? No.
The INTENTION to rewrite photos and entrap me using the same farces that have been tried previously went on all day on 12/3/17. I have some photos to show as a sort of "before and after". The HUNTER and 34 Quernmore Rd FRAUD as above was also to be GMP thugs driving to 34 Buckley St in Jan 2010 after hiding, waiting for me to leave my sister's where Jackie HUNTER had, BY PRIOR ARRANGEMENT, contacted the thugs and said I had burgled her house which was odd, why did they wait for more than 24 hours to do anything? I was only yards away from her filthy, health hazard house. I had seen the GMP thugs sneaking round after they waited to see me take a bus from Shaw. I saw and returned, without repeating all that AGAIN Hunter then claimed she had done it as a joke. (NOTICE bogus news items which claim persons commit serious supposed crimes as a joke – they are all false reporting and all on days when the Lancashire lunatics think they will "see me off". I am to be "confused" over who "did it as a joke".)
CURWEN at 24 (remember he did on 4/3/17 hide in his doorway after calling to PRETEND whatever his delusions allow and was to wait, then walk to his car, PF03 GYV as I went to my car pretending that lowlife was linked to me and I left 24 NOT 28, I only checked something in my car; he was left looking more stupid than I know him to be) and he had had to remove his yellow sacks of rubbish as the bin men would not take them: he BRINGS them from their flat about 6 miles away and dumps them to PRETEND someone lives in 24 and is "ill". They are supposedly "medical waste" with the trolls Blenkinship from 34 doing the same and leaving their yellow sacks well away from 34 to PRETEND it might be linked to me in 28. Curwen had placed 2 old plastic plant pots by the gateway to 24, it looks like he wants them removing by the bin men. They are old and unattractive having been cheap when new. They were to be the 2 that I had in my garden said to be "dangerous" and warranting a visit from 2 city councillors and a letter from the lunatic in residence IAN YOUNG threatening me BUT he so spineless he had someone else sign it. Without repeating all that again, CURWEN left on 12th and MORE plant pots have been placed by the pavement as if "rubbish". What is the INTENTION? The deranged hope I mistake them as rubbish and go to rescue them so they can scream I have BURGLED the pavement. The Gestapo want to rewrite Feb. 2013 when SHIRLEY RYCROFT (aka "me") in Flat 4 Penhale Gardens LA3 2QA was to hope I would accept the offer of 2 planters which she looted from one she bullied to death in flat 3 prior to me, Mrs M PORTER. RYCROFT was to offer the planters (NOT PLANT POTS, pots to hold plant pots for indoor use), I was to accept them and she was then to claim I stole them. This has been done countless times and stems from psycho cop JANET WOODALL false friend and her "gifts" to me which she then after 4 years told all I had introduced her to that I had stolen them. Yes, even the ones she pushed through my letter box when she called and I was out. The Masonic inversion lunacy is always present. Feb. 2013 as photos show, the Gestapo ready and only 1 mile from the flats but about 9 miles from the bunker, then raced to Penhale Gardens as the GPS on MY car alerted them so they knew I was going out, assumed I'd have accepted a gift from a bullying liar and worse and raced to take the "report of theft" from RYCROFT. Imagine, all that for 2 planters which would have been about £2 each. BUT earlier RYCROFT had moved by lifting a heavy planted pot and hid it; she then called the Gestapo who were ready to race to the flats and it had to be me who stole the planted pot because it was heavy and needed a car driver thus my car was PROOF I stole the planted pot. My EXCELLENT PHOTOS show her lifting and moving, then hiding the planted pot herself despite being "disabled". CURWEN hired equipment from Hartley Hire to use as ME "DISABLED" when my photos show no disability from any of that lowlife, not even those sent to PRETEND to be a Curwen. Thus CURWEN leaves his rubbish out and they think I will want to go and rescue the rubbish. They think it rewrite RYCROFT hiding a heavy planted pot, I can just hear sleazy NHS say to be, "No luvvie, they were plastic and empty, not empty at all and left by the pavement so not hidden at all". They think in that they can rewrite the dangerous plant pot letter and the CURWEN thieves and fraudsters using HARTLEY HIRE as if they are me. NOT TO MENTION THE ALMOST £50.000.00 THEY SUDDENLY ACQUIRED WHEN I MOVED TO 28 FELL VIEW. (That was me and my RTA apparently which I have never had nor has any of that lowlife and, given they can't even decide which are the real 3 CURWENs then the jury will have a problem. My guess is that they will all say they have identical twins as well.)
At 24 a black Mitsubishi has been found to call and park and pretend. I am to "confuse" that, FV06 LWD not on my extensive records with FV06 FDA the large SILVER 4 wheel drive of DANE at 21 Fell View, then to old doxy in 2 Milestone Place and linked to Jarvis in 41 which is no surprise as I apparently live in all those addresses as well. But it is also to hope I forget the Mills thieves and worse in 20 Fell View and 7 Leslie Ave who, in their black Mitsubishi YD06 VVN would add the back cover to the pick- up and park outside me in 28 at night, use their phones TO ORDER GOODS IN FRAUD and PRETEND it was my use. How much time went in finding that vehicle with just the "right" licence plate and an idiot to allow himself and the vehicle to be used? At the same time, a silver Mini arrived but left after only an hour or so, WA02 DNO and supposed to be YK02 VPF silver Clio from Penhale Gardens, the car LOOTED from the MURDERED Mrs Porter Flat 3 prior to me. WA02 is not on my extensive records. KS53 VLF RED was sent to 24 for a year to be YK02 VPF SILVER and he posed as MR CAROL WOODS. Thus the Gestapo try to "revise" all that.
Williams in 30 had no TV all day until 6pm as I had on no power; I heard them testing the sockets along the party wall every so often but my power was off from 11 am approx to 6 14pm. As you all know, their supply is linked to MY supply so that their use can be said to be mine as they are also "me" – apparently.
There had been staged events of males in odd chat to small boys; not from round here, sent to make sure I heard with the "loud but quiet chat". Why? Well, as LANGDALE was to be 298 again so from 4/3/12 to 1/7/13, now we have moved to NOW being 1/7/13 – 24/3/14 and we are miles away not at 298 now but at Penhale Gardens. The young boys and their clear talk was to be 3 male ruffians sent to RYCROFT as DEREK and SHIRLEY RYCROFT were "me" so had to have a son with children. But they had no children so, as usual SOME were found. SOME? Yes even though they were all supposed to be the same one, at least 3 ruffians were used. They each had 2 children with them, all different ages, both sexes and ranged from a babe in arms to about the age of 8. They were all supposed to be the son they did not have to be me with my son. One small boy wanted to know who RYCROFT was when he was dragged to Flat 4 to pretend, "Who is it?" he kept asking. The same ruffian never called twice which is how the ONE son they didn't have anyway became at least 3. None called more than once. Rather like the bogus relatives and friends found for such as JACKSON, Williams, Lamb, Jarvis in 26, 30, 32 and 41 Fell View resp. when they are "me".
At 298 the Gestapo found a "daughter" for Margaret Middleton aside from the Santander bank fraudster, ELIZABETH MASON. The other "daughter" (Middleton had one son in his 60's) the 2nd one found was young enough to be her grand -daughter. She had 2 small girls, the younger one hated being at 298, "She's not my grandma" when told Mrs Middleton was. (Jackson in 26 has been found grand children who are old enough to be her children, she has none.) Jarvis had been found a "daughter" a deranged troll who was almost as old as Jarvis, that was when Jarvis with her 3 young children was to be me with my 4. They made up the numbers. They also then used CHILDREN IN CARE when the Gestapo found that my eldest was my son not a daughter. Jarvis, totally unfit, was provided with young boys nearer to the ages of her children to make her have 4 with the eldest a boy. Would a jury fall for that? Hardly, I have 3 daughters, she only has one. Even with borrowing, she still does not have 3. Thus now, Jarvis to rewrite that is to have HUNTER's boy to play and somehow that makes me forget the child abuse that has gone on undiminished from my moving in on 24/3/14.
And as usual when the Gestapo don't get their "result", like the peevish, small minded bullying dimwits they are, they again resort to having someone use the Internet via computer as if it is my use. About 3 30am I was woken by the loft noises which are loud when the computer link is established as it is linked illegally via devices in my loft. Usually Hicks and McHarran up all hours in 43 do that. The INTENTION is to expect me to go out which they assume I will do after not being out in the day Saturday or Sunday, and arrange for a delivery to be made behind my back while (if) I go out. The delivery is for thieves who claim they take it in for me. How does the driver know that I will not be in and to take it elsewhere? They are told, they are told wait until they see my car drive off and they sneak from hiding behind 29 or 31, along the office block car park end Fell View, far end of Fell View on Roman Crescent and far end Copy Lane all vantage points for seeing my car drive off. And they are all on photos as well.
How harassment is part of serious org crime Lancs. 13 March 2017
This will be sent out in 2 parts to show the harassment in INTENTION to rewrite history and where the Gestapo try to rewrite photos to make photos from YEARS ago seem to be NOW. Please ask if I fail to send both parts and you would like both parts.
"I drove to the University and found the lowlife PL02 THK parked on Greaves Rd and this will amuse readers: the Gestapo had told the driver to park there, why? MY data of my photo with PL02 THK at BLEASDALE's 2 Hall Drive on blocks to be the Gestapo helicopter and AX03 car in Wiltshire was "revised"; how? That short stretch of Greaves Rd is built on an incline away from the road, a common way of building in Lancaster. The Gestapo were near- by to confirm they saw that and the younger troll like the half-wit at Morecambe Town Hall on 9th which was rewritten today as being MILES away south Lancaster. I will confirm he saw all that. Near the University was a blue MINI not McGUIRE thief from 14 Fell View, not the dollop "professional" caught hiding under my kitchen window on 2/8/13 at Flat 3, not the troll racing from Caton in Aug 2014 to PRETEND that was 2013 again and miles away, she on her phone, with the now usual large black pick up with rear cover added like the one MILLS in 20 Fell View used for over a year to hide in the back with the cover on, park outside me in 28 and PRETEND their use of phones was mine; VD06 VVN was that black Mitsubishi. On campus I had the usual BLACK male another, MR CAROL WOODS stood to take a photo of himself on campus as he saw my car which photo he sends to someone in the now well used photo fraud. I waited, watched all the lunatics act their roles then I drove back to see which fraudsters were still parked: they had all gone. I return and find the now usual male with his man bag and PRETENCE he has met me. I then find a woman "gardener" to start taking photos so I engage her in conversation, we talk of plants and she talks of "IAN" arranging everything. Yes, that will be the lunatic in residence IAN YOUNG I guess. I fully expect another pair of council trolls to call and PRETEND I am found living in the library. I have only paid for 2 hours on my car so if I have been living in the library it raises certain questions. Where was I prior to 3 25pm when I paid for my ticket for example. The part sent out on 8th will be reduced as you have seen that. This now suggests I have moved into 41 or that they are me; 26 as her identical twin (she sneaked in the back door and wasn't out anyway), 32, 24, 22 HUNTER went out in KW54 XDO so she'll be busy pretending something as that car rarely moves except to stalk me which she left prior to me today. Williams in 30 we know about, 45 and so on. I have no doubt I will be moving into a few others later today and then tomorrow".
So ends my last document for the council in record of harassment to PRETEND I had just moved AGAIN. I knew the woman who pretended to be a gardener was not: too fat, ignorant and completely lacking in knowledge how the University is run; her job was to be where I was and take a photo of the plants and PRETEND it was PROOF I took the photo and thus HER phone was MINE and she was me! I took a photo of her taking a photo and where she quickly ceased: she did not get a photo. She was the revised version of black Mr Carol Woods and his performance as an idiot of earlier; he had taken the bus and was well away from campus so they sent this one who actually is from the offices there: just a common or garden liar. That is what they did in 2010 in "courts" and why there are no records; they used clerks from offices to pose as probation officers, make me believe something untrue and thought I'd be gullible enough to mistake them.
It was after 5pm when I finally registered to use the Internet; the usual took place while I used the Internet for a short time; I did some of what I wanted and left. Outside was the usual troll with her text to say I was leaving but to whom? The now usual old doxy all dressed up as the one at Sainsbury's had been, another silver car SY08 to be SV08 (Bleasdale, fraudster, stalker and harasser linked to PL02 THK as above) and PE08 fraudster, stalker and harasser linked to 41 Fell View as in data sent out on 10/3/17 JARVIS who are more claiming to be me. I took 2 photos; and found right by my car, on the virtually empty parking area of that section, a SILVER MAZDA NV06 WMC. In my data sent out I comment that I paid to park, she had but clearly not a regular as she paid to cover a time when parking is free, thus she arrived long after I had arrived. The Gestapo had noted ILLEGALLY what I typed. I took a photo of her timed parking ticket in case she wants to say she is me as well. Then to make sure they all wasted their time, I called into Sainsbury's car park as I passed, took a parking ticket, then left, so, anyone who is me will have my car park ticket of my first visit in the afternoon, then my till receipt, then my university car park ticket, then my Sainsbury ticket on my return to Caton. In that it makes one wonder how I manage to meet all the fraudsters who claim to have met with me. They are deranged, deluded and desperate. The only thing I can think of with the old doxies who get all "dressed up" is that they think they may get a man out of the "job". They get nothing else; it is all at their own expense which is what makes them undoubtedly stupid.
Back in Caton, passing New Parkside Farm they had ANOTHER in R44 race off; this is because the council have been paying rent to 298 Oxcliffe Rd Morecambe pretending I still lived there. Apparently 298, a small disused scrap yard with 5 old holiday caravans let for "residential use" is "easily confused with a working farm and proper holiday lets miles away". I reported that FRAUD WITH INTENT and now others are noting. To be clear: MARGARET MIDDLETON was obliged to get a court order to take the caravan 1A @ 298 from me. In that she committed perjury and all those documents are safe. The COUNCIL sleazy told her to do that with the INTENTION of claiming that I was someone else still at 298 just moving caravans, and that I, as I left, was to be Mrs Margaret PORTER's daughter, the murder victim of flat 3 prior to me NOT from 298 at all and that was why the looters of the dead were all posing as me shopping as if "someone" moved in who had not the basics. I had the basics bought for the caravan. After the thug in R44 raced off as if that proved anything, they used T21 CAU again last used 4/3/17 hiding end of Fell View but not hiding from my camera. He another to PRETEND to "oversee" something as the deluded he clearly is.
I add here that 28 QUERNMORE RD about ¼ mile from Fell View is For Sale with the sign. The fraudsters there are mail thieves and aided and abetted LAMB in 32 Fell View to claim to be my dead mother driven about by me. The Gestapo do this every time someone is found out. Private houses are bought and sold fast, 2 Leaper's View Over Kellet house of DIANA GARNER former friend and thief who then had a quick house sale and moved off to Dorset thinking she was not found out. (That is why many addresses of No. 2 are used.) HUDDLESTON retired cop from 39 copy Lane off Fell View a found out stalker and fraudster who took out DALTON from 45 pretending she was me, and he took out Lamb from 32 to aid and abet her. He merely stalked me to PRETEND he drove me about. There was the Malaysian thief and more in 37 Fell View, moved overnight when found to have been claiming to be my daughter for GAIN. I was not surprised to see 28 Quernmore Rd for sale. How did the COUNCIL AT YOUR EXPENSE assist LAMB in 32 Fell View to pretend to be my dead mother driven about by me and, have the HIRE ME vans parked as if "someone" (me) moved into 32 with that old thief only recently? The council painted over the digit 2 from the number plate of 32 which shows where a car for 32 should be parked. It was months before that car was moved after I moved to 28, I knew it was another fraud like PJ60 BYR had been at 298. I faxed the council and said it had better not be anything to do with me, ditto PK62 NXJ parked for 30 Fell View. PF08 WDJ at 32 was then driven off which gave me chance to see the 32 had been altered to be "3" as "PROOF" I was using that car at Flat 3 and thus I had been right about the use of the old woman LAMB and her fraud. The painting had been freshly done for my move to 28.
This then begins the next document that will go out within days. By 9 15am on 11 March 2017 a moving in or out of 17 was taking place again: 11 Aug 2012 and DIANE LENNON called to 298 Oxcliffe Rd LA3 3EJ where I rented caravan 1A and she was handed MY mail by the landlady and then Lennon ran off with it – again. She never called to 298 again but had a MARK A.RIDING aka MARK S.RIDING call to collect mail for her in which she claimed to be me -REMPLOY was one firm used in that FRAUD. I had to track that down and found it to be an employment agency for "disabled". Lennon was not disabled: she was posing as me and claiming to be "disabled". In 2011 JANICE BOURNEN was "me" she landlady of 7 North Way Lewes and she applied for jobs which she could not take as she could barely writer her name but was establishing that she was me with my qualifications. Naturally the MAIL THEFT TREASON there was 100% and with the Royal mail as corrupt as ALL other addresses knowing they gave her MY mail as they went on to do at 298 Oxcliffe Rd, and then to 26, 30, 32, 41, 20, and so on round Fell View. The usual large 4 wheel drive was sent to drive round and off as that is PROOF something not being done is really being done and is being done legally!! The gardening van back at MY garden wall, SG54 XOK so, he's nothing much to do. O'CONNER from 39, another ME went out to be ME she dressed in "black" with the "rucksack" as she has been PAID to be me using holiday flatlets on the edge of Caton. I also live there as well apparently. O'Conner is one of the bleached haired old doxy brigade and borrows dogs to pose as me with at least one dog.
The "gardener" is to be ELIZABETH MASON of Santander bank Morecambe branch was called to 298 as a total stranger she in PK07 EDX a red Kia Picanto: It took me months to find out what was her "use", she a bleached haired troll of a similar type to O'CONNER. I found by chance she was clerk in Santander Morecambe branch and her "job" was to set of 5 FIVE accounts all linked to me to aid and abet lowlife some who did live at 298, others who just claimed it as a second address in FRAUD and all had at least 3 names: that is what O'Conner is doing NOW. O'Conner is unemployed long term as they all are in Caton, she has no children but she has a sister and that apparently is "proof" she is me. She is "available" as she has nothing else to do. Her husband does a lot of stalking of me, caught red handed, reported ignored and they with others and thefts from such as BROWN's a firm in Morecambe gain large household items for other properties such as on Halton RD, Lancaster, Leslie Ave. Caton etc.
E Mason was sent to 298 for her car to be seen as "the small red car" at 298 Oxcliffe Rd LA3 3EJ, she was "me". Apparently my car was invisible. Over time, Mason would hide her car away from 298, sneak into the landlady's bungalow and hide; I assumed she was not employed given her visits (when I knew) at 298. 298 was a small disused scrap yard and had 5 old caravans for rent. I was told she was Margaret Middleton's daughter, but David Middleton her son in his 60's had not been let in on the "secret", he said she was the gardener! Like the liar sent to PRETEND at Lancaster University caught out with her phone camera on 10/3/17, Mason had less than no idea of anything to do with gardening. Then she claimed she had been sent to LEARN, but from whom? It was a scrap yard where even the grass had given up the ghost. Then she was "carer" for Mrs Middleton, Mrs Middleton who took taxis as if she was me as seen, heard and filmed e.g. 16 Jan 2013. Mrs Middleton who went out without even a walking stick and alone, why did she need a carer? She didn't. Vol 3 of my book reveals all the Dark Farces' involvement in thuggery, harassment, intention, frauds, and worse. Then I moved to Flat 3 in LA3 2QA and the "communal gardens" there with the lunatics sent EVERY SATURDAY to pretend to "garden". What did they "garden", nothing. My photos of all that show what deranged idiots I lived among albeit only a few months. I had finally found Mason's car by chance on the staff car park of Santander bank, Morecambe Euston Rd branch. The fraud from her manager and staff in that branch in covering for her is known and will be dealt with. Somehow they think it won't be. Apparently, in finding out about MASON, she called to 298 so they could all scream at me that she could lose her job – really? It was not long after that I found out about staff in Lancaster BOOTS, "Graham" and his e-crime with intent to defraud using my loyalty card to pass on to make someone else easy to pose as me in ID THEFT. He told me he could lose his job if he was caught "fraternising" with customers – really? He should have thought about that when the bullies in the Gestapo recruited him.
Moving to Fell View and my comments about my "rear garden" was ONE detail to be leapt on by the deranged and thus the loud mouth yob whose rear garden almost touches a tiny corner of mine was used to be ME or linked to me. He is the Langdale loud mouth and MY references to MY rear garden are apparently his. Thus his partner in crime with a gardening van is now sent to park outside me in 28 Fell View and that somehow makes that loud mouth linked to me. Thus we have 298 and E. Mason being "revised", we have all those idiots from Penhale Gardens (all apparently called MARTIN to make me forget MARTIN BRANKIN aka others from 298 who claimed I drove him about in a car PJ60 BYR with accounts set up by Mason to aid and abet), and we have 11 August 2012 trying to be "rewritten". I had mail: a circular, nothing else. I didn't even get circulars on 11 Aug 2012; Lennon took it all.
Why did that liar "I am a landscape gardener" at Lancaster University tell me she had talked to "Ian", why not use the name "Martin" which seems to be the most common name for "gardeners"? A detail in a document sent out and they leap on that and think they can rewrite it. 2012, 4 March and I was to look at the caravan at 298 with a view to renting: I knew it was a trap: there was no alternative. I was to call late afternoon and early morning had driven to get a coffee in a Mc Donald's in Morecambe where the ILLEGAL GPS on my car told the Gestapo where I was. As usual, a loud mouth pair was sent in to make sure I heard their drivel which included references to IAN as much as possible. I was to somehow think of an IAN and be "brainwashed" into forgetting those I knew. As I listed all the Margarets in my case and why the Gestapo use the name, these are the Ians.
My first husband, long dead, Ian. Various sent to pose as me with their husbands IAN, MAUREEN SLOANE of 74 Dale St Lancaster former friend, her husband IAN; one I am friendly with Jackie whose husband is IAN and they were sent to Preston just prior to Xmas as I went on business: they were told where to be seen to be "me" seen in Preston. Diane Lennon had done the same: the Gestapo via their CCTV in Lancaster would send her to Lancaster the day after I went and she would have to walk the route they saw me walking and that she, the day after me was proof she was me after all. IAN YOUNG the lunatic in residence of Lancashire County Council and their county legal rep. and legal rep for the Gestapo. He writes all the drivel for "witnesses", council bullies told to write to me drivel such as 2 councillors were sent for to look at plant pots in my garden as they were dangerous plant pots! (I told you I couldn't make this up.) The 2 councillors cannot be named. Obviously. Many "witnesses" have no idea they are witnesses as he writes the drivel and usually adds a photocopied signature. That is why there is NEVER a "trial" for any "criminal matter" they manufacture. IAN Fisher was the head of legal services for county and Gestapo but moved to University of Central Lancashire. On 17 Jan 2015 Fisher was under oath on a witness stand in a Manchester employment tribunal claim 2402412/04. It was my case and I questioned him, proved he was a liar and perjurer (ANOTHER REASON MIKE TODD GMP WAS MURDERED) but only in 2016 found that the thug on the witness stand who I puzzled over at the time given his supposed status, as per Vol 1 my book, had not been Ian Fisher at all; they had used a common or garden thug to pose as him. Just as they use their old doxies now and deluded old males to be "trustees", "relatives" of those they want to make into me, yobs, louts and the endless supply of such to be MR Carol Woods. And of course those who claim to be me and or linked to me. Thus the insistence on talking to me about IAN on 10/3/17 was to make me think I was about to move into a caravan at 298 Oxcliffe Rd again and that the 10th March 2017 was really 4 March 2012 and the University was really a MacDonald's miles away. "And the Red Queen is off her head". She's not the only one.
By 12 noon on 11/3/17 there had been another "moving in or out" with the usual white van, large vehicles driving about pointlessly, the opening and slamming of cars doors, the now usual shouting and by 1.02 she in 30 JUNE WILLIAMS aka Mrs Carol Woods was making a call as if she was me. Why go into their rear yard to do that? Because I have my radio on and it would be heard in the background of any call if the call was made by me in 28. She has to PRETEND to be me outside as obviously my radio would not be heard by me if outside: why would I have on my radio indoors if I was outside? I wouldn't. She in 30 is alerted when to make calls as if she is me and when to stand outside. The other MOTIVE is that I hear the loft noise when she indoors, as others, make calls as if me when the BT ILLEGALLY equipment installed in MY loft, to allow for that, sounds which alerts me. (Such as at 5 14pm, I hear loft noise and know someone in the immediate area uses a phone as if it is my use.)
By 4pm, I had not gone out so they brought the lunacy to me as usual. CURWEN fraudsters at 24 were the ME mostly on 11/3/17 as they are very much like the roughneck lowlife at 298 and claim to be me as do many others. The deranged CURWEN of 10th who called to 24 (empty) with her "John Lennon" cap the small red car YOU bought for them, was to be said to be PROOF she was me. more lowlife with no work history at all yet who have done well out of being "me". Instead of the large estates red KS53 VLF, sea green YJ03 UNV, DX53, KTO, BD51 SXZ and so on all apparently linked to me, or are me we have a WHITE one arrived, total strangers sent to PRETEND. I ignored them but the white estate used at 20 FE02 VDK always in shopping fraud with Gestapo filmed "escorting" that vehicle May bank Holiday 2015 to PRETEND they drove me to move into 20 yet again, and the "large white" used at 41 with Jarvis lunacy in being me and having been away and just returning one week ago, thus the Gestapo deranged found yet another to rewrite history. On 11/3/17 they were told to clear yet more of the self made slum which spills into the rear garden area: even after 3 skips filled and various car loads removed there is still more rubbish than any other household would have in 10 years. The rear garden is MORE PROOF it is ME and my references to my rear garden. But my rear garden is small; how do they get round the FRONT LARGER GARDEN references? They don't; they can't; they ignore them.
CURWEN thieves and worse did hire from HARTLEY HIRE company in 2014 AS ME and even though they had had an RTA of which left all 3 "disabled and ill" they managed to do some work at 24 using hired equipment not to mention filling 3 skips with years of junk from that self made slum. I found out about HARTLEY HIRE and contacted them and what did those thugs do? Sent their vehicles to harass and stalk me. I reported the deliveries to 20, 22, 31, Brookhouse Rd, Quernmore RD and many more to DPD which I knew were theft and fraud and DPD confirmed they had no records of any collections to be made at the addresses. I sent photos of at least 2 deliveries being made, exactly to where and when at what time. What did they do? Two thugs in DPD vans tailgated me down the M6 on 21 Feb 2017 as I drove off for a few days away. They drove all the way to south Preston exit. And then on Tuesday 7 March 2017 I found RINGTON's thug driving to harass amid more lunatic plans of the Gestapo (all data sent out). RINGTON's I found also delivering in fraud and theft to various round Fell View especially 15, 17 (just where I apparently moved into and out of at least 3 times this week), 29 and 31, Fell View with the Gestapo and MY HEARING LOFT NOISES so I knew to expect deliveries behind my back but stay to watch, always the day AFTER loft noises, and see what and who get the FREE GOODS. What has RINGTON's Tea done about my reporting and sending photos of a fraud in progress months ago? Nothing, they just had the thug of 7/3/17 instead. BUT in that, the INTENTION was to claim I had ordered teas as I always have a selection of teas which I like. My son calling always had one to chose from thus the Gestapo thugs PRETENDED he called on me in either, 15, 17, 29, 31 Fell View and along Brookhouse the next village about 1.5 miles from Caton as I also live there in about 20 houses as well. The RINGTON's fraud being stopped what are the reprisals aside from the thug drivers? The Gestapo inform my son he must not accept a drink of tea when he calls as now he calls and this is a different mother than the one previously! I told you I couldn't make this up. Why does he do as he is told? Because he has a family to think of.
—————————————————————————————————
Archive continues here, beginning with "IMPORTANT VIDEOS":
The corruption and resultant coverup, ever constant, regarding the revelations Carol Woods has and still is detailing is truly staggering.
For her whistleblowing Carol is stalked daily where she lives by a team which has in it numerous locals to where she is residing – neighbours and others – all connected to this small, quiet, out of the way Northern English town where nothing is done about any of it by authorities notified – let alone the details she has revealed concerning child abuse as shown in the video presentations below. Could it be those very same authorities notified are the same as being involved in the extremely serious details Carol reveals in those videos? It seems so.
Carol has been locked away illegally in closed hospital mental units at least 5 times, to silence her, but has always been released weeks later because the charges against her were lacking credibility, and she has also been falsely arrested numerous times since resigning her employment with the government in this very same county as a top Level 3 Social Worker and Child Protection officer, which included training other social workers as part of her role.
More than one highly questionable death has occurred along the way to it all, connected to what she has revealed. Add to that a dubious would-be land sale involving an ex-Prime Minister's wife and there we have a perfect recipe for an ultimate in coverups as dark and sinful as it can get…
Please see below, under the video etc. links, the latest update from whistleblower and ex-UK Government Social Worker Level 3 and Child Protection Officer Ms. Carol Woods, received 6 March 2017 and before. A lot of the posts shown throughout, beginning in the archive from Febuary 2016 – when Carol was being forcibly and illegally detained in a Lancs. "mental facility" – are emails sent by Carol to very top level UK Government figures, including police, some posts with addresses removed to comply with current laws. Everything sent is ignored wholesale by these government figures and departments. Please believe me – many have tried!
While the more recent updates from Ms. Woods may concentrate on the more current ID frauds and similar relating to her at her present abode, it must be fully understood that the longstanding chronic stalking and serious I.D. frauds by locals and by parties known and unknown [most definitely connected to certain UK Government agencies, eg the police, Social Services etc.] are seemingly being enacted as a direct result of Ms. Woods reporting, or attempting to report certain findings [serious crimes] whilst employed by a UK town council as a senior Level 3 Social Worker and Child Protection Officer, as described within the videos and radio broadcasts that follow these paragraphs entitled "IMPORTANT VIDEOS". The massive corruption that is described has so far gone unchecked and is ignored wholesale by whichever UK government agency it is reported to, which is clearly described within the videos – an absolute and utter public scandal!
More serious crimes and misdemeanours committed against Ms. Woods, all completely ignored by whichever UK government agency one tries to take anything to, include:
the theft of her home [as happened also to Patrick Cullinane R.I.P., Len Lawrence, Joseph Henry [multiple houses stolen], Tom Crawford, Barbara Hofschroer, and so many more],
at least 5 separate enforced incarcerations in mental hospital units for no earthly good reason – one excuse used for such incarcerations being that Ms. Woods was mentally "deluded" in her findings of utter corruption within a Lancs. council – her latest incarceration being between November 2015 and Febuary 2016. Carol was also forced to take psychotropic drugs against her will during these hospital stays, and was threatened with re-arrest before her leaving the "Cygnet" unit, Lancs. in Febuary 2016.
fake IDs used [for example: for expensive commercial criminal frauds],
chronic gangstalking and/or harassment by government connected sources,
home burglaries,
the inflicting of tracking devices upon her motor vehicle, and also numerous attempted thefts of that vehicle, and the attempted destruction of her motor vehicle,
enforced "bankruptcy" with no evidence whatsoever.
Many more seriously criminal activities exist, committed against this lone female, which have been reported accordingly to no avail, along with her discoveries as a Level 3 Social Worker and Child Protection Officer. All of what is described, especially within the videos and related data below is a public scandal, and equally as disgusting is that nothing is being done about any of it by any UK government department contacted, from the Prime Minister down, let alone the heads of police forces and MPs!
IMPORTANT VIDEOS
1] PLAYLIST [3 videos]: EXPOSING FAKE SOCIAL WORKERS ETC. 06 Febuary 2016
www.youtube.com/playlist?list=PLCT5hwoao38ThHG5Y6q3GSp_hsTwMK2UD
2] Please listen to this vital radio show interview with Ms. Woods from the 12 March 2016
www.mixcloud.com/TheFreedomTalkRadioNetwork/lancashire-greater-manchester-harrow-councils-cops-crime-coruption-carol-woods-whistleblower/
3] CAROL WOODS WHISTLEBLOWER ON RADIO lancashire police corruption county council 06 Febuary 2016
http://www.blogtalkradio.com/freedomtalkradioscotland/2016/02/21/andys-sunday-night-show-with-guest
4] CRIMINAL BRITAIN
SriLankerC 24 April 2016
https://www.youtube.com/watch?v=rvoPnGQRFLU
5] Interview by torquaytalkeytv 31 March 16
https://www.youtube.com/watch?v=3noOtwoNo4Q
6] Carol Woods Social Worker Unlawfully Incarcerated In Psychiatric Gulag https://youtu.be/-sMukHhkl4o – 16 April 2016 by GeorgeGreekTrucker
Google CAROL WOODS carolwoods..see the 2007 blog: http://www.criticalreader2006.blogspot.ae/
See CW's NEW BLOG @ Harassment as punishment for whistle-blowing: Lancashire.
Archive continues here:
The CAROL WOODS Coverup: MORE ON THE DAILY GANGSTALKING 7 Mar 17
https://butlincat.com/2017/03/07/the-carol-woods-coverup-more-on-the-daily-gangstalking-7-mar-17/
————————————————————————————————
FAIR USE NOTICE: This item may contain copyrighted (© ) material. Such material is made available to advance understanding of ecological, political, human rights, economic, democracy, scientific, moral, ethical, and social justice issues. This constitutes a 'fair use' of any such copyrighted material as provided for in section 107 of the US Copyright Law. In accordance with Title 17 U.S.C. Section 107, this material is distributed for analysis, commentary, educational and intellectual purposes. In some cases comedy and parody have been recognized as fair use.
Creative Commons Attribution-NonCommercial-ShareAlike 3.0 Unported License. For more information please visit:
http://www.law.cornell.edu/uscode/text/17/107
NB: Everything posted on this site conforms to the meaning of the word "alleged" as defined under UK and US Laws and Statutes.