Characteristics of an earthship
An Earthship is a type of rammed-earth house, sort of a modern version of a Native American pueblo dwelling. It's a trademarked name and design, conceived by Michael Reynolds of Earthship Biotecture, a company based in Taos, N.M. The walls of this eco-friendly house are made of discarded tires, which are tightly packed with dirt using a sledgehammer, and then stacked like giant bricks. Mud is packed into the scalloped spaces between the tires and then usually finished with adobe, plaster or stucco.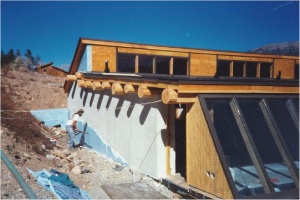 Earthships are passive solar homes, which makes them extremely energy efficient. They are built with south-facing walls made almost entirely of glass — many people incorporate a greenhouse into this part of the house. During the winter, the sun is at a low angle in the sky, and sunlight streams in through the windows to heat the house's heavy walls, which act as thermal mass for home temperature control. When the room temperature drops below that of the walls, they slowly emit heat to warm the house. With windows and operable skylights for ventilation during the summer months, the building maintains a relatively stable temperature year-round. Many Earthship owners use woodstoves for backup heat, but otherwise their houses are heated entirely by the sun.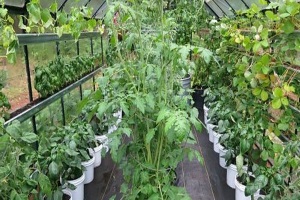 The homes include a greenhouse capable of growing food.
Earthships have a strong appeal to a certain category of green builders. The elements that Reynolds emphasizes — the use of discarded materials and dirt to build walls, the focus on passive solar design principles, and the use of renewable energy systems — are aligned with popular ideas about environmental stewardship.
One possible problem with a wider adoption of earthship construction methods: foundation walls made from tires packed with dirt do not meet most building codes.
"Imagine living in a home that costs you nothing to heat or cool. … Imagine no utility bills. … The three-foot thick massive walls and the method of incorporating them into the earth create living spaces with a thermal dynamic that results in a stable room temperature."
"an Earthship home has no utility bills."
The typical earthship includes extensive sloped or vertical south glazing that is usually fitted with moveable interior shades. The area behind the south-facing glass can be used to grow crops or ornamental plants. In many cases, these plants are watered with gray water from the home's shower, bathtub, or washing machine.
Advantages of earthship construction, sometimes implies that a residential greenhouse can provide most of a family's food. (A poster at the earthship visitor's center explains that the food production "effort" aims "to produce enough food in one's home to survive.")
Providing your own protein with fish from the tank.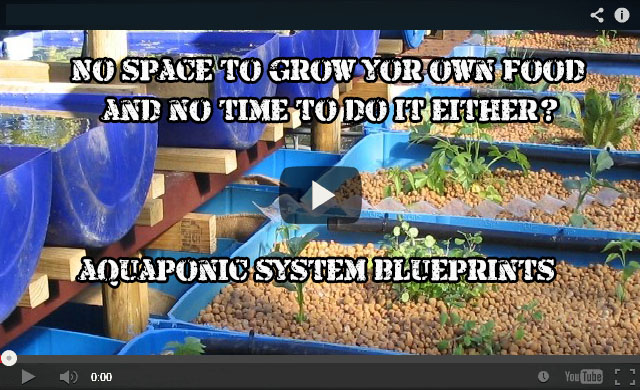 It should come as no surprise that homes in cold, cloudy climates need insulation and heating systems if the homeowners expect to be comfortable during the winter. But it's worth noting that earthships can be uncomfortable during the summer as well as the winter — especially if they have sloped south-facing glazing.
Off-grid homes require large battery systems, and these batteries need to be replaced every six or eight years; that's why off-grid electricity is almost always more expensive than grid-supplied electricity. So, once a homeowner squirrels money away every month for the battery replacement fund, pays the propane bill, and buys gasoline to feed the generator that provides electricity during cloudy weather, the off-grid lifestyle doesn't quite match the one implied by the phrase, "imagine no utility bills."
Hélène Dubé and her partner Alain Neveu from Es-Cargo have lived off-grid in Quebec, Canada for 11 years in a self-built earthship style home made of recycled tires filled with earth and large south-facing windows.
Their water is gravity fed from a spring-filled cistern placed up the hill from their home, their power comes from solar energy, and they use a composting outhouse toilet.
For refrigeration, they make their own ice during the winter by freezing water in recycled windshield washer jugs outside, and then they store them in a root cellar inside unplugged chest freezers insulated with sawdust. They manage to keep their food cold with these homemade ice blocks from January to July, and then they get ice blocks from a neighbour.
For hot water they use approximately 200 lbs of propane each year.
For heat they have a homemade rocket stove that is an efficient way to burn wood, and they also use it as a cooktop in the winter.
They would eventually like to be self sufficient in their food production and have gardens, hens, and they've begun to build an aquaponic system as well. But they do find that growing all of their own food, running workshops, and staying on top of all their other projects to be an incredible amount of work for just two people.
They're hoping to attract more people to the property to form a small community of inspired and like-minded permaculture enthusiasts.
Survival Food Prepping Ideas/ULTIMATE Top Skills 2017
Discover how to survive: Most complete survival tactics, tips, skills and ideas like how to make pemmican, snow shoes, knives, soap, beer, smoke houses, bullets, survival bread, water wheels, herbal poultices, Indian round houses, root cellars, primitive navigation, and much more at: The Lost Ways
The Lost Ways is a far-reaching book with chapters ranging from simple things like making tasty bark-bread-like people did when there was no food-to building a traditional backyard smokehouse… and many, many, many more!
Here's just a glimpse of what you'll find in The Lost Ways:
From Ruff Simons, an old west history expert and former deputy, you'll learn the techniques and methods used by the wise sheriffs from the frontiers to defend an entire village despite being outnumbered and outgunned by gangs of robbers and bandits, and how you can use their wisdom to defend your home against looters when you'll be surrounded.
That about sums it up for today folks. There are still many lessons to be learned.
Remember that knowledge is everything in a survival situation and take our ancestors' example – they survived when there was no electricity.
SOURCE : http://www.prepperfortress.com/living-off-grid-in-an-earthship-style-house-the-homes-include-a-greenhouse-capable-of-growing-food/