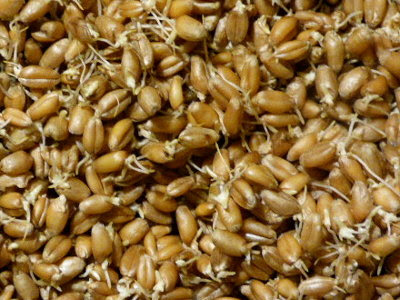 Sprouting grain for my goats was something I first experimented with when I was preparing to write How To Garden for Goats: gardening, foraging, small-scale grain and hay, & more. Sprouting their grain is a nutritious way to stretch the grain budget, whether one is purchasing grain or growing one's own. I continued until the weather got too hot and had trouble managing the project. My sprouts started to smell bad no matter how often I rinsed them.
Why go to the bother of sprouting grain for goats? Is it really better than feeding grain straight out of the bag? There is a lot of information out there on the benefit of sprouting grain. According to Sally Fallon in Nourishing Traditions, sprouting grain:
increases vitamins B2, B5, and B6, C, and carotene
neutralizes phytic acid, which inhibits absorption of calcium, magnesium, iron, copper, and zinc
neutralizes enzyme inhibitors
produces digestive enzymes
breaks indigestible starches down into digestible sugars
inactivates aflatoxins (which are carcinogens)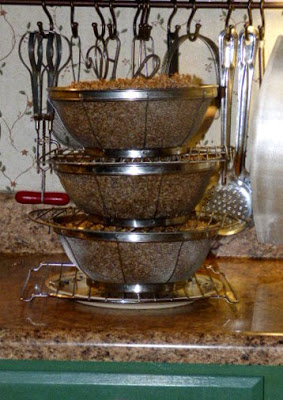 This is my simple winter system. Each screened
bowl holds one days-worth of grain for my goats.
All that has proven great for monogastric humans, but what does it do for ruminants, i.e., multi-stomached goats? Especially the sugars. Goats' digestive systems are designed to extract nutrients from roughage. The longer digestion times allow for the breakdown of cellulose into simpler carbohydrates they can assimilate. Grains, which break down quickly, end sitting in their gut so long that they begin to ferment and become acidic – not healthy for the goat and why most goat owners offer free choice baking soda to their goats.
I do feed small amounts of grain, especially when there is little forage available, or for does in milk who need the extra calories. The does in milk get one pound of grain twice a day (with one quarter of that being wheat bran); dry does and bucks are currently get half that amount. I feed our homegrown grains as hay, i.e. it isn't threshed but still in the stalk. I think this is the healthiest way to feed grain, because the goat gets the long stem part of it as well which aids in digestion.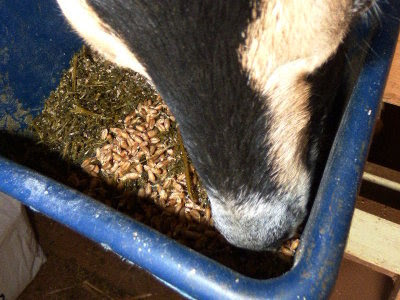 Chaffhaye, bran, sprouted grain, sunflower seeds, & chopped carrots.
Back to sprouting. I can't help but wonder how sprouted grains digest in the rumen, but can't find any answers. Most other blog posts or web pages on sprouting grain for goats say the same thing I've told you, but there doesn't seem to be any information out there specifically on that.
One thing sprouters do agree on, is that it only takes about half the sprouted grain as it does non-sprouted. I've found that to be true as well. So cutting down on that feed bill is a good reason to sprout. At least during winter when the temperature isn't too hot. I'll have to wait to see how it goes this summer. If we have too much heat and humidity to keep the sprouts fresh, I'll just save it for winter feed.
Source:
http://www.5acresandadream.com/2017/03/sprouting-grain-for-goats.html