Flashback to November 2010
"CRASH JP MORGAN, BUY SILVER!"
In this historic viral rant Max Keiser shined a floodlight on JP Morgan's "1.5 trillion dollar derivative exposure, much of it tied to their silver shorts"
"They have sold silver contracts that don't exist, they are engaged in naked short selling… a form of counterfeiting"
Max went on…
"Put JP Morgan, financial terrorists, out of business… buy silver and demand PHYSICAL DELIVERY"
This rant went viral in November 2010 and by early 2011 the price of silver skyrocketed to almost $50/oz.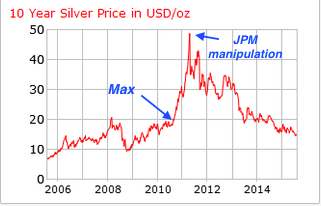 We all know what happened next… MASSIVE MANIPULATION by the financial terrorists (JPM etc…) and a crash of the PAPER silver price.
So what became of Max Keiser's "global viral campaign"?
It petered out…
either because Max lost his nerve after many of his followers lost their shirts when the

silver

paper price manipulation kicked into overdrive…
OR
because the financial terrorists got to him with an offer he could not refuse:
"Stick to Bitcoin and shut up about silver… or else"
In any event, Max Keiser folded like a cheap deck chair on the Titanic and his call to action, "Crash JP Morgan, buy silver", went down with the ship.
Too bad too… because his message has never been more relevant than it is today…
JP Morgan has dramatically increased their derivative exposure as well as their terrorist tactics since 2010!
SOOOO EXPOSED… SOOO VULNERABLE!
Isn't it time to revive "Crash JP Morgan! Buy silver"?
JPMorgan Just Cornered The Commodity Derivative Market, And This Time There Is Proof
"What we found is what those who have for years accused JPM of cornering the commodity markets, have known: because it is none other than JPMorgan's Commodity derivative book primarily in the <1 maturity bucket, which exploded from just $131 billion to a gargantuan and never before seen $3.8 trillion!"
http://www.zerohedge.com/news/2015-06-29/jpm-just-cornered-commodity-derivative-market-and-time-we-have-proof
Are Big Banks Using Derivatives To Suppress Bullion Prices?
We have explained on a number of occasions how the Federal Reserves' agents, the bullion banks (principally JPMorganChase, HSBC, and Scotia) sell uncovered shorts ("naked shorts") on the Comex (gold (and silver) futures market) in order to drive down an otherwise rising price of gold (and silver). By dumping so many uncovered short contracts into the futures market, an artificial increase in "paper gold" (and paper silver) is created, and this increase in supply drives down the price.
This manipulation works, because the hedge funds, the main purchasers of the short contracts, do not intend to take delivery of the gold (or silver) represented by the contracts, settling instead in cash. This means that the banks who sold the uncovered contracts are never at risk from their inability to cover contracts in gold (or silver). At any given time, the amount of gold (or silver) represented by the paper gold contracts ("open interest') can exceed the actual amount of physical gold (or silver) available for delivery, a situation that does not occur in other futures markets.
Paul Craig Roberts and Dave Kranzler
http://investmentresearchdynamics.com/jp-morgan-and-citi-are-using-otc-derivatives-to-manipulate-gold-and-silver/
"Crash JP Morgan, Buy Silver"
…and make sure to take physical delivery!
G lobal
I nsurrection
A gainst
B anker
O ccupation