Astronomers have discovered that Saturn's outermost ring – the largest planetary ring in the solar system – is even larger than first thought.
Research has revealed it is 30 per cent bigger, extending 10 million miles (16 million kilometres) from Saturn into space.
And it was also found that the ring is made of tiny particles smaller than the width of a human hair in size – which has made it incredibly hard to study.
Known as the Phoebe ring, owing to the influence of Saturn's moon of the same name, the ring was first discovered in 2009 using the Spitzer Space Telescope.
At the time, while it was detectable, many of its characteristics were unknown.
But now, using the infrared capabilities of the Wide-field Infrared Survey Explorer (Wise) telescope, astronomers have been able to work out the ring's size, shape and even its origins.
The new data, published in the journal Nature, reveals the ring is 30 per cent bigger than was thought in 2009.
The second largest ring in the solar system, also around Saturn and known as the E ring, is about 20 times smaller.
'[The Phoebe ring] really rewrote the book on large rings,' lead researcher Dr Douglas Hamilton from the University of Maryland told MailOnline.
The ring's distance from Saturn – measured also as 270 times the radius of Saturn – is so far that if it were further, it would leak off material into orbit around the sun.
Thus, the roughly circular Phoebe ring is the largest ring possible to exist around Saturn.
This discovery also suggests there could be other similar previously unseen rings hiding around other planets in the solar system
Read more here: http://www.space.com/29624-giant-saturn-ring-even-bigger.html
http://www.dailymail.co.uk/sciencetech/article-3118691/Saturn-s-biggest-ring-just-got-BIGGER-New-image-reveals-20-times-larger-solar-system.html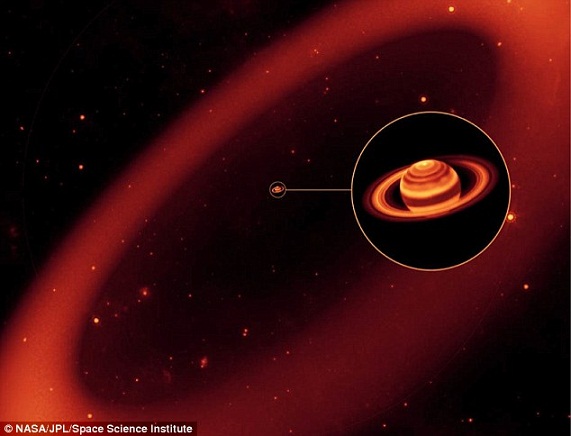 Image credit: NASA/JPL