April 6, 2017
— John Glenn, the first American to orbit the Earth, was laid to rest Thursday (April 6), four months after he died at the age of 95.
The late astronaut, Marine and U.S. Senator, who died on Dec. 8, was interred at Arlington National Cemetery during a service led by General Robert Neller, commandant of the U.S. Marine Corps. The funeral ceremony was private but a graveside service was broadcast live by the Department of Defense and NASA.
Glenn made history and helped establish that the U.S. was a contender in the space race with the former Soviet Union by circling the planet three times aboard his "Friendship 7″ Mercury capsule before splashing down on Feb. 20, 1962. Thirty-six years later, after serving four terms as a Senator, Glenn returned to orbit on board space shuttle Discovery, becoming the oldest person to fly in space at 77.
The Ohio State University in Columbus hosted a memorial service in December, where then-Vice President Joe Biden and others paid tribute to the astronaut.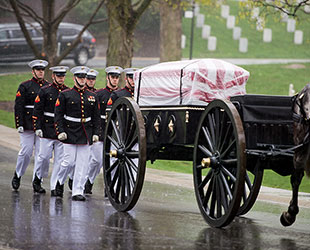 A horse-drawn caisson carries astronaut and Senator John Glenn to his final resting place during the interment ceremony on April 6, 2017 at Arlington National Cemetery (NASA/Aubrey Gemignani)
The funeral on Thursday was held on the 74th anniversary of Glenn's wedding to his childhood friend and high school sweetheart. Per military protocol, General Neller presented Annie Glenn, 97, with the U.S. flag that had been draped over her husband's casket.
Additional flags were presented to Glenn's children, David and Carolyn.
"As we say our final goodbye today to a great American and NASA pioneer, we send our deepest sympathies to the family of John Glenn, and our heartfelt condolences to his devoted wife Annie on what would have been their 74th wedding anniversary," said Robert Lightfoot, acting NASA Administrator, in a statement released after the funeral. "Senator Glenn was more than an astronaut — he was the hero we needed in a rapidly changing world and an icon of our American spirit."
Family members, astronauts and invited guests attended the service, which began with a procession by caisson and included a performance of taps.
President Donald Trump ordered flags to be flown at half-mast at federal buildings and military posts on Thursday to honor the late Marine and politician. Ohio Governor John Kasich did the same in Glenn's home state "in recognition of [Glenn's] exceptional career of public service as [an] … unparalleled American hero."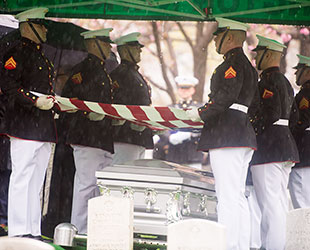 A Marine Corps honor guard holds the U.S. flag over the casket of astronaut John Glenn, who was buried with full military honors, at Arlington National Cemetery. (NASA/Aubrey Gemignani)
Glenn was the last of NASA's original seven astronauts to die and the second to be interred at Arlington. Virgil "Gus" Grissom, who preceded Glenn into space on a 1961 sub-orbital flight, was buried at the national cemetery in 1967 after he was killed in a fire on the launch pad 50 years ago this past January.
Eighteen other astronauts and the unidentified remains of the seven STS-51L crew members who died on board the space shuttle Challenger are buried at Arlington, according to the cemetery's website.
Glenn will be further memorialized later this month with the scheduled April 18 launch of the SS John Glenn, the next Orbital ATK Cygnus cargo spacecraft that will resupply the International Space Station. The uncrewed ship christened to honor of the late Mercury astronaut had been slated to lift off in March, but was delayed as a result of issues with its rocket's ground support and on board systems.