(Minghui.org) According to information compiled by Minghui.org, 80 Chinese citizens, 44 of whom are female, are confirmed to have died in 2016 for refusing to renounce Falun Gong, a spiritual discipline being persecuted by the Chinese communist regime.
Some of the deceased Falun Gong practitioners lost their lives within hours, days, or months of their arrest, while others passed away while serving time for their faith. There were also practitioners who died after the authorities released them on medical parole, unwilling to treat their health problems and injuries sustained in police custody.
These practitioners had an average age of 61, with the youngest being 32 and the oldest 90. The deaths took place in 23 provinces and centrally controlled municipalities. Liaoning Province leads with 11 death cases, followed by Heilongjiang with 10. The other regions registered single-digit death cases.
The deaths were spread across each month of 2016, with January registering the most cases (13) and February the second highest (11).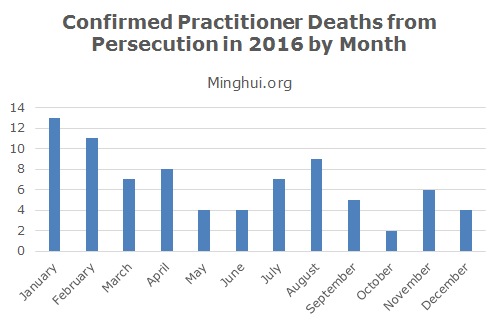 Henan Woman Dies Within Hours of Arrest
Ms. Wang Xiuyun, in her 70s, lived in Henan Province. She was arrested on May 13, 2016, for filing a criminal complaint against Jiang Zemin. She died within hours of her arrest, and the police did not give any explanation to her family for her death.
Mr. Jiang Deting Dies after 9 Days in Detention
Falun Gong practitioner Mr. Jiang Deting from Liaoyang County in Liaoning Province was arrested and detained on June 28, 2016. He was released on medical parole on July 7 and passed away that evening.
His family suspects that he was subjected to torture, as he had incurred unexplained injuries on his back while in custody. He may have also sustained internal injuries.
Heilongjiang Man Dies 10 Days after Arrest
Mr. Gao Yixi from Heilongjiang Province died ten days after he and his wife were arrested for their faith on April 19, 2016. According to his family who saw his body, his chest protruded, and his abdomen was sharply sunken. There were handcuff marks on his wrists. He was 45.
Henan Resident Dies 11 Days after Arrest
Mr. Yang Zhongsheng died within 11 days of his arrest on April 10, 2016, for practicing Falun Gong. Only three years earlier, his older brother Mr. Yang Zhonggeng was beaten to death, also for refusing to renounce Falun Gong.
Originally from Ruian City, Zhejiang Province, the Yang brothers worked in Zhengzhou City, Henan Province, where they both lost their lives at the age of 38 for exercising their constitutional right to freedom of belief.
Liaoning Woman Dies 12 Days After Being Arrested for Her Faith
A Liaoyang City, Liaoning Province resident died less than two weeks after being arrested for refusing to renounce Falun Gong.
Ms. Xu Guixia, 47, was arrested on October 27, 2016, and later sent to Liaoyang City Detention Center.
On the afternoon of November 7, the police informed Ms. Xu's son, who was attending school out of town, that his mother had fallen ill and wanted to see him.
The police called the son again the next afternoon, offering to pick him up. The young man dared not return to his hometown, not knowing what the police were trying to do to him and his mother.
Ms. Xu's sister received a call from the police on November 10, saying that Ms. Xu had died at around noon on November 7.
The police, however, refused to allow the sister to view Ms. Xu's body because she declined to sign a waiver to forgo her family's legal right to seek justice for Ms. Xu.
The sister has recently hired a lawyer to explore their legal options. In the meantime, she is also working to seek the release of her brother-in-law, Mr. Liu Ying, who was arrested at the same time as his wife Ms. Xu.
Mr. Liu's lawyer went to the detention center on November 11, 2016, but was denied visitation.
Shandong Man Suddenly Dies in Detention, Family Suspects Foul Play
Mr. Wang Yijun was still very healthy and in good spirits when his lawyer visited him at the detention center on August 13 of 2016. Six weeks later, the 65-year-old man from Qingzhou City suddenly died, and his family suspects foul play.
Mr. Wang was arrested on September 6, 2015, after filing a criminal complaint against former Chinese dictator Jiang Zemin for initiating the persecution of Falun Gong that resulted in his two-time labor camp detention and confiscation of his personal belongings.
Supporters from his hometown signed petitions calling for his release, but he remained held at Qingzhou City Detention Center after three court hearings produced no verdict.
The detention center called his family on September 25, 2016, saying that Mr. Wang was being resuscitated at Zhongxin Hospital. He, however, was nowhere to be found when his family rushed there. A doctor revealed that he had already stopped breathing when he was brought to the hospital earlier that day.
Mr. Wang's family couldn't believe what they heard, but they couldn't get hold of any detention center officials to verify the news. They called 110 (emergency services), which led to the discovery that Mr. Wang's body had been moved to a local morgue.
Police officers were guarding the morgue when Mr. Wang's family and lawyer arrived there. Only a few family members were allowed inside, but they were prohibited from taking pictures of his body.
Mr. Wang's family is working to find out the cause of his death.
Hebei Woman Dies 2 Months after Arrest
Ms. Yan Guoyan from Hebei Province was arrested on January 15, 2016, for suing Jiang Zemin. The director of the local brainwashing center called her family on February 2, ordering them to bring 1,500 yuan before picking her up. Her family saw her lying in bed, looking very weak. Ms. Yan died at home on March 13, 2016.
Xinjiang Engineer Dies Within Three Months of Her Transfer to Prison
An engineer from Karamay, Xinjiang Autonomous Region died 83 days after she was admitted to Xinjiang Women's Prison in Urumqi to serve five years for filing a criminal complaint against Jiang Zemin.
Ms. Zhao Shuyuan accused the former Chinese dictator of initiating the persecution of Falun Gong that resulted in her 9-year imprisonment earlier.
The 52-year-old woman was arrested on November 5, 2015, and sentenced to prison on March 7, 2016. She appealed, only to have her verdict upheld without an open hearing.
She was transferred to Xinjiang Women's Prison on May 3. Her health quickly declined as the guards kept force-feeding and torturing her. Meanwhile, the prison denied her medical parole. Even after she fell into a coma on three occasions, they still refused to render proper treatment. She died on July 22, 2016.
Her family requested that her body be sent back to Karamay, but the prison authorities forcibly moved it to a morgue in Urumqi and threatened to have it cremated within 10 days.
Sichuan Man Dies While Imprisoned for His Faith
A Xingwen County resident imprisoned for his faith died after more than 4 years of abuse. The authorities had his body cremated the next day without his family's consent.
Mr. Huang Shunkun was arrested on August 23, 2012, for refusing to renounce Falun Gong. He was sentenced to 10 years on May 7, 2013, and assigned to Leshan Prison.
The prison declined to admit him, citing his long sentence. The police brought him back to the local detention center, where he was subjected to constant abuse. He was often forced to climb up and down stairs for hours on end. The police later managed to have him admitted to Aba Prison, where he faced more abuse and died on September 30, 2016.
Mr. Huang's family was only allowed to see him in court when he was tried on January 31, 2013, and had been denied visits ever since.
Aba Prison didn't notify the family of Mr. Huang's death until the next day, right before his body was set to be cremated. The family was given 5 minutes to view his body and ordered to pay for the cremation expense before being given his ashes.
Retired Teacher Dies 3 Weeks After Release on Medical Parole
A retired teacher from Taiping Town died three weeks after she was released on medical parole.
Ms. Xu Huixian, 71, was serving 3.5 years for refusing to renounce Falun Gong. She was reduced to skin and bones within less than one year of her admission to Gansu Province Women's Prison.
By May of 2016, the retired teacher was in critical condition and had nose bleeding non-stop. The prison instructed her family to apply for medical parole, but reversed its decision two weeks later when the family was finally able to gather all the required paperwork. According to the prison, Ms. Xu's condition "had stabilized."
Ms. Xu's family returned to the prison one week later, only to discover she was incoherent and disoriented. They immediately requested her medical parole, but was told that she had to be in critical condition to qualify.
Two days later, the prison notified Ms. Xu's family to get ready for her release because its doctors had just issued a critical condition notice.
An ambulance, escorted by a police car, dropped Ms. Xu off at Zhenyuan Town Political and Legal Affairs Committee in the wee hours of June 18. Her family saw that she was on oxygen and begged the prison guards not to leave. The guards drove her to a local hospital after having the family pay them 1,500 yuan first.
Ms. Xu remained in critical condition at the hospital, and appeared agitated whenever she was awake. Her family suspects she had been given drugs at the prison that might have damaged her central nervous system.
She passed away on July 8, 2016, at the age of 71.
Hunan Man Dies One Month After Prison Release, Family Suspects Foul Play
A Xiangtan City resident serving seven years for his faith wasn't released on medical parole until he was on the verge of death. The local hospitals declared him beyond care and sent him home, where he died one month later.
Mr. Wang Guilin, 65, was arrested in January 2014 for talking to people about Falun Gong. He was later sentenced to 7 years and transferred to Wangling Prison located in Nanyou County around February 2015.
The prison guards subjected the retired worker from Xiangtan Textile Factory to various forms of abuse for refusing to renounce Falun Gong. Mr. Wang gradually lost his ability to take care of himself, but his family's request for medical parole was repeatedly turned down.
Mr. Wang's family got a big surprise on July 8, 2016, when several guards suddenly showed up and left Mr. Wang with them.
The family noticed that Mr. Wang was reduced to skin and bones, having lost more than half of his normal weight. He was also unable to eat or drink.
They sought treatment for Mr. Wang, first at Xiangtan Central Hospital and then at Xiangtan Second Hospital. It was too late, however – both hospitals advised his family to prepare for the worst.
Mr. Wang died at home on August 8, 2016.
His family suspects that he may have been drugged by prison officials. Another Falun Gong practitioner from the same textile factory, Ms. Yang Shunying, died in 2012 – two days after being sent home from the same prison. Ms. Yang told her family that she was injected with an unknown pink-colored drug. Mr. Wang's family noted that his symptoms in his final days were very similar to those of Ms. Yang's.
The local authorities had Mr. Wang's body forcibly cremated and did not allow his family a chance to perform an autopsy.
Henan Woman Dies Two Years after Being Sentenced to Prison for Her Faith
A Dancheng County resident died on July 19, 2016, two years after she was sentenced to 7 years in prison for refusing to renounce Falun Gong.
Ms. Lu Xiurong was seized from her home around 5:00 a.m. on April 20, 2014. The 68-year-old woman had been repeatedly targeted for her faith in Falun Gong since the persecution began in 1999. Her arrest followed months of monitoring by police, who were tipped off that 16 other Falun Gong practitioners were to gather at her home that morning.
Ms. Lu developed health issues while being held at Zhoukou City Detention Center. Unfit to stand trial, she was still forced to appear in court and sentenced to 7 years in prison.
She never got transferred to prison, though, as her symptoms worsened and she had to be hospitalized.
As Ms. Lu's health required ongoing treatment, the court agreed to temporarily release her after she was discharged from the hospital. They, however, kept sending agents to harass her at home and threatened to take her to prison as soon as she recovered.
The pressure aggravated Ms. Lu's condition, and she passed away in July 2016.
Ms. Cheng Fuhua Filed Lawsuit Against Jiang Zemin Before Her Death
Ms. Cheng Fuhua, 69, from Dalian City was on the verge of death when she was released on medical parole in January 2016 after seven months of detention. She was unable to recover and passed away on August 6, 2016.
Before her death, she filed a criminal complaint against Jiang Zemin, the former head of the communist regime, for the years of persecution she endured. She was arrested six times and suffered psychiatric abuse.
Liaoning Woman Given Unknown Drug One Month Before Prison Release, Dies 4 Years Later
A Fuxin City resident imprisoned for her faith was forced to take unknown pills one month before her scheduled release in August 2012. Ms. Gao Lianzhen soon developed incontinence, abdominal swelling, and festering in her body. She died four years later.
Heilongjiang Woman Dies of Complications from Stroke Induced by Prison Abuse
A Huma County resident lost her battle with post-stroke complications and died on July 20, 2016.
Ms. Yao Yuming, 64, was brutally tortured and injected with unknown drugs on multiple occasions while serving 7 years for refusing to renounce Falun Gong.
She suffered a brain hemorrhage on August 2, 2005, and was released on medical parole a few weeks later. Half of her body was paralyzed and she was unable to talk at the time of her release.
Her family was heartbroken to lose her after 11 long years of struggle. Still, they encountered more heartache while trying to get her body cremated.
Heilongjiang Province Women's Prison confiscated Ms. Yao's household registration card at her prison admission, but they refused to return it when she was released. Now that her family needed it for cremation, the prison realized they had misplaced it. They, however, declined to take any remedial measures.
Ms. Yao's family had to buy a fake registration card to have her body cremated. They felt bitter irony as they were not only unable to seek justice for their loved one, but had to resort to petty means to send her off.
Related Report:Minghui Report: Overview of Persecution of Falun Gong in First Half of 2016