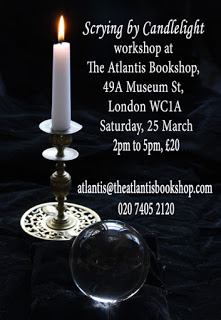 Here are the details of workshops on candle magic and scrying (divination using things like crystal balls) I am running in Central London over the next month:
Scrying by Candlelight at The Atlantis Bookshop

On Saturday, 25 March, I'm running an afternoon workshop called Scrying by Candlelight in the lovely basement temple at The Atlantis Bookshop, which is near the British Museum. The workshop will teach the techniques of scrying using crystal balls, dark mirrors, candles and water. It is a practical afternoon with lots of opportunity to develop your psychic senses to see the past, the future and the answers to questions in reflective surfaces, flames and smoke. All materials, as well as tea, coffee and biccies, are included.
The workshop runs from 2pm to 5pm, with a break for refreshments in the middle. The cost is £20 per person. To book a place, email [email protected], phone 020 7405 2120 or pop in to the shop at 49A Museum St, London WC1A 1LY. The shop is in between Tottenham Court Road and Holborn tube stations.
Candle Magic Afternoon Workshops at Treadwell's Bookshop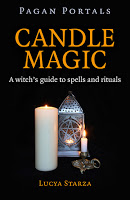 I am running a session of my popular candle magic workshop at Treadwell's Bookshop in Bloomsbury on Saturday 8 April. The workshops run from 1pm to 3.15pm and is based on my book, Pagan Portals – Candle Magic.
The classes cover the basic techniques for candle spells and rituals – and a few advanced ones too. Everyone gets a chance to prepare a candle or two to take home with them, with all materials supplied.
Each workshop costs £20 per person and you can find out more details here: https://www.treadwells-london.com/events/ You can book online or reserve a place by calling 020 7419 8507, emailing [email protected] or visiting the shop at 33 Store Street, Bloomsbury London, WC1E 7BS.
You can also buy copies of Pagan Portals – Candle Magic at The Atlantis Bookshop, Treadwell's or online via Amazon. You can find out more about the book on publisher Moon Books' website: http://www.moon-books.net/books/pagan-portals-candle-magic
To read more posts like this visit A Bad Witch's Blog at www.badwitch.co.uk
Source:
http://www.badwitch.co.uk/2017/03/magic-school-scrying-candle-magic-in.html