(Minghui.org) The Art of Zhen Shan Ren (Truthfulness, Compassion, Forbearance) International Exhibition was recently held in Kelowna from March 7-31, 2017. As the third largest metropolitan area in British Columbia, Kelowna is well-known for its vineyards, orchards, and art scene, and has been nicknamed "Orchard City."
The exhibition, which has been traveling throughout the world, consists of works of art painted by Falun Dafa practitioners. The images detail the beauty of Falun Dafa cultivation practice and chronicle the brutal persecution of the practice in China. Four main themes are encompassed in the exhibition: harmony, adversity, courage, and justice.
Strong Local Support for Falun Dafa
City Councilor Tracy Gray attended the opening ceremony on March 9 on behalf of the mayor and the city government. She thanked the local Falun Dafa practitioners for bringing such high-quality artwork to the city. Moved by what she had seen and heard, Ms. Gray said she would tell more people about the exhibition.
Councilor Tracy Gray (second from left) attends the opening ceremony of The Art of Zhen Shan Ren (Truthfulness, Compassion, Forbearance) International Exhibition.
The City of Kelowna has issued proclamations honoring Falun Dafa almost every year. Officers from the Chinese Consulate in Vancouver once visited Kelowna and slandered Falun Dafa, attempting to stop the city government from issuing the proclamations. But the city government did not give in and continued to show their support for practitioners.
"Very Enlightening, Very Spiritual"
With numerous galleries and theaters, the city of Kelowna often hosts various art events. This exhibition at the Rotary Center for the Arts drew a large crowd. Many people said that this was the best exhibition they had ever seen.
A number of visitors signed the guest book and left messages. A sampling of the heartfelt notes:
"I learned a lot today. I did not know about the paintings in the past, but they are very important. I am deeply touched. Thank you!""These are great artworks. And my feelings are beyond description.""These paintings are very beautiful and they calm one's soul.""On the darkest days, these artworks can bring hope and courage. They are very enlightening, very spiritual!"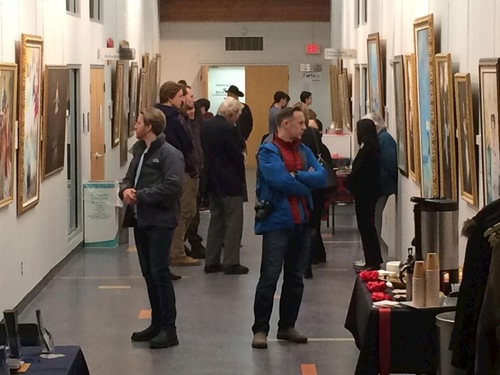 Many visitors to the exhibition said that they could feel peace, harmony, and energy in the artworks.
Learning the Exercises
Upon hearing that Dafa practitioners have suffered tremendously for their belief in China, many people became curious about this meditation practice. More than 20 people signed up to learn the Falun Dafa exercises at a nearby library.
Glass artist Annmarie said she was moved by the hardship practitioners have been through. "To me, the persecution is very similar to what Christians suffered 2,000 years ago," she said. "When there is another session to teach the exercises, please do let me know."
Some people who learned the exercises said that they could feel great energy. Many also invited their friends and family members to come and learn the exercises.
When the event concluded on March 31, an art center staff member thanked the practitioners: "These were the best days in my life. I will miss you."
Website Link: http://en.minghui.org/html/articles/2017/4/5/162736p.html