Chad Kuhl had a slightly neurotic opening frame – after a K, a double and walk got him in a jam, a bullet hit to Fraze turned into an inning-saving DP. The Bucs got a one-out knock from Starling, but another rocket by Cutch was converted into an around-the-horn twin killing.
It was more of the same in the second. A pair of raps and a stolen base had Kuhl in another pickle. He looked to be easing out of it with a K and intentional walk to get to the pitcher, but Dickey crossed him up by rolling a two-run knock into right. That was followed by another whiff, a walk to load them and a big K of Freddie Freeman. Chad's got little command going, but Atlanta's helping bigly by fishing. Gregory and Fran singled; Jordy brought home a run with a two-out knock and the tying run scored on a misthrow on Kuhl's grounder. Fraze walked, but Starling couldn't keep the ball rolling as his sharply hit ball (109 MPH off the bat) was gloved. So 2-2 after two; could be a long night.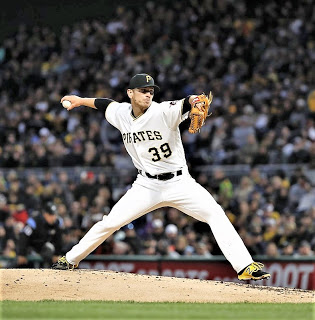 Chad is hoping there are better days ahead (photo Pittsburgh Pirates)
The bad day at the ranch continued in the third. Marte and Gregory lost a pop fly to center for a two-base error that was followed by a walk. A 4-6-3 DP helped clean up, but a triple by Jace Peterson kept the beat going before a bouncer put it to bed. The Bravos didn't do any better. A Gregory double, passed ball, error and J-Hay knock put the Bucs improbably ahead at this point 4-3. It was a 1-2-3 fourth for both sides. Chad issued a walk and plunked Brandon Phillips in the fifth, but another 4-6-3 DP saved the day. Gregory led off with a single and stole second, but Dickey dodged a bullet by not dodging a bullet. Fran's smash up the middle was ticketed for center but hit RA's foot, kicking up and turning into a 1-3 to keep the Bucs off the board.
Kuhl's day was done – five IP, three runs/two earned, five hits, six walks (two intentional) and five Ks on 85 tosses. Juan Nicasio took over in the sixth and put up a zippo. Alen Hanson hit for him, reached on an infield single and got to third on a pair of passed balls, the bane of knuckleballers. A wild pitch brought him home another run and two walks brought in Ian Krol. Gregory greeted the lefty with his fourth hit, a RBI single, dimmed a bit by him being tossed out at second. Felipe Rivero tossed a clean seventh thanks to yet another DP, this one 6-4-3. Krol worked a quiet frame too.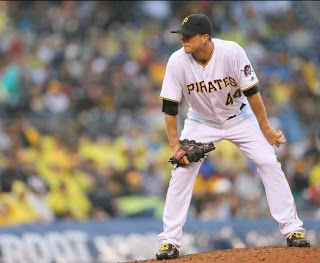 Tony went to the change-up with good effect tonight (photo Dave Arrigo/Pirates)
Daniel Hudson worked the eighth and was in hot water quickly, giving up a double, bunt hit, sac fly and single. But a pair of harmless flies kept the bleeding to a minimum and the score at 6-4. Still, doesn't seem like it will take long for Rivero to claim the set-up role from Huddy. Jose Ramirez tossed a calm, eight-pitch inning. Tony Watson came out for his second save in as many contests. It's never easy – an infield single and bopped batter put the tying runs on base. No worries; a pair of routine outs closed the gate. Tony's change-up looked pretty good tonight, and that's a promising sign.
Chad struggled; this was one of those nights when he couldn't keep the ball down, and he was fortunate to escape with as little damage as was wrought. Outfield communication has been a problem, too; the WBC left the Three Amigos very little time to jell and at least a pair of balls during this series have dropped because no one took charge. So we'll see how long it takes the gang to polish their act. Gregory broke out tonight and Fraze looked good at second as the Bucco infield put out fires left and right by turning four DPs, so there are some positive takeaways. Nothing says every victory has to be a Rembrandt and the Pirates are a win away from their first sweep of the season when Gerrit Cole takes on Julio Teheran.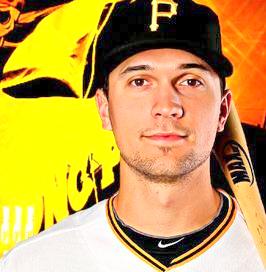 Fraze has been solid with the leather in the early going (image via Positively Pittsburgh)
Notes:
The Bucs had 10 hits tonight. Four were off Gregory Polanco's bat. He went 4-for-4 with two runs and a RBI.
There was a nice crowd of 33,004 at the yard tonight; we'd suspect the Singing Amore bobblehead was a bigger draw than the Braves.
The Bravos had lots of opportunities to score – they had 11 hits, drew six walks, had a pair plunked and a Bucco error but stranded 12 runners.
Atlanta C Kurt Suzuki, who caught knuckleballing Dickey for the first time in the regular season, allowed three passed balls. The Braves added two errors and Dickey uncorked a wild pitch.
Deep trivia: R.A. Dickey at 42 became the oldest pitcher to bang a RBI hit at PNC Park. AJ Burnett was the eldest Bucco at 38. (thx to O'Ki on Twitter).
Indy lost a tough one tonight 2-1. Max Moroff homered for the third straight game and Gift Ngoepe collected three hits in the defeat.
Source:
http://oldbucs.blogspot.com/2017/04/pirates-take-6-4-win-behind-polanco.html