Copyright 2017, InterAmerica, Inc.
Theo Paijmans, an occasional reader here, loathes early UFO magazines like those pictured here: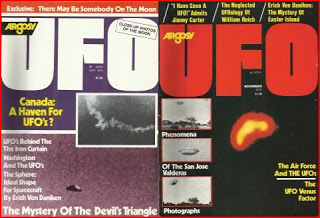 And he has a point, somewhat errant, but generally in the ball park.
Many of those magazines sensationalized UFO stories when the phenomenon was sensational all by itself, without the loopy hype.
For instance, in the September 1976 issue (shown above) there is an interview with Brad Steiger [Page 41 ff.] in which he presents a skeleton view of UFOs that Jacqus Vallee and Spanish UFO researcher Jose Caravaca have provided more elaborately, Señor Caravaca providing substantial supporting details for his hypothesis (The Distortion Theory):
Steiger says examining the Pascagoula incident [Hickson/Parker], one might see it as a hoax, "but not a hoax schemed up by the two men … it could have been a hoax perpetuated by the aliens aboard the UFO.
"Or, better yet, let us suppose that the UFO is itselfthe intelligence, that it has the ability to influence the mind telepathically, and to project what appear to be three-dimensional images to the percipients of UFO activity.
"In other words, there are no spacecrafts, noflying saucer occupants, there are only these glowing globs of pure intelligence that permit each percipient to view them in a manner that would be most acceptable to him." [Page 42, italics in article]
Steiger continues: "That is why I tend to believe that the things which we call UFOs are other-dimensional intelligences who share our turf with us and who have been with us since Year One – and before." [Page 53]
When asked about "UFO nests" Steiger gets a little goofy, " … if they are themselves living things. [they] may indeed settle down to take nourishment by converting the vegetation into a form of energy for their more efficient functioning." [Page 44]
In the November 1976 issue (also shown above) is an interesting and edifying piece on Wilhelm Reich by Jerome Greenfield [Page 20 ff.]
And an odd suggestion is propounded by Bill Quinalty in The UFO Venus Factor [Page 26 ff.] in which the idea that UFO beings come from water or live in Earth's waters is elucidated.
The magazine also had a pictured article about the San Jose Valderas photographs [Page 34 ff.] – the infamous UMMO "photos."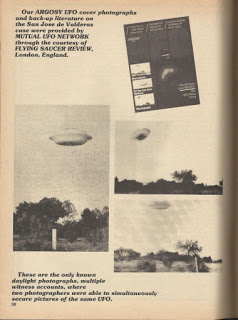 So, one can see why Paijmans is not a fan of these old periodicals, but they show, for those interested, where some of UFO's craziest ideas come from and from where some intriguing nuggets derive.
RR
http://ufocon.blogspot.com – The UFO Iconoclast(s)
Source:
http://ufocon.blogspot.com/2017/03/those-old-ufo-magazines-are-sometimes.html