Copyright 2017, InterAmerica, Inc.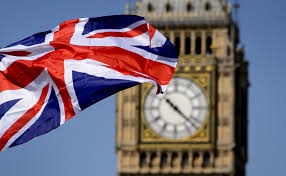 Where are the vibrant British UFO buffs? They seem to have gone all Brexit on us.
A 1992 article provided an overview of British ufology then:
My pal Nick Redfern, a Brit through and through, is more American than I am.
Of course we all see Nick Pope all over the place but he's become Americanized.
And the old-timers. Jenny Randles, Martin Shough, and the recently deceased Peter Sturrock show up now and then in UFO circles.
And the younger "geezers" such as David Clarke, Joe McGonagle, and Andy Roberts pop up often on Facebook but not in U.S. venues as they used to.
CDA (Christopher Allan) is a UFO regular at a few blogs (this one, Kevin Randles, and a few others?) and the only voice I hear from the British Empire, besides Nick, who really has become an American UFO voice.
Noting those above doesn't mean they influence, as the Brits once did, ufology very much.
Nick does certainly, and Pope is a cable network "star," as is Nick, but do you know the others, aside from CDA?
No, you don't.
The Brits, once, dominated UFO conversations, but have withdrawn into a cloistered Facebook circle, dealing, not with UFOs very much, but everything else that Brits think matter.
A loss for us UFO buffs.
We still have Jose Caravaca's Spanish ufologists and Gilles Fernandez' French skeptics, but where are the Canadians or Australians, who make a splash now and then but not the UFO tidal waves they used to?
Without the British Empire ufologists we are left with the American dolts, and I mean all those excepting Nick Redfern, a de facto American, or Kevin Randle; the Americans a motley, incoherent group pretty much.
Do the Brits know something the rest of us don't?
RR
http://ufocon.blogspot.com – The UFO Iconoclast(s)
Source:
http://ufocon.blogspot.com/2017/04/british-ufology-no-longer-matters.html