by Bob Shell
Looking for a compact self defense revolver at a reasonable price? I would definitely consider the Ruger LCRx Revolver .357 Magnum.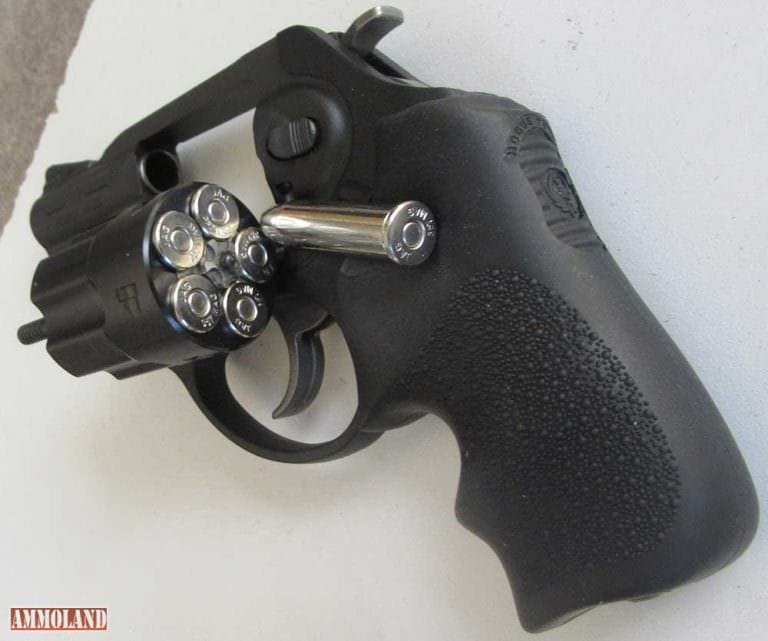 U.S.A. –-(Ammoland.com)- It seems that every day Ruger comes out with something new and it has another new self defense gun, the Ruger LCRx Revolver .357 Magnum.
It is a very lightweight gun and is a 5 shot model. With some of the new ammo available such as Liberty Ammunition which offers a very light bullet.
That will cut down on the recoil and still be an effective round for self-defense.
Ruger LCRx Revolver in .357 Magnum
The Ruger LCRx revolver has a 1 & 7/8" barrel and is meant for carrying and self-defense. It offers either a single or double action pull, a good feature in my view. The hammer isn't very prominent which is helpful if pulling out of a pocket as it wouldn't be as likely to snag on something. The gun is all black with rubber grips which are comfortable considering their small size. The rear sight is a groove in the receiver and the front has some white paint, which would aid in picking it up.
This concealable handgun is made for close range shooting in self-defense situations. The double action trigger is fair and consistent, a bit on the heavy side, but not as bad as others I have worked with. Since the gun's hammer is small, cocking it requires some attention to avoid it slipping before being fully cocked. In other words, some practice should be done if you are going to everyday carry it. Since this revolver will, in all likelihood, be shot double action in a serious self-defense situation, that is how your practice sessions should be done.
If I am testing a particular type of gun or ammo for accuracy then single action will be employed. Regardless, practice is never a bad idea regardless of the type of self-defense gun you are carrying.
Like most snub nose revolvers, the Ruger LCRx is harder to shoot well. That is because of the size and the short sight radius. This causes larger groups as a small error in lining up the sights causes a shot to be further off the target. Mechanically this revolver is accurate it just requires more practice than a larger or "longer" handgun. That is also true with small semi-auto pistols. That is where handloading with lead bullets comes in handy. You get more practice for fewer bucks.
The Ruger LCRx revolver weighs 17.1 OZ so heavy bullets at high velocity will produce excessive recoil and with the short barrel, velocities will drop off a lot.
I would imagine that shooting a lot of heavily loaded 357 especially with heavy bullets will wear out the gun, not to mention the shooter.
Probably the best handload options will involve 38 special cases with a light bullet. With the short barrel, the 357 case may have more powder than is actually needed. I am going to focus on 38 special cases as fully loaded 357's won't burn all of the powder in such a short barrel. All my test reloads will use 38 special cases unless otherwise noted. The Hollow base WC (wad cutter) was loaded backward, an old trick to make it more effective. If it manages to expand, it will produce a severe wound. I have tested them on various occasions and sometimes the lip folds which will prevent it from expanding. Accuracy isn't always the best although at close range that isn't a problem.
SIG Sauer Ammunition was used in portions of this gun review: SIG has made quality guns for years and now they have a line of ammo. I have used it in various calibers and like their guns the ammo is a quality product, for info you can go to www.sigsauer.com/products/ammunition/.
The most consistent load for me was the Liberty 38 load using a 50-grain bullet. The Hornady 90 grain also was consistent and the recoil with the loads tested is ok and most shooters should be able to handle it. If you like verity in both factory ammo and loading components Hornady is hard to beat. For info on their products you can go to www.hornady.com/ammunition  .
In all probability, I would carry the Liberty 50-grain load for recoil and power reasons. The Liberty ammo is probably the fastest ammo available and for more info you can go to www.libertyammunition.com for info on their line of ammo. Due to cost, I would practice with a lead bullet handload.
There are other good ammunition choices available, which is a strong point of the 357 magnum load. It is the most versatile handgun round available. The Ruger LCRx's DA trigger pull isn't real heavy so most shooters with good hands should be able to manage it. The Hogue rubber grips are comfortable and will fit most hands. The powder used in my tested handloads is a new IMR powder called Red, being new it needs some powder load development. They have introduced several new handgun powders, which I will be working with in the future. Also some of the old stand by powders were used.
| Load | Bullet | Velocity | Comment |
| --- | --- | --- | --- |
| Liberty 38 | 50 gr. | 1405.25 | Nice Load |
| Liberty 357 | 50 gr. | 1734.55 | High ES |
| Hornady Critical Defense | 90 gr. | 968.08 | Decent Load |
| 8 grains Ruger Red | 110 gr. HP | 1067.67 | High ES |
| 4.5 grains 231 | 125 gr. cast | 841 | Mild |
| 6.5 grains Ruger Red | 125 gr. cast | 889.07 | High ES |
| Sig | 125 gr. FMJ FP | 769.7 | Nice |
| Sig | 125 gr. HP | 777.9 | Consistent |
| 6.5 grains Ruger Red | 130 gr. Acme | 847.77 | High ES |
| Winchester Factory | 130 gr. FMJ | 740.89 | Decent |
| 6 grains Ruger Red | 148 gr. WC | 874.64 | High ES |
| 6 grains Ruger Red | 148 gr. WC backwards | 867.77 | High ES |
| 3.2 grains 231 | 148 gr. WC | 618 | Nice Target Load |
| Winchester 357 | 125 gr. JSP | 1235.7 | Heavy Recoil |
I don't see any reason to fire heavy bullets at high velocities in such a small gun. It would be safe, though I imagine that firing a lot of the ammo would prematurely loosen the gun and not do your hand much good. We had some WW factory 125 JSP and while they shot OK the recoil was very unpleasant and after a few rounds it quit being fun.
 Again, with such a short barrel, I didn't see any advantage in using 357 cases as some of the powder won't burn resulting in very little velocity gain while getting more muzzle blast.
For someone looking for a compact self defense revolver at a reasonable price I would definitely give the Ruger LCRx Revolver .357 Magnum a serious look. The 357 is superior to any smaller round and in most social situations five shots would be enough to resolve the issues. It is reliable and for its size easy to shoot at close range.
Ruger LCRx Revolver in .357 Magnum Specs:
Grip – Hogue Tamer Monogrip
Front – SightReplaceable, Pinned Ramp
Barrel – Length1.87″
Cylinder – FinishPVD
Twist – 1:16″ RH
Rear Sight – U-Notch Integral
Finish – Matte Black
Weight – 17.1 oz.
Height – 4.50″
Overall Length – 6.50″
Capacity – 5
Grooves – 6
CA Approved – No
MA Approved & Certified – No
Suggested Retail – $669.00
About Bob Shell:
A Custom Reloader of Obsolete and Antique Ammo, Bob Shell, writes about the subject of Guns, Ammo, Shooting and Related Subjects. Visit: www.bobshellsblog.blogspot.com.
This post Ruger LCRx Revolver in .357 Magnum, a Five Shot Self Defense Gun ~ Review appeared first on AmmoLand.com Shooting Sports News .
Source:
https://www.ammoland.com/2017/04/ruger-lcrx-revolver-357-magnum-self-defense-gun/