Original article on OddityCentral.com – a blog on oddities and wacky news http://www.odditycentral.com/
Abraham Poincheval is no stranger to daring performance art, but his latest project is probably the toughest one yet. The French artist will spend eight straight days sealed in a human shaped hole carved out inside a giant boulder. The purpose of this unusual performance – "to find out what the world is".
On February 22, 2017, 45-year-old Poincheval was sealed in this carved out stone sarcophagus at Paris's Palais de Tokyo gallery, where he will allegedly spend eight straight days, until March 1st. His temporary prison, a large boulder split in two with just enough room to fit the artist's body in sitting position, and enough food and water to keep him in good physical condition over his eight days of isolation. His only connection to the outside world is a ventilation duct that keeps him from suffocating in the tight space.
"The purpose is to feel the aging stone inside the rock," told media reporters. "There is my own breathing, and then the rock which lives, still humid because it was extracted not so long ago from the quarry. So there is that flow, that coming and going, between myself and the stone."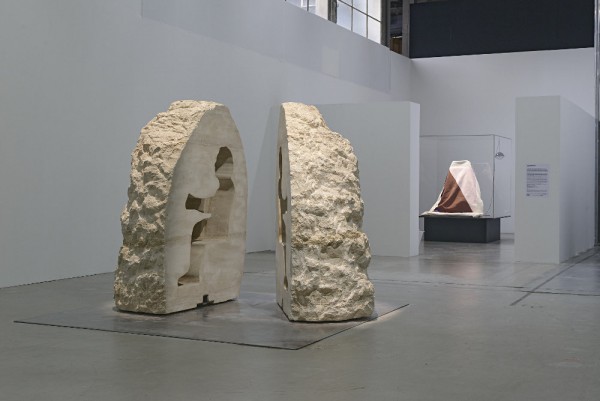 Source:
http://www.odditycentral.com/news/french-performance-artist-seals-himself-inside-a-giant-stone-for-eight-days.html