Original article on OddityCentral.com – a blog on oddities and wacky news http://www.odditycentral.com/
The authors of a Class IV textbook in India recently came under fire, after it was revealed that in a lesson on the importance of breathing they were literally encouraging the kids to do an experiment involving suffocating a cat.
It sounds hard to believe that a school textbook for environmental studies could teach children as young as 9 years old to kill an animal as an experiment, but it's sadly true. Twitter user Lola Kuttiamma shared photos of the book passages concerning the absurd experiment, and people understandably were outraged about it. "Living things breathe", the textbook explains. "No living thing can live without air for more than a few minutes. "You can do an experiment. Take two wooden boxes. Make holes on lid of one box. Put a small kitten in each box. Close the Boxes. After some time open the boxes. What do you see? The kitten in the box with no holes has died."
Wow, is that educational or what? And they're not even suggesting using adult cats, but cute little kittens. Not that grown cats would have made it any more acceptable, but kittens just make it sound even crueler. And if you thought things couldn't possibly get worse, you were wrong. The textbook, entitled "Our Green World: Environment Studies", also features a couple of pictograms, with one kitten alive and well in the box with holes in it, and the other, well, dead.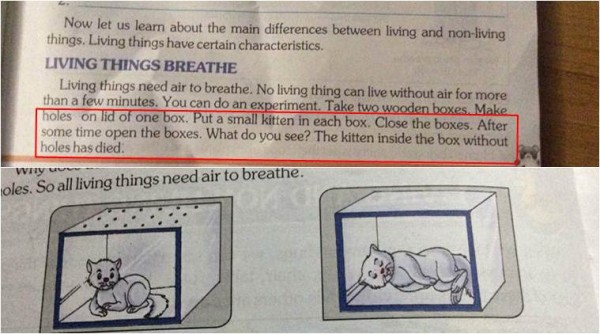 Source:
http://www.odditycentral.com/news/indian-textbook-encourages-kids-to-kill-cats-as-an-experiment.html