Our Earth is constantly bombarded by small asteroids that try to penetrate its protective atmosphere. The vast majority don't get through, but larger asteroids could pose a threat.
Understanding better what asteroids are made of is crucial in improving deflection technologies to set them off a collision course. This is one of the main objectives of AIM, ESA's preliminary Asteroid Impact Mission.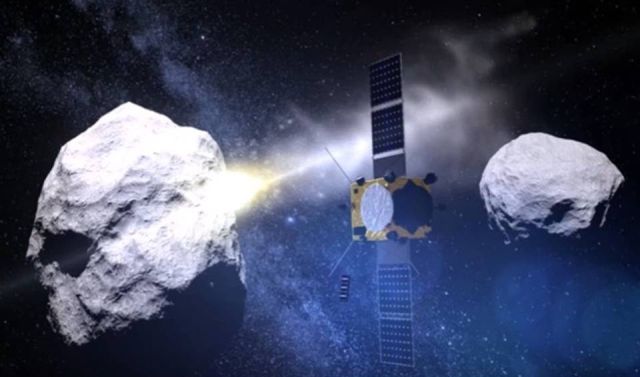 Launched in October 2020, AIM would travel to a binary asteroid system – the paired Didymos asteroids, which will come a comparatively close 11 million km to Earth in 2022. The 800 m-diameter main body is orbited by a 150 m moon, informally called 'Didymoon'.
This smaller body is AIM's focus: the spacecraft would perform high-resolution visual, thermal and radar mapping of the moon to build detailed maps of its surface and interior structure.
The main AIM spacecraft is planned to carry at least three smaller spacecraft – the Mascot-2 asteroid lander, being provided by DLR (Mascot-1 is already flying on JAXA's Hayabusa-2), as well as two or more CubeSats.
Around four months after AIM's arrival, the NASA-led part of AIDA will arrive: the Double Asteroid Redirection Test, or DART, probe will approach the binary system – then crash straight into the asteroid moon at about 6 km/s.
AIM is intended to be watching closely as DART hits Didymoon. In the aftermath, it will perform detailed before-and-after comparisons on the structure of the body itself, as well as its orbit, to characterise DART's kinetic impact and its consequences.
Thanks http://ufosightingshotspot.blogspot.com/
Most people who use social media have figured out that Facebook and Google are in cahoots with the government. For those who are well aware of the issues, it's high time you switched over to Seen.life.
Seen.life is a website that is similar to Facebook but without all the censorship. Firearm friendly, you may buy sell or trade anything allowed by site TOS rules.
Check out more contributions by Jeffery Pritchett ranging from UFO to Bigfoot to Paranormal to Prophecy