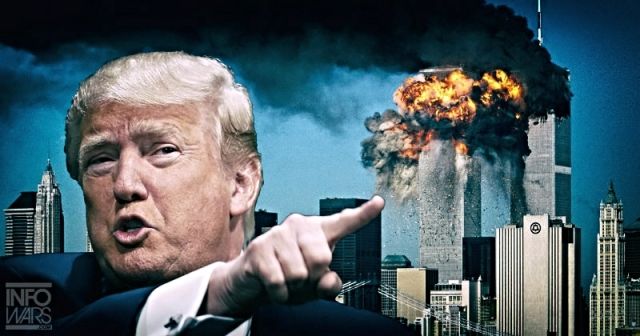 "Only powerful explosives could have taken them down" – Donald Trump "he knows the truth"
September 11, 2001 – "I saw this huge explosion. I said how could a plane, even a 767 or 747, or whatever it might have been, how could it possibly go through this steel? I happen to think that they had not only a plane but they had bombs that exploded almost simultaneously because I just can't imagine anything being able to go through that wall #TwinTowers – The #WarOnIslam.
Most buildings are built with the steel on the inside around the elevator shaft. This one was built from the outside which is the strongest structure you can have and it was almost just like a can of soup" – #TheDonald ("live on the phone").
"They had bombs" but WHO is "They"? – "the #TrumpCommission will get the truth".
"You will find out WHO really knocked down the #WorldTradeCenter" – #investigate911.
Overwhelming evidence exists that the collapses of the Twin Towers and Building 7 were instances of controlled demolition. But al-Qaeda operatives could not have obtained the needed access to the buildings to plant the explosives and would not have ensured that the buildings come straight down. The controlled demolition, therefore, had to be the work of insiders – bring THOSE responsible to justice.