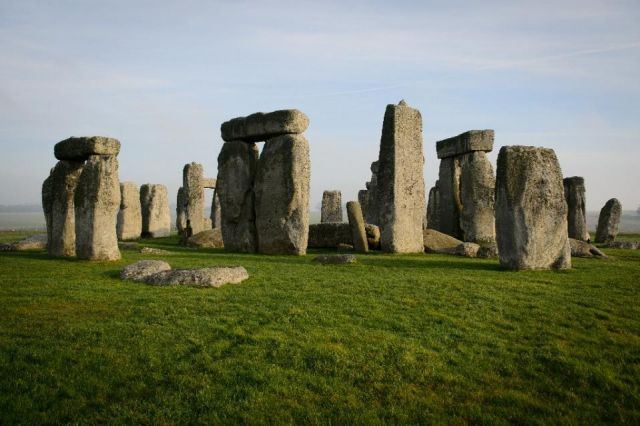 Just yesterday, Archeologists announced they have discovered what they are calling a pre-historic "Superhenge" just two miles from we all know as Stonehenge. Very little is known at this point, since the entire site is still covered in earth, and had it not been for multi-sensor technology, we still would not know it even existed. In post after post I continue to ask the question, What If Everything You Were Ever Taught Was A Lie? For the better part of a decade or more, archeologists continue to discover new ancient monuments like the one at Stonehenge that shatter conventional knowledge on what we thought we knew about mankind's history, yet suspiciously the history being taught by academia, and the history presented to us as "truth" from "science" continues to preach the same old song and dance. Yesterday, I posted What Secrets Does One of the Oldest Maps On Earth Tell Us? Plenty!
In that post, the map illustrated demonstrates a number of mind boggling impossibilities if we are to believe what modern "science" tells us. How does a map that was made 500 years ago, using source maps dating back to the time Christ, accurately portray what Antarctica looks like underneath the icecaps when it's been millions of years since land mass was unfrozen? It's a simple question that has one of two answers. Either 1) The person who made the map had access to a plane with ground penetrating sonar 500 years ago, or the history we are being fed is pure bullsh**. Which do you think it is? Now ask yourself why you are being lied to?
I ask you, who has enough power and influence to make sure the entire world remains stuck on the same incorrect narrative full of lies? Who has the power to transcend national boundaries and cultures from every corner of the earth? I submit to to you it is the New World Order, or the Illuminati because they are the only ones who could pull that off. As the public becomes more aware, I believe the New World Order is growing more desperate, and I fear what they might have in store in the very near future. Already, we know they have spent TRILLIONS worldwide in just about every developed country on underground facilities, so my question is what do they know that we don't? What can ancient sites like this new discovery at Stonehenge teach us? I believe The Truth Movement and the Illuminati May Hold Answers For Humanity's Future, if the truth movement continues to push through the nonsense and demand answers.
This is not the first time new archeological discoveries have been found around Stonehenge. In the first video below, you'll learn that up to 15 additional monuments has been discovered in the area surrounding prior to this most recent discovery. The other discoveries have led many to believe that Stonehenge was far more than just an ancient observatory of some kind, but perhaps a very busy site with lots of activity at one time.
15 New Monuments At Stonehenge
The second video is from Dahboo77 explaining the significance of the find. The area around Stonehenge is littered with prehistoric sights but the 90 or more stones, lying 3ft underground, have only just been discovered by sophisticated radar equipment towed by quadbikes.
The third video is from the Huffington Post article giving an aerial view of where the newly discovered "Superhenge" lies beneath.
CHECK OUT OTHER STORIES BY THE UN-SILENT MAJORITY HERE:
BE SURE TO GO MY PROFILE'S BELOW AT OTHER SOCIAL MEDIA:
FACEBOOK | TWITTER | PINTEREST | STUMBLE UPON | TUMBLER
Archeologists announced Monday that they've discovered the remains of another prehistoric stone monument less than two miles from Stonehenge, and it's completely reshaping how researchers understand the history of the area.
The arrangement, believed to be about 4,500 years old, was revealed by the Stonehenge Hidden Landscapes Project on the first day of the British Science Festival at the University of Bradford.
It is composed of about 30 intact stones and 60 fragments of possible stones buried three feet beneath the Durrington Walls "super-henge" and though to be a Neolithic ritual site. The stones, some of which stand up to 14 feet high, appear as if they were once lined up to form a C-shaped "arena" surrounding a valley and springs leading to the River Avon.
None have been excavated, and they were found using "non-invasive geophysical prospection and remote sensing technologies," a press release from the project said.
The archaeologists believe this new discovery could predate Stonehenge and presents the possibility that monumental architecture was happening in the area earlier than previously thought.
"The extraordinary scale, detail and novelty of the evidence produced by the Stonehenge Hidden Landscapes Project, which the new discoveries at Durrington Walls exemplify, is changing fundamentally our understanding of Stonehenge and the world around it," Paul Garwood, the principal prehistorian on the project, said in the press release. "Everything written previously about the Stonehenge landscape and the ancient monuments within it will need to be re-written."
It may also be the largest Neolithic site yet discovered.
"What we are starting to see is the largest surviving stone monument, preserved underneath a bank, that has ever been discovered in Britain and possibly in Europe," Vince Gaffney, who leads the Stonehenge Hidden Landscape project, told The Guardian. "This is archaeology on steroids."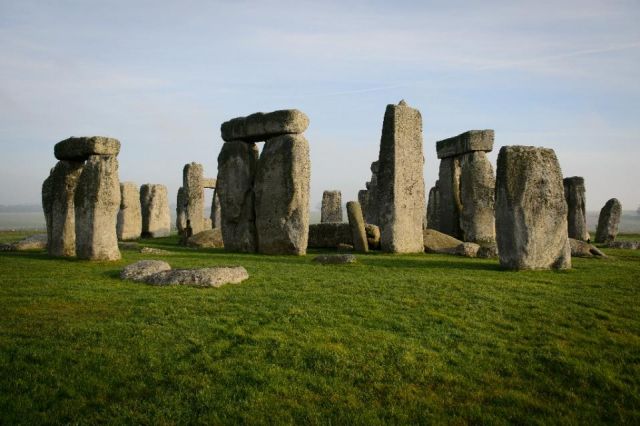 CHECK OUT OTHER STORIES BY THE UN-SILENT MAJORITY HERE:
BE SURE TO GO MY PROFILE'S BELOW AT OTHER SOCIAL MEDIA:
FACEBOOK | TWITTER | PINTEREST | STUMBLE UPON | TUMBLER
London (AFP) – Archaeologists on Monday said they had found the buried remains of a mysterious prehistoric monument close to Britain's famous Stonehenge heritage site.
Up to 90 standing stones, some originally measuring 4.5 metres (15 feet) and dating back some 4,500 years, may have been buried for millennia under a bank of earth, they said.
The discovery was made at Durrington Walls — a so-called "superhenge" located less than three kilometres (1.8 miles) from Stonehenge — thanks to hi-tech sensors, they said.
The site may have been used in neolithic times for rituals or as some kind of arena.
"Durrington Walls is an immense monument and up until this point we thought it was merely a large bank and ditched enclosure, but underneath that massive monument is another monument," Vincent Gaffney, of the University of Bradford, told the BBC.
The discovery was made by the Stonehenge Hidden Landscapes Project, a collaboration between the University of Birmingham and the Vienna-based Ludwig Boltzmann Institute for Archaeological Prospection and Virtual Archaeology (LBI ArchPro).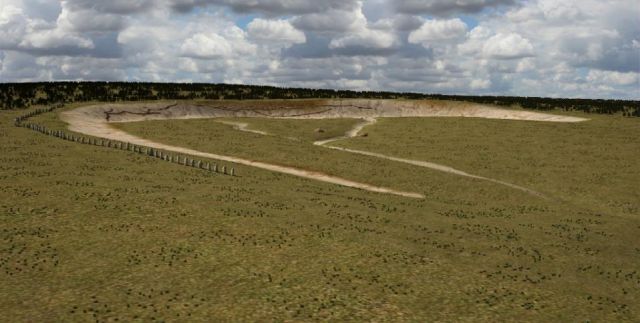 An artist's impression of a recently discovered henge near the Stonehenge site in Amesbury, Engl …
The newly discovered stones, which have yet to be excavated, are thought to have been toppled over, with the bank of the later Durrington Walls henge built over them.
The monument, which lies in the Stonehenge World Heritage Site, is one of the largest known henges — a circle of stone or wooden uprights — ever found.
It measures 500 metres (yards) across and more than 1.5 km in circumference.
Surrounded by a 17.6m-wide ditch and a bank around 1m high, the site has long mystified archaeologists as one side is straight and the other curved.
Now ground penetrating radar has revealed that the straight edge in fact sits on top of a "C-shaped" monument, which may have been used as a site for rituals or an arena for gatherings, researchers said.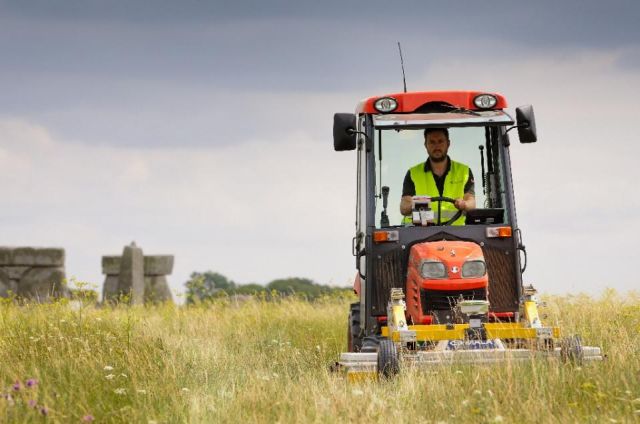 A motorised ground penetrating antenna array was used in a survey at the Stonehenge site in southern …
- 'Very important' find -
Project initiator Wolfgang Neubauer, director of the LBI ArchPro, described the discovery as a "very important and fantastic finding" and said the monument could originally have comprised up to 200 stones.
"The missing stones might be the stone material which was used later on to build Stonehenge," he explained, adding that those left in place were probably broken during attempts to move them.
Although none of the stones have yet been excavated, archaeologists believe they may be locally sourced stones similar to a single standing stone, known as "The Cuckoo Stone", in an adjacent field.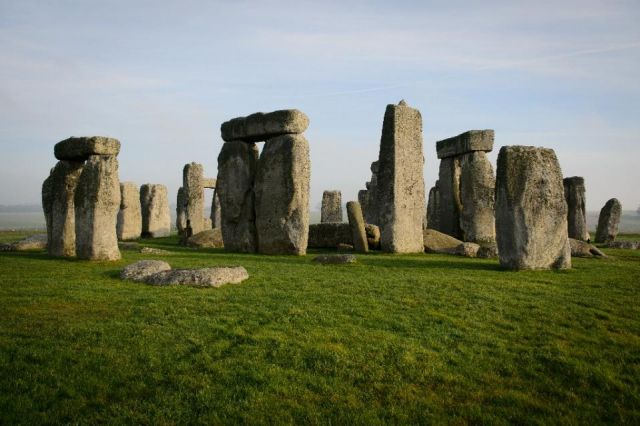 Stonehenge in southern England is one of the most iconic ancient sites in Europe (AFP Photo/Leon Nea …
The earthwork enclosure at Durrington Walls was built about a century after Stonehenge, a ring of standing stones believed to have been erected between 3,000 and 2,000 BC.
Archeologists say the new stone row could date back to the same period, or even earlier.
"This discovery of a major new stone monument, which has been preserved to a remarkable extent, has significant implications for our understanding of Stonehenge and its landscape setting," said Gaffney.
"Not only does this new evidence demonstrate a completely unexpected phase of monumental architecture at one of the greatest ceremonial sites in prehistoric Europe, the new stone row could well be contemporary with the famous Stonehenge sarsen circle or even earlier."
Nick Snashall, a National Trust archaeologist for the Stonehenge site, said the findings provided "tantalising evidence" of what lies beneath Durrington Walls.
"The presence of what appear to be stones, surrounding the site of one of the largest Neolithic settlements in Europe adds a whole new chapter to the Stonehenge story," he said.
FIND A CRAZY STORY YOU WANT ME TO GET OUT?
EMAIL ME: [email protected]
FOR MORE LINKS ON WONDERS OF ANCIENT EARTH:
What Secrets Does One of the Oldest Maps On Earth Tell Us? Plenty!
Who Are the Watchers, Giants, & Nephilim – How Do They Relate to Ancient Myths
Are the Ancient Chinese Pyramids Used to Bury Emperors Older Than Giza?
Shocking Discovery of Ancient 200,000 Year-Old Metropolis
Smithsonian: Where "Forbidden Archeology" Goes to Die (Videos)
Egypt's Great Pyramid at Giza Not Oldest Pyramid on Earth Anymore (Videos)
Largest City Ever? – Enormous 5,000 Year-Old Underground City Discovered
Ten Actual Lost Treasures No One Has Ever Found
Ten Mysterious Ancient Civilizations Modern Science Cannot Explain
FOR JUST A FEW EXAMPLES OF HOW POLITICS, WARS, PLANET X, GLOBAL DEPOPULATION, AND THE ILLUMINATI FIT TOGETHER:
Pt. 1: Illuminati Infiltrate NASA, Conceal Largest Lie in History, & Will Depopulate
Pt. 2: Nazi's and Illuminati Directly Responsible For the U.S. Space Program, but Why
Pt. 3: Secret Societies Arranged For Underground Bunkers For Them, Not You.
Pt. 4: Why Are The Illuminati Planning To Crash the Global Economy
Pt. 5: What Is The Illuminati Doing To Usher in Global Martial Law?
Pt. 6: 74 NASA Scientists Dead: Largest Cover-up in Human History Continues
Pt. 7: What Dark Secrets Are The Georgia Guidestones Hiding From Humanity
CHECK OUT OTHER STORIES BY THE UN-SILENT MAJORITY HERE:
BE SURE TO GO MY PROFILE'S BELOW AT OTHER SOCIAL MEDIA:
FACEBOOK | TWITTER | PINTEREST | STUMBLE UPON | TUMBLER
~ THE UN-SILENT MAJORITY ~