Story Views


Now:
Last Hour:
Last 24 Hours:
Total:
Officer purchases food for man caught stealing
Wednesday, October 21, 2015 14:57
% of readers think this story is Fact. Add your two cents.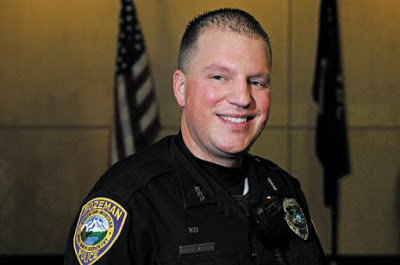 Officer purchases food for man caught stealing
SEAN PERRY / CHRONICLE Bozeman police officer Marek Ziegler purchased groceries for a man
Bozeman Police Officer Marek Ziegler was called to Van's IGA last Friday night to check on a shoplifting report.
The 33-year-old officer has been on the Bozeman force for three years. He is a K-9 handler and works nights, from about 9 p.m. to 7 a.m.
When he got to the grocery store on North Seventh Avenue, employees told Ziegler that a 32-year-old man had stuffed food and "pens, pencils, maybe markers, things for his kids" into his coat.
The officer arrested the man, cited him for theft and then released him. But the story didn't end there.

Ziegler had asked the man why he had been stealing. "He was really upset," Ziegler said this week. "Basically, he told me he's having a hard time and can't provide the food for his family right now, so that's why he was stealing."

Ziegler already had the man's address, but asked for the man's phone number. "I told him, 'Give me 15 minutes,' and I went and got him some food."

Ziegler ran to Wal-Mart, picked up a few frozen pizzas and delivered them to the man's house. "Obviously, as a police officer, I have a job to do, but we're still human, too," Ziegler said. When the officer handed over the food, the man shook his hand and thanked him for understanding, Ziegler said.

And then Ziegler kept the story to himself.

However, a Chronicle reporter was at the 911 dispatch center that night. She overheard tidbits of the officer's report that he was going to buy the man some food. The Chronicle sought out the story. Ziegler wasn't seeking attention for his good deed.

"These guys, they just don't really brag about things like that," Acting Police Chief Marty Kent said. "It wouldn't surprise me that he wouldn't say anything."

Ziegler shrugged off the idea that he had done something out of the ordinary. "It's just what we do to take care of each other," he said.
http://www.bozemandailychronicle.com/news/officer-purchases-food-for-man-caught-stealing/article_66b36a7a-abc3-51d6-a0fc-fb891bf25378.html
NESARA- Restore America – Galactic News
Source:
http://nesaranews.blogspot.com/2015/10/officer-purchases-food-for-man-caught_21.html