Story Views


Now:
Last Hour:
Last 24 Hours:
Total:
This Criminal Tyranny Against Humanity Needs To Stop – And Stop Now!!!!!
Saturday, January 9, 2016 6:07
% of readers think this story is Fact. Add your two cents.

USA MILITARY – ARREST AND IMPRISON THE TRAITORS IN THIS NATION, THOSE WHO CALL THEMSELVES OUR 'GOVERNMENT' AND U.S.A. MILITARY, AND PUT AN IMMEDIATE END TO THIS CRIMINAL TYRANNY IN SYRIA
YOUR CRIMINAL ACTIONS AGAINST HUMANITY NEEDS TO STOP – AND STOP NOW!!!!! AMERICANS ARE ANGRY AND ASHAMED AT WHAT IS BEING DONE AGAINST THE PEOPLE IN OUR NAME………………..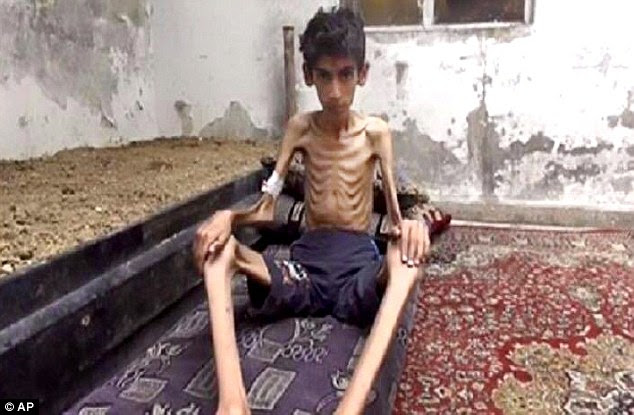 Horror of the starving Syrians cut off from the world: People living in three towns under siege from U.S.A. MILITARY forces and U.S.A. SPONSORED rebels are forced to eat cats, dogs and grass as food supplies are unale to reach them
Madaya near Damascus has been under siege by Assad's troops since July
Activists say desperate residents have resorted to eating domestic animals
Some have been killed by snipers or landmines while scavenging for food
Foua and Kfarya have been under attack from rebels for more than a year
Victims also forced to have surgery without anesthetic due to lack of drugs
See full news coverage on Syria at www.dailymail.co.uk/syria
Assad has been supportive of the Christians in Syria, while defending the nation against the U.S.A. supported muslim terrorists. TELL THE TRUTH - IT IS NOT ASSAD WHO IS THE CAUSE OF THE DESTRUCTION AND DEATH IN SYRIA – IT IS ISIS SPONSORED BY THE U.S.A. CORPORATION AND THE U.S.A. MILITARY! IT IS TIME TO EXPOSE THE TRUTH AND SHOUT IT FROM THE HOUSETOPS !!!!
NESARA- Restore America – Galactic News
Source:
http://nesaranews.blogspot.com/2016/01/this-criminal-tyranny-against-humanity.html