Are we living in the end times? The world is changing alright… but how many people would say they believe it's changing for the better. Could it be we are living in the end times and many don't even realize it? Could it really be?
The following video from wildly popular YouTuber "Jason A" takes a look at just some of the strange and even disturbing trends we are witnessing around the globe.
CHECK OUT OTHER STORIES BY THE UN-SILENT MAJORITY HERE:
FACEBOOK | TWITTER | PINTEREST | STUMBLE UPON | TUMBLER
All over the world people have reported hearing what sound like loud sonic booms or trumpeting sounds that to date have remained unexplained. So far in 2016, you'll see that some were caught on video in places like: Massachusetts, North Carolina, Idaho, and Florida. There have also been massive earthquakes lately in Hawaii, up to 20 in Arizona, Pakistan, Japan was just hit with three more, Tonga, and Ecuador hit yesterday!
"And there shall be earthquakes in divers places" - Mark 13:8
The Bible indicates in Revelation that seven trumpets will sound before the end of the age and many would say five of the seven have already sounded as evidenced by critical moments in recent history. Could it be the sixth trumpet? Doubtful, and here's why: Revelation 9:13-21 indicates that four angels will command an army of 200 million individuals.
"Nation will rise against nation, and kingdom against kingdom." - Mark 13:8
SUBSCRIBE TO THE TOP STORIES OF THE WEEK IN THE NEWSLETTER HERE
CHECK OUT OTHER STORIES BY THE UN-SILENT MAJORITY HERE:
As you'll see in the video, this past week several Russian fighter jets simulated attack on the USS Donald Cook, and came a little too close for some sailors' comfort. The simulation was hardly an isolated event. Military tensions have also been rising with China (incidentally the only country big enough to field an army of 200 million individuals), over their increasing militarization of artificial islands in the South China Sea.
"And ye shall hear of wars and rumours of wars: see that ye be not troubled: for all these things must come to pass, but the end is not yet." - Matthew 24:6
This past week there were multiple Federal Reserve meetings that included Obama, Biden, and Fed Chair Janet Yellen, three people who are never supposed to be in the same room together at the same time…
SUBSCRIBE TO THE TOP STORIES OF THE WEEK IN THE NEWSLETTER HERE
With so much talk of economic pressures mounting around the world, and global currency resets, many central banks have at least had discussions around doing away with paper currency, paving the way for implantable RFID chips in a cashless society. Jason A gives several examples of the recent uptick biometric systems being used or proposed all over the world…
"And he causeth all, both small and great, rich and poor, free and bond, to receive a mark in their right hand, or in their foreheads" - Revelation 13:16-18
Something not even mentioned in the video, but showing up in the news with increasing regularity has been the discoveries of what potentially could be more than one previously unknown of planets in our solar system rotating around the sun on abnormal ellipses.
Jeremiah, a prophet from the Old Testament, felt compelled to warn us of something he called the Destroyer. He obviously knew the significance of its wrath and that every place on Earth would be affected.
"Disasters will soon spread from nation to nation. They will come like a powerful storm to all the faraway places on earth… The DESTROYER will come against every town, not one town will escape… The Lord said this will happen." - Jeremiah 25:32 & 48:8
There is a growing number of people today who believe a planetary body known as Planet X, or Nibiru, will fly through our solar system very soon, and it's pass will have with cataclysmic results for the Earth. For more on that:
Why Are Global Elites Stealing Trillions to Build Secret Underground Bunkers
Mysterious Planet X Seen and Filmed From ISS, Feb 9th and 10th, 2016 (Video)
Caltech Researchers Find Evidence of Sitchin's Planet X
Mysterious Planet X Visible Every Day of 2016 So Far Only Using Naked Eyes (Videos)
Google Reveals Heavily Controversial Planet X to the Public At Large
In recent weeks there has been hail the size of torpedoes, entire bodies of water have been found with enough dead fish lining the surface of the water that a person could walk across…
WHAT IS GOING ON???
TIME TO MAKE SURE YOUR HOUSE IS IN ORDER…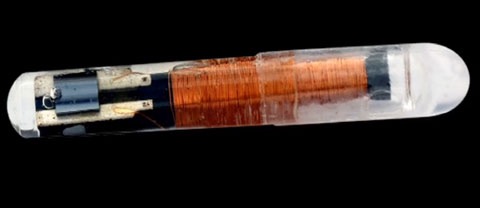 FOR MORE ON INGESTIBLE BIOMETRIC SYSTEMS:
New World Order's Ban on Cash is Coming… Prepare To Be Microchipped
FDA Approved Ingestible RFID Chips: The "Mark of the Beast" Is Upon Us Today
Bilderberg Topic 2015: Ingestible RFID Microchips
Prepare to be Microchipped. This is Not a "Request"

FOR MORE ON GLOBAL ECONOMIC CHAOS AND A CURRENCY RESET:
Dr. Willie and Peter Schiff Together: Total Currency Collapse and Reset Coming
Peter Schiff and Dr. Jim Willie Warn Investors About Timing Fed Market Rally
ALSO DON'T MISS:
Jim Willie and How the Loss of the US Dollar as Reserve Currency Affects You Personally
Jim Willie: Americans Are Destitute Now, Wait Until The US Dollar Collapses
Economic Implosion Will Lead to Stock Market at 5,000 by 2017 Forecaster Says (Video)
FACEBOOK | TWITTER | PINTEREST | STUMBLE UPON | TUMBLER
~ THE UN-SILENT MAJORITY ~