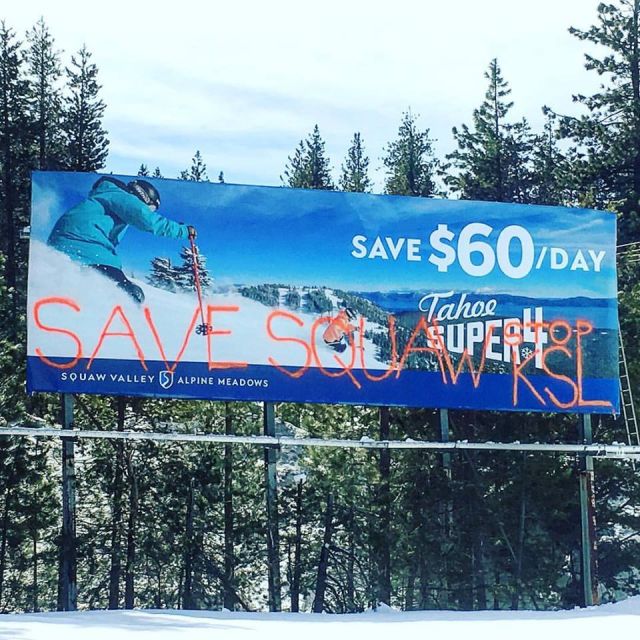 As the biggest event since the Olympics at Squaw Valley U.S.A. in 1960 approached, Audi FIS Ski World Cup, a villainous caper was perpetuated. Graffiti was used to destroy private property to make the above statement. The sign was promptly removed. Many locals in Tahoe are against the developments planned in Squaw Valley for a variety of reasons, but many jobs will be created from the development, possibly with the pursuit of being an Olympic venue in the backdrop!?
Ski Oligarchy
I used to live the dream. I had a house with good friends directly below the best lines in Tahoe accessible by lift. And then the corporations moved in and everything started changing. Squaw Valley USA transformed from a family-owned resort presenting itself as a corporation into a corporation presenting itself as family-owned. KSL is not the only corporation to come into town and set up. Vail now owns Heavenly, Northstar, and Kirkwood in Tahoe.
Vail seemed to me to be the stalest resort I have ever been to. Vail, and presumably its business model, was stifling, lacking any vibrancy whatsoever. I realized that all the corporate developers moving into Tahoe were all heading toward this corporatized ski oligarchy design, where the company owns everything down to the village sandwich shop. Colorado had to actually initiate preventative measures against Vail buying more ski resorts. In 2001, Vail purchased Rock Resorts, formerly owned by the Rockefeller family.
KSL bought Squaw and kicked out every storefront it could in order to move in more stale franchised corporate stores. Then Alpine Meadows was adopted. The ski industry is, of course, reflective of industry in general and includes such nefarious and contentious practices as real estate and land development, water rights, and pollution and overdevelopment of mountain environments.
Rumor has it that Vail insists employees use ski lingo when interacting with clients, I mean snowsliders. From what I understand, when a client asks an employee how they're doing the employee is to respond, with a smile, "Living the dream." Even though travel is always a learning experience and adventure, working five days a week for minimum wage and a ski pass restricted during holidays, and eating ramen with your 10 roommates is not exactly living the dream. This is the life of a seasonal worker.
If we do not do something we will have CEOs of ski resorts constantly lying about how much snow has fallen, lying to employees about how they will be living, and even writing letters impersonating people to boost their profiles.
I don't live the dream anymore.That is, I don't live their dream because underneath my obsession for snowsliding is a disdain for corporatizing oligarchies. There is no denying that the ski industry is just another link to get money. I am living my dream, not theirs.
www.reviewjournal.com/…/reno-tahoe-coalition-has-hurdles-clear-get-2026-winter-ol…
Feb 15, 2014 - Squaw Valley, 42 miles southwest of Reno, hosted the 1960 Winter … for the 2022Winter Olympics two years ago, the Reno Tahoe coalition …
www.sfgate.com/…/Lake-Tahoe-takes-run-at-2022-Winter-Olympics-3276810.php
Jan 3, 2010 - The 10-day event – a day shorter than the 1960 Games – will launch a capital campaign to build a Squaw Valley Olympic Museum, which would …
www.bizjournals.com/sacramento/…/tahoe-dreams-of-2022-olympics-dashed.html
Jul 3, 2012 - … to skip putting in a bid for the 2022 Winter Olympics, bringing to an end … also is CEO and president of Squaw Valley and Alpine Meadows.
The Terraist Letters
Ethan Indigo Smith's controversial book, The Terraist Letters, humorously contrasts the very serious issues of global nuclear experimentation and global marijuana prohibition. It is a funny and provocative political satire that attempts to brings some sanity to the most serious subject matter of nuclear experimentation, in a way that only Ethan can.
"Ethan's work will titillate, irritate, but most importantly, stimulate some serious thought concerning current conventions. Give it a read. Your brain might thank you." ~ New York Times Best Selling author, Jim Marrs
The Terraist Letters is available here on Amazon.
The Complete Patriot's Guide
Ethan Indigo Smith's book, The Complete Patriot's Guide to Oligarchical Collectivism: Its Theory and Practice, is an insightful exploration of history, philosophy and contemporary politics of today's heavily institutionalized society.
An inspiration for positive, peaceful individual action, The Complete Patriot's Guide is pro-individual in its perspective and, although political, discusses our society and its institutions from neither left-wing nor right-wing perspectives, exploring history, philosophy and contemporary politics relative to the fictional work of George Orwell. Layered with insight, it is in part a literary exploration of the themes of Orwell's 1984, and provides solutions for individual and collective empowerment.
The Complete Patriot's Guide to Oligarchical Collectivism is available here on Amazon.
About the author:
Activist, author and Tai Chi teacher Ethan Indigo Smith was born on a farm in Maine and lived in Manhattan for a number of years before migrating west to Mendocino, California. Guided by a keen sense of integrity and humanity, Ethan's work is both deeply connected and extremely insightful, blending philosophy, politics, activism, spirituality, meditation and a unique sense of humour.
Ethan's publications include:
For more, visit Ethan on Facebook and check out Ethan's author page on Amazon.