Iodine-131 (131I), a radionuclide of anthropogenic origin, has recently been detected in tiny amounts in the ground-level atmosphere in Europe. The preliminary report states it was first found during week 2 of January 2017 in northern Norway. Iodine-131 was also detected in Finland, Poland, Czech Republic, Germany, France and Spain, until the end of January.
Iodine-131 is a radionuclide with a short half-life (T1/2 = 8.04 day). The detection of this radionuclide is proof of a rather recent release.
Besides the iodine release, the origin of which is still unknown, the poor dispersion conditions due to the thermal stratification [1] of the atmosphere also affected the observed concentration levels, including those of naturally occurring radionuclides such as Lead-210 (210Pb) [2], or fine particles (PM2.5 and PM10) leading to pollution episodes, particularly in the Western part of Europe during week 4 of January.
It must be pointed out that only particulate iodine was reported. When detectable, gaseous iodine is usually dominant and can be estimated to be 3 to 5 times higher than the fraction of particulate iodine.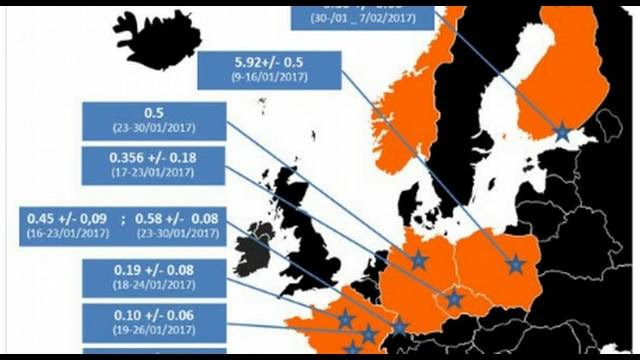 Dahboo77
http://www.irsn.fr/EN/newsroom/News/P…
https://twitter.com/usaircraftspots/s…
https://icitizennews.net/detection-of…