Ryanair, an Irish Airline used COINTELPRO to get rid of the UFO RYANAIR case. A near-collision between a plane and UFO almost had cost lives. A Ryanair passenger witnessed a gobbling near-collision with a UFO just after the plane took off.
On December 31st 2014, 3:55PM CET, the Ryanair plane took off from Eindhoven airport, after 10 minutes airborne the UFO approached the plane with high velocity, overtook the plane and came back again towards the plane.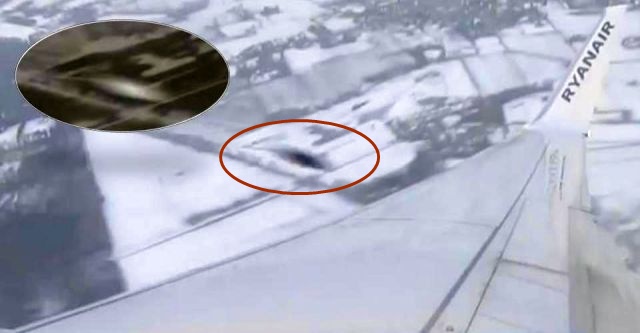 The evidence of the UFO Ryanair was recorded on camera by the passenger. KLM flight attendant reviewed the footage and confirmed the pilot was in distress, because of the unusual maneuver.
Although it is said that it would have been a UFO it's more likely a drone which nearly collided with the plane.
A recent study shows just how frequently planes and drones nearly collide. A report about drone incidentsreleased by a research group at Bard College said that there were 327 incidents of drones flying too close to piloted aircraft from December 2013 through September 2015.
The report's authors said they counted 28 incidents of pilots taking evasive action to avoid a collision.
The latest incident just happened last month on April 16, 2016, when a British Airways pilot flying into London reported that an object believed to be a drone, struck the front of the plane while landing at Heathrow Airport from Geneva, Switzerland. Despite of the dangerous situation, the flight landed safely.
Due to the on-going incidents the British government is considering introducing a drone-registration scheme so the aerial vehicles can be traced back to their owners, while in the U.S, the FAA introduced a registration plan in December, with owners facing a fine if they don't comply. More than 400,000 people had registered by the end of March.

Thanks http://ufosightingshotspot.blogspot.com/
Check out more contributions by Jeffery Pritchett ranging from UFO to Bigfoot to Paranormal to Prophecy