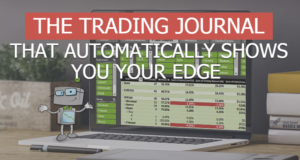 BarroMetrics Views: A Tool for Success 2
Although I have been speaking about journalling as if it were one, there are actually two aspects to it:
The stats side and
The psych side.
The stats side require the details of the trade. For example, date of trade, instrument, long or short, entry, exit, initial stop, size, setup and trigger. The minimum stats required would the Expectancy Details – either or:
(Average Dollar Win x Win Rate) – (Average Dollar Loss x Loss Rate) = $X
(1+(Average Dollar Win/Average Dollar Loss))x Win Rate -1 = %.
The two stats are slightly different. The first produces a dollar result, whereas the second produces a percentage result. The first says, given my results, each trade will generate $X; where the second says 'for every $1.00 risked, I can expect, on average X% in the S'.
But other stats are useful, e.g
What if I set my stop using a different method?
What if I entered using a different trigger? etc
If you are trading mechanically, some questions:
Has the system stopped working?
Has the critical sequence of loss been exceeded?
The psych aspect seeks to record the conditions, internal and external, under which we trade best and under which we trade poorly. For example: under what conditions are we likely to breach our rules? Following a sequence of consecutive wins? Following a sequence of consecutive losses?
Before Edgewonk the answers were often difficult to find and certainly time-consuming. The software makes life a lot easier.
The post A Tool for Success 2 appeared first on Ray Barros' Blog for Trading Success.
Source:
http://www.tradingsuccess.com/blog/tool-success-2-4714.html