Story Views


Now:
Last Hour:
Last 24 Hours:
Total:
Duarte's wife found abundance she craved
Friday, March 10, 2017 7:35
% of readers think this story is Fact. Add your two cents.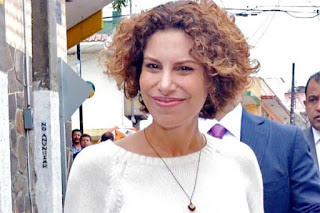 Karime Macias; "I deserve abundance"
The wife of former Veracruz governor Javier Duarte was a tireless shopper, spending 8 million pesos on clothes, personal articles and luxury hotels during her husband's first 14 months in office, according to documents obtained by the newspaper Reforma.

Karime Macías Tubilla, who disappeared with her husband last October, spent US $511,740 in the United States, 1.27 million pesos in Mexico and 51,000 pesos in a jewelry store in Brazil between December 2010 and January 2012, a credit card statement revealed.

Macías, believed to be the person who copied the phrase "I deserve abundance" 45 times in a notebook discovered last month in the city of Córdoba, went on shopping sprees in which she spent an average of 675,000 pesos a month, nine times the monthly salary of her husband, now wanted on corruption charges.

The credit card purchases were racked up on an American Express Platinum card in the name of Moisés Mansur Cysneiros, a close friend of Duarte and a presumed accomplice in his alleged embezzlement of public funds.

Among Macías' credit card charges:
• In a single day, April 25, 2011, $80,978 at Bergdorf Goodman in New York.

• On another New York trip, between July 22 and 26, she spent $159,185 in the city, $111,000 of it at Bergdorf Goodman.

• During the July trip, charges by the Hotel The Peninsula totaled $9,820 and those of a limousine company, $8,796.

• A month later, Macías spent $37,373 at the Neiman Marcus store in The Galleria shopping center in Houston, Texas.

• In October she visited the Phoenix suburb of Scottsdale and spent $81,725. In a single day Duarte's wife made 22 purchases worth $22,607 for clothes, shoes and designer accessories.

• She was back in Scottsdale a month later, as well as New York and the winter resort destinations of Vail and Beaver Creek, in Colorado. The bill: $45,789.

• In Mexico, Macías' favorite store appeared to be Saks Fifth Avenue. On February 8, 2011 she made a 447,444-peso purchase.

• In November she made purchases costing 165,000 pesos at Hermés and Max Mara in Mexico City.

Source: Reforma (sp)
DD; I understand and agree with her sentiment that "I deserve abundance", but she just didn't finish the thought. She should have added "for being married to such a low life slob." And it certainly should not have been paid for at the expense of the people of Veracruz.
Source:
http://www.borderlandbeat.com/2017/03/duartes-wife-found-abundance-she-craved.html