Exclusive!! Want Freedom From Being Censored? Check Out This Last Frontier of Free Press – Tutorial
By Marcel Cousineau / Rebel Planet Dispatch
This know also, that in the last days perilous times shall come

good short video above - H Bomb 1,000 more powerful than nuclear bomb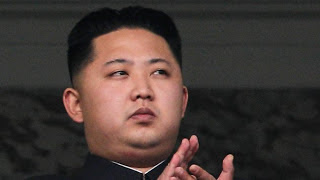 Obama paper tiger, do nothing, talk, talk, talk, no one stop me, I dare him!
We've heard all this week from the media propaganda arm of Obama about the 'gun show loophole', but really nothing about this empty suit's failure to close the North Korea nuclear proliferation loophole.
The news from impotent, failed, crumbling Washington this morning was ;

'We will not allow North Korea to be a nuclear power'
What world do these lunatic's live in?
They are a nuclear power in-spite of the useless UN and the addled and very corrupt Washington Establishment.
That horse has left the barn, dear comrade Obama, that Pandora's Box has been opened,
dear emperor dictator with no clothes, that genie is out of the bottle.
Thanks to O and our other Globalist 'destroyer' presidents, Clinton and Bush, dear worthless leader with the teleprompter, nuclear midnight has arrived!
What will O do, take out his pen and his phone or cry another tear ?
Total unmitigated failures, all of the Washington political class on both sides of the isle, except for only a handful.
Empty words with no meaning, just worthless, empty words as Obama zero's in on the little fish he wants to disarm.
There will be millions of dead Americans because our weak leaders failed early on to halt North Korea and Iran's nuclear drive… and yet this loser president is focused on the gun show loop hole.
He does not even disarm his HEAVILY armed gangster pals in Chicago,LA and every other major American city.
He's busy releasing dangerous criminals and criminal illegal aliens back into the streets to terrorize the public all over again.
He has time to target law abiding citizens while the criminals bypass the background check easily.

Even more dangerous than gun show buyers.
Experts believed before the fourth test that North Korea was still some years from being able to hit a target with a nuclear bomb delivered by a missile.
the experts have proven that they are clueless, blind overpaid morons.
Exclusive!! Want Freedom From Being Censored? Check Out This Last Frontier of Free Press – Tutorial
*************
http://rebelplanetdispatch.blogspot.com/2016/01/obamas-north-korea-hydrogen-bomb.html
Read more great articles at Rebel Planet Dispatch here: