Chad Verdi's Passion Project 'Bleed for This', Real-Life Story of Boxer Vinny Pazienza, Hits Theatres in November
Investorideas.com Interviews Award Winning Producer Verdi as Movie Trailer is Released Showcasing Miles Teller in Potential Oscar Nomination Role

June 29, 2016 – Investorideas.com, a global investor news source covering leading topics and sectors including sports and entertainment, releases an exclusive Q&A with entrepreneurial award winning movie producer and businessman Chad A. Verdi of Rhode Island following the release of the trailer for Bleed for This.
The much anticipated trailer release for 'Bleed for This', a movie that has already generated Oscar buzz, showcases Miles Teller in the role of his career as boxer Vinny Pazienza. True boxing fans will be lined up for this movie after watching the trailer!
Bleed for This tells the true story Pazienza (Teller), "The Pazmanian Devil" who shot to stardom after winning two world title fights. After a near-fatal car accident left him with a severed spine, doctors told him he might never walk again. But with the help of trainer Kevin Rooney (Aaron Eckhart), Pazienza not only walked again but returned to the ring to reclaim his title belt only a year after the accident. Katey Sagal, Ted Levine, Ciaran Hinds, Jordan Gelber and Amanda Clayton co-star.
Bruce Cohen, Emma Tillinger Koskoff, Chad A. Verdi, Noah Kraft, Younger and Pamela Thur are producing Bleed for This. Martin Scorsese, Joshua Sason, Michelle Verdi, Myles Nestel and Lisa Wilson are executive producing.
The film is set to release in November of this year.
Watch the Trailer: http://link.brightcove.com/services/player/bcpid3476534560001?bckey=AQ~~,AAAAABjSC6Q~,pGevSATpV8E-Iy5Qd4HGKkonZVLcEf1Y&bctid=5000976647001
Interview:
Q: Investorideas.com – So how does it feel seeing the official trailer of you passion project being released today? As a boxing fan myself, I think it's spectacular!
A: Chad A. Verdi – Love it! I can't explain in words how proud I am of everyone who worked on this project. From day one, the only goal my wife Michelle and I had was to tell Vinny's story to the word. Today it started with a great trailer and in November an even better movie will be released.
Q: Investorideas.com – The LA times is already talking Oscar Buzz, what are your thoughts?
A: Chad A. Verdi – This Film is the real deal and has real legs. It's up to the viewers to decide how great the film is. It's the best movie I have ever produced and Vinny's story speaks for itself. It's the greatest comeback in sports history.
Q: Investorideas.com – So now that the trailer is out fans will want to know when and where will the premiers take place?
A: Chad A. Verdi – We will premiere in La And NY the first week in November and hopefully in RI soon after that. I want the RI premiere at Twin River Casino since we did a lot of filming there and they deserve to be part of this.
Q: Investorideas.com – The LA times also mentioned a film that you and your wife Michelle executive -produced called Silence- any update on that project?
A: Chad A. Verdi – The film is schedule to be released in late 2016 and we are very excited about that release. But right now, it's all about Bleed For This
Investorideas.com: Thanks Chad. I think the trailer will create a lot of buzz on this movie – and I think Miles Teller's fan base will explode after they see this debut!
D.Van Zant for Investorideas.com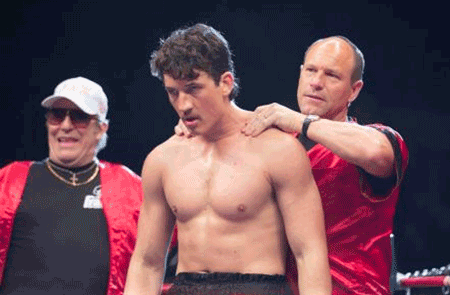 Miles Teller in Bleed for This
Read this release in full at http://www.investorideas.com/CO/WHP/news/2016/06291.asp
Verdi Productions www.verdifilms.com Verdi Productions is a fully-funded film production company located in East Greenwich, Rhode Island, with additional satellite offices in Edgartown, Massachusetts, New York City and LA. The company pursues all aspects of filmmaking – carrying projects from concept through postproduction.
Verdi Productions is redefining how films are made on the East Coast. Unlike other film productions that come to the Northeast, Verdi is establishing itself as a fixture in the Rhode Island community. Verdi Productions does not operate on a project-to-project basis, but instead functions like a west coast studio, with established offices, full time employees, and a continuous stream of product.
Chad A. Verdi, Award Winning Producer at IMDB: http://www.imdb.com/name/nm3838148/?ref_=fn_al_nm_1
About Investorideas.com – News that Inspires Big Ideas
Sectors we cover in include mining, energy, renewable energy, water stocks, food and beverage (including organic and LOHAS, wine), defense and security, biotech, technology and mobile. We have also expanded our global coverage to include Latin American stocks, the Middle East, sports and entertainment.
Follow Investorideas.com on Twitter http://twitter.com/#!/Investorideas
Follow Investorideas.com on Facebook http://www.facebook.com/Investorideas
Disclaimer/ Disclosure: The Investorideas.com newswire is a third party publisher of news and research as well as creates original content as a news source. Original content created by investorideas is protected by copyright laws other than syndication rights. Investorideas is a news source on Google news syndication partners. Our site does not make recommendations for purchases or sale of stocks or products. Nothing on our sites should be construed as an offer or solicitation to buy or sell products or securities. All investment involves risk and possible loss of investment. This site is currently compensated by featured companies, news submissions, content marketing and online advertising. Contact each company directly for press release questions. Disclosure is posted on each release if required but otherwise the news was not compensated for and is published for the sole interest of our readers. More disclaimer info:
http://www.investorideas.com/About/Disclaimer.asp
Verdi Productions and Woodhaven are featured companies on Investorideas.com
http://www.investorideas.com/CO/WHP/
Contact Investorideas.com
800-665-0411
Contact Verdi Productions
401-884-0655