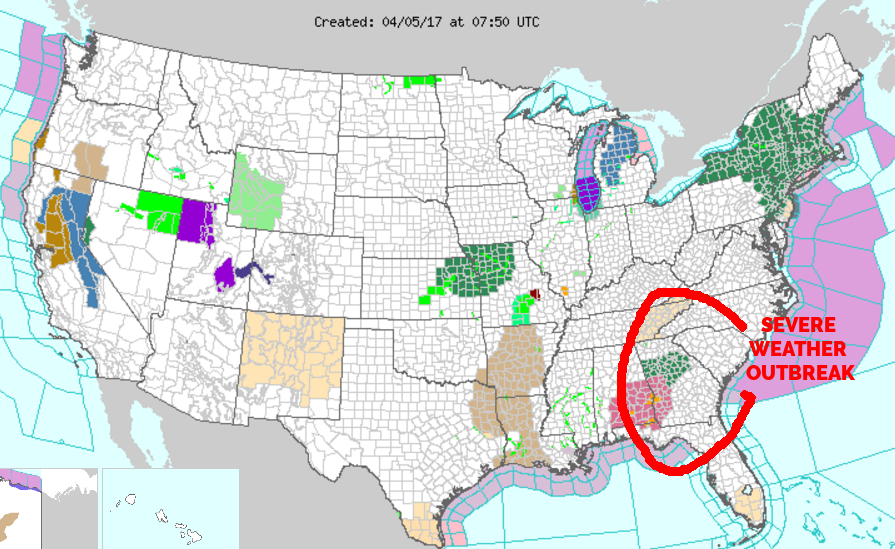 SEVERE WEATHER POSSIBLE
There is potential for severe weather in two rounds today. The first will occur in the mid morning to early afternoon hours and the second, more dangerous situation, will occur around or after 8 pm tonight. Please be weather aware and keep a radio or other weather alerting device on nearby today and tonight. More information is in the update below in the Hazards Segment of the update.
NATIONAL OVERVIEW
…Stormy weather across the southeastern U.S. and rain/snow returns to the West Coast…
The main weather story through the middle of the week will be a potent storm system currently crossing the Midwest states. Severe weather will be the hallmark of this low pressure system as it makes its way towards the East Coast by Thursday afternoon. This is expected in the warm sector from the Ohio Valley to the Florida Panhandle on Wednesday, and then the eastern Mid-Atlantic region on Thursday. The Storm Prediction Center has additional details regarding the severe weather threat. This storm system will likely have a wintry side to it as well, with a band of accumulating snow across the lower peninsula of Michigan on the northwest side of the precipitation shield. As the low intensifies, expect windy conditions to develop across much of the eastern U.S. for the end of the week.
The West Coast from northern California to Washington state will also have a return to unsettled conditions. A slow moving frontal boundary will slowly move inland along with a plume of Pacific moisture, producing rainfall amounts up to an inch, with higher amounts possible across the Olympic mountains. Several inches of snow is likely for the higher elevations of the Cascades and the mountains of northern California. A stronger storm system approaches the coast by Friday morning, along with windy conditions and lowering snow levels.
LOCAL OUTLOOK
Weak high pressure will cross our area through tonight. A strong cold front approaches on Wednesday preceded by another round of showers and thunderstorms with some of the storms being severe with large hail and wind damage. Expect much below normal temperatures at the end of the week with snow showers in the North Carolina mountains.
Weather Almanac for April 5th (1872-2016)
Record weather events for this date in Macon County
Highest Temperature 88°F in Highlands in 1942
Lowest Temperature 15°F in Highlands in 1903
Greatest Rainfall 4.06 inches in Nantahala in 1957
Greatest Snowfall 4.5 inches in Franklin in 1987
THREE DAY OUTLOOK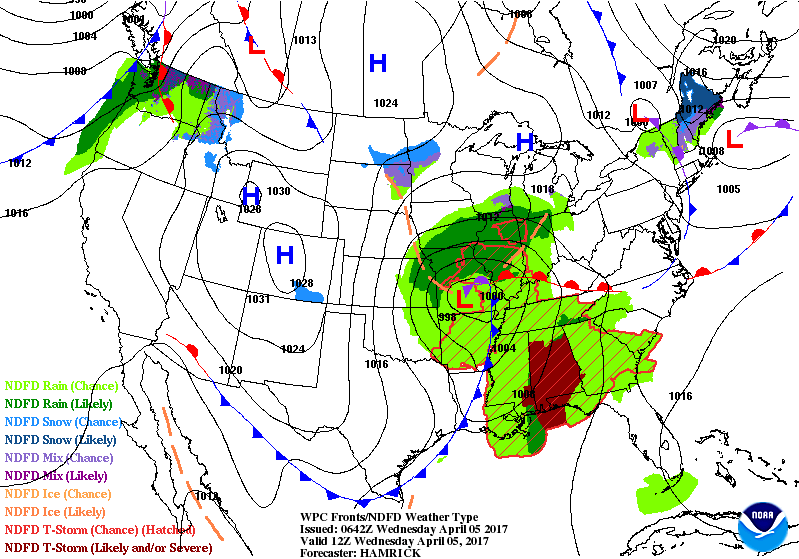 TODAY
Partly cloudy in he morning, becoming cloudy by noon with highs near 70. Calm winds in the morning, then rising through the morning to between 5 an 10 mph by mid morning. Rain chances will increase through the day, with the potential for thunderstorms after noon. Rainfall amounts between a quarter and half an inch.
TONIGHT (Severe Thunderstorms Expected)
Cloudy, with patchy fog expected to develop overnight and lows in the lower 40s. Rain and thunderstorms are expected, with heavy rain and severe thunderstorms likely. Winds will be from the southeast before midnight and shifting to come from the west after midnight as the cold front passes. Wind gusts will likely exceed 20 mph, higher in thunderstorms. Rainfall amounts between a half an inch and three quarters of an inch are expected, with more possible in locations that see multiple thunderstorms.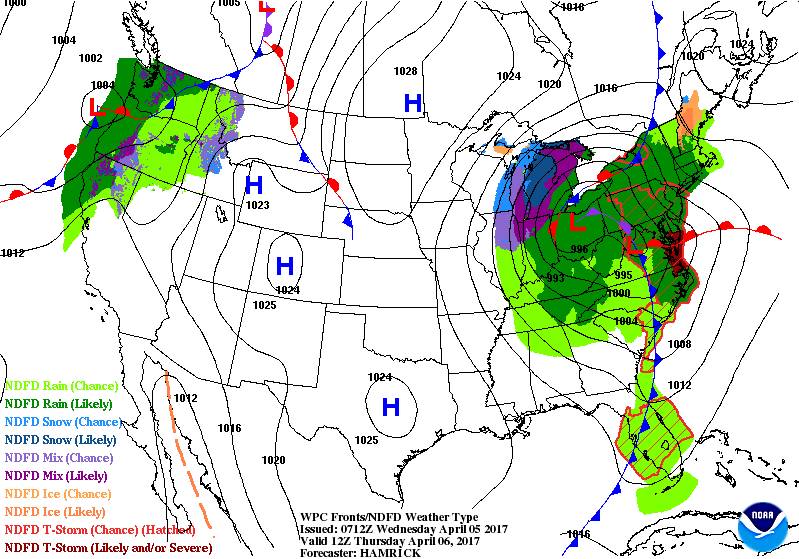 THURSDAY
Cloudy with highs near 50 and winds out of the west between 10 and 20 mph, with gusts around 30 mph are expected. Rain is expected to be over before 1 pm with rainfall amounts between a tenth and a quarter of an inch expected.
THURSDAY NIGHT
Mostly cloudy with lows near freezing (wind chills will be in the 20s or lower) and winds from the northwest 15 to 20 mph. Wind gusts will probably be around 30 mph. Rain is expected before 2 am and rain and snow showers after 2 am. Little or no snow accumulation is expected for most of the county. Higher elevations could see some accumulation.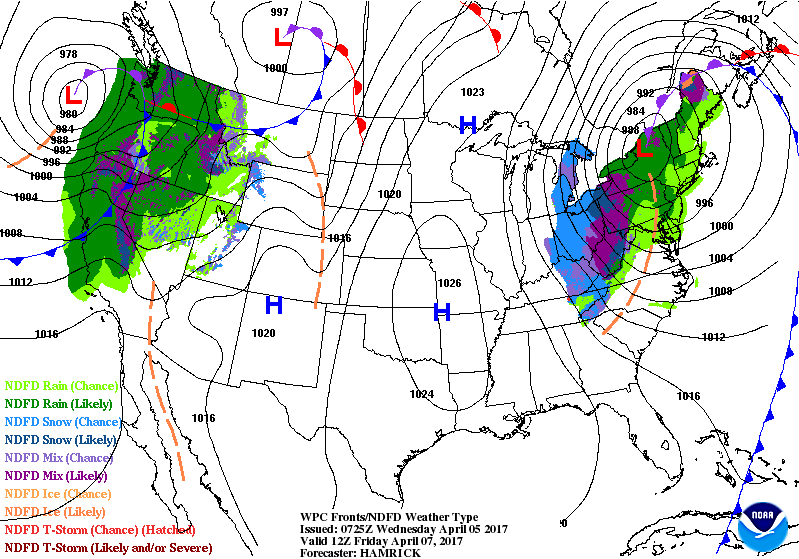 FRIDAY
Decreasing clouds to partly sunny skies with highs near 50 and winds out of the northwest 15 to 20 mph with gusts in the 25 to 30 mph range. Rain and snow showers should end by 10 am or so. Little or no accumulation expected.
FRIDAY NIGHT
Partly cloudy with lows near freezing.

HAZARDS
Hazardous weather is expected today. Our first opportunity for severe weather will be in the mid to late morning hours as a warm front passes through. If this system is really active, it may serve to limit how severe the second round gets later in the evening/early morning hours becomes.
The second opportunity for severe weather is expected after 8 pm as a line of severe storms arrives from the west. Frequent lightning, large hail, torrential downpours, and damaging winds are possible. Be prepared for possible power outages.
The severe storm potential will be followed by a time period of high winds. The main concern will be scattered power outages as tree limbs fall on power lines and power poles.
Please be weather aware and familiar with the advice offered on Macon Media's Severe Weather Preparedness Page at http://thunderpigblog.blogspot.com/p/breaking-news-hub.html
The National Weather Service has issued a Hazardous Weather Outlook that includes Macon County. A copy is posted below:
..WEDNESDAY…Severe weather possible. A strong cold front will approach the region from the west late Wednesday. Scattered to numerous thunderstorms are expected to develop along and ahead of the front. Conditions are expected to be favorable for severe thunderstorms capable of producing damaging winds, large hail, and isolated tornadoes. Localized flash flooding will also be possible.
..THURSDAY…High winds possible. In the wake of the cold front, strong west to northwest winds will develop across the area. Winds may become strong enough from Thursday into Thursday night to cause at least isolated downed trees and power lines.
As always, you can check to see what advisories, watches and warnings are in effect for Macon County by visiting http://is.gd/MACONWARN
MACON CALENDAR
If you have an event you wish to be added to this calendar, please send the information, along with a flyer in pdf format or a high quality photo, to [email protected]a.com
There is no charge for civic, educational or non profit groups.
BUILDING A RECOVERY COMMUNITY
APRIL 6th at 6 pm in the Drake Education Center at 210 Phillips Street
Donald McDonald will be the main speaker.
For more information, contact Kay 706-970-9987 or Perry 828-200-3000
2016 FIRE SIZE PRESENTATION
The United States Forest Service will be making a presentation will cover the organization of suppression resources, cooperative efforts, suppression repair activities and future Forest Service restoration activities at Tartan Hall on April 6th.
More information is on the blog at http://thunderpigblog.blogspot.com/2017/03/2016-fire-size-presentation-scheduled.html
SYRINGE EXCHANGE PROGRAM
On January 1, 2017, the Syringe Exchange Program of Franklin began operating a comprehensive harm reduction program to address the opioid epidemic that is effecting western NC. Opioid overdose reversal kits including naloxone are available free of charge. If you have any questions about our services or if you know someone interested in volunteering, please contact Stephanie Almeida at 828-475-1920.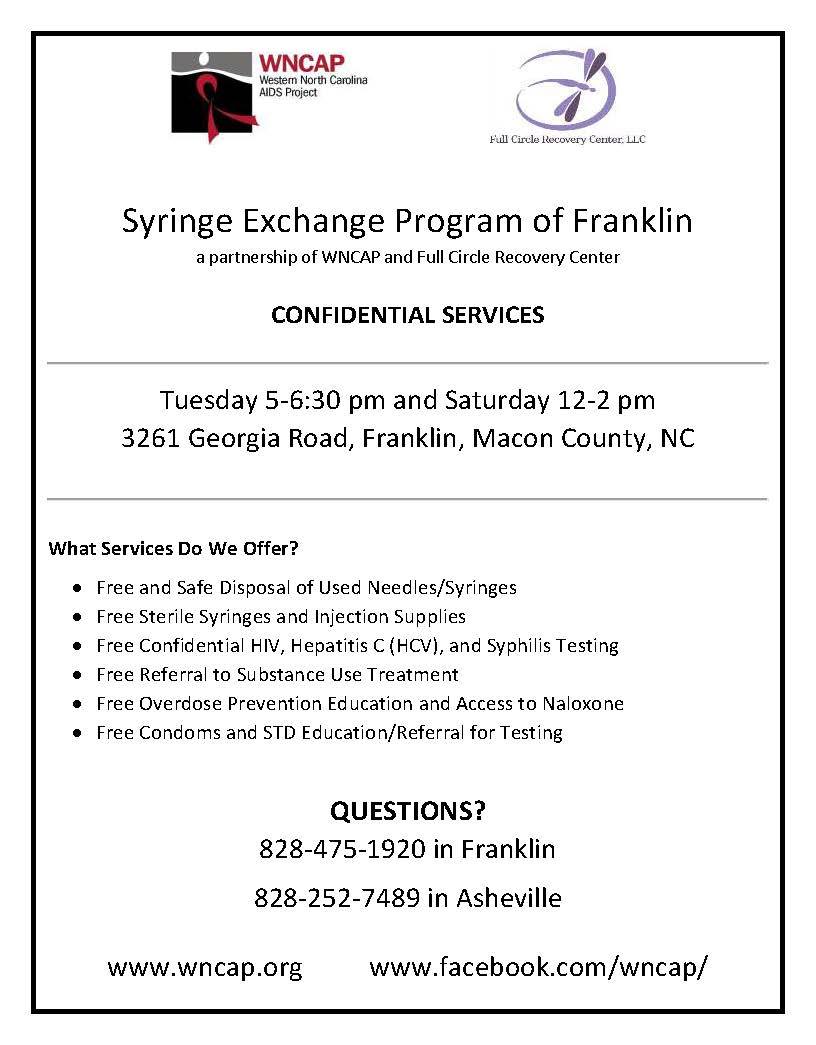 CROWD FUNDING OR DAY SPONSORSHIP OPPORTUNITIES
If you receive value from what Macon Media provides to the community, please consider becoming a supporter and contribute at least a dollar a month.
If you have a business or event you are interested in sponsorship opportunities or underwriting coverage, send an email to [email protected] for more information. Serious inquiries only.
Thank You to the people who have been sending in donations and those businesses who are underwriting coverage of news and events. You have kept Macon Media online. You have made it possible for Macon Media to begin purchasing state of the art equipment and begin work on building a real website with features not employed by any local news outlets.
You can find out more information on how to do that and some of what I plan to accomplish if I reach certain levels of funding at https://www.patreon.com/MaconMedia
Published at 4:55 am on April 5, 2017
#WNCscan #MaconWx #MaconSafety
Source:
http://thunderpigblog.blogspot.com/2017/04/wx20170405.html