AMERICA NEEDS TO HOPE AND PRAY FOR JUSTICE ROBERTS.
FOR THIS NATION TO SURVIVE, ONE STEP WILL BE TO DELIVER A CRUSHING BLOW TO THE MOST TYRANNICAL AMERICAN PRESIDENT IN HISTORY AND STRIKE DOWN OBAMACARE ONCE AND FOR ALL.
FOR ROBERTS TO DO THAT, HE'LL HAVE TO WALK AWAY FROM HIS LIFE'S WORK, AND PUT HIS FAMILY IN DANGER…
Join my Twitter feed | Like my Facebook page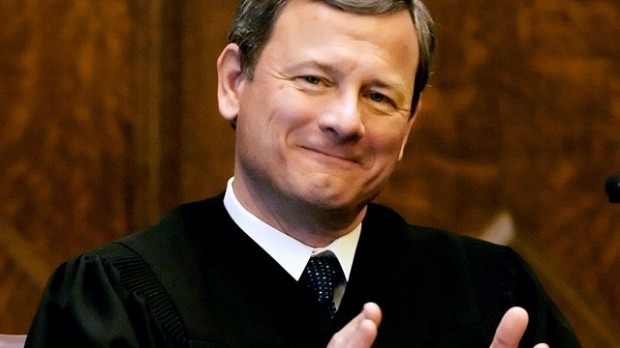 Let's go back in time for a moment shall we? Just days prior to the now infamous Obamacare decision, Chief Justice Roberts sided with the 4 conservative justices in striking down the Obamination currently dismantling our nation's economy. CBS reports:
Chief Justice John Roberts initially sided with the Supreme Court's four conservative justices to strike down the heart of President Obama's health care reform law, the Affordable Care Act, but later changed his position and formed an alliance with liberals to uphold the bulk of the law, according to two sources with specific knowledge of the deliberations.
[Audio/Video below cannot be seen in Newsletter - have to go to Blog]
Say whatever you want about Chief Justice Roberts, and the decisions that led both HIS family and OUR nation to where we are, but whatever you say is just time wasted. It's done. He did what he did, and we are where we are. As per usual, in a NEVER ENDING TREND OF TREASONOUS behavior, Obama used the resources at his disposal to put his foot on Chief Justice Roberts neck. I wrote the following in my post titled: WAS JUSTICE ROBERTS BLACKMAILED BY OBAMA TO PASS OBAMACARE:
An interesting dilemma exists. Obama can continue to blackmail Justice Roberts and allow his secret to stay hidden, thereby allowing him to retain his position on the Supreme Court… OR… he can blow the whistle, Justice Roberts (normally more conservative) will have to step down, and Obama can appoint another liberal wackjob to take his place.
Elections sure do have consequences. My, my, they sure do.
Tea Party.org reports: Many of us have questioned what caused Roberts to switch his vote on ObamaCare at the last minute, as reported by CBS, and doing so, so late that the Conservative Justices were forced to rewrite their majority opinion to be minority dissent. These facts may answer that question.
In 2000 Justice Roberts and his wife Jane adopted two children. Initially it was apparent that the adoptions were "from a Latin American country", but over time it has become apparent that the adopted children were not Latin American, but were Irish. Why this matters will become evident.
In 2005 the NY Times began investigating Roberts life as a matter of his nomination to the Supreme Court by George Bush. The Times was shortly accused of trying to unseal the adoption papers and intending to violate the anonymity of the adoption process… however there is more to the story.
Drudge did an article in 2005 and it can be found here.
The NEW YORK TIMES is looking into the adoption records of the children of Supreme Court Nominee John G. Roberts, the DRUDGE REPORT has learned.
The TIMES has investigative reporter Glen Justice hot on the case to investigate the status of adoption records of Judge Roberts' two young children, Josie age 5 and Jack age 4, a top source reveals.
Judge Roberts and his wife Jane adopted the children when they each were infants.
Both children were adopted from Latin America.
A TIMES insider claims the look into the adoption papers are part of the paper's "standard background check."
Bill Borders, NYT senior editor, explains: "Our reporters made initial inquiries about the adoptions, as they did about many other aspects of his background. They did so with great care, understanding the sensitivity of the issue."
Were the Children Adopted from Ireland
This is not clear … — the Associated Press reports that they were "adopted from Latin America." This seems a bit puzzling, in light of the Time magazine report indicating that the children were born in Ireland. Also, their blonde hair and fair skin do not seem conventionally Latin American.
TIME had a "web exclusive" on the Roberts's (7/24/05) and quoted a family friend as stating the kids were "born in Ireland 4 1/2 months apart."
How were the Children Adopted?
According to The New York Times, based on information from Mrs. Roberts's sister, Mary Torre, the children were adopted through a private adoption.
As explained by Families for Private Adoption, "[p]rivate (or independent) adoption is a legal method of building a family through adoption without using an adoption agency for placement. In private adoption, the birth parents relinquish their parental rights directly to the adoptive parents, instead of to an agency."2
But was Robert's adoption utilizing "a legal method"?
Apparently the process of adopting Jack involved some stress for John Roberts. According to Dan Klaidman of Newsweek, during the contested 2000 election, Roberts "spent a few days in Florida advising lawyers [for George W. Bush] on their legal strategy," but "he did not play a central role," because " at the time, Roberts was preoccupied with the adoption of his son."
It is now quite evident that the two Children were from Ireland. Even wikipedia references these adoptions at the time of Roberts' confirmation, and indicates that the children were of Irish birth.
However Irish law 1) prohibits the adoption of Children to non-residents, and 2) also does not permit private adoptions, but rather has all adoptions go through a public agency.
This would explain the children's origin from a "Latin American country", so as to circumvent Irish law.
Evidently Roberts arranged for this adoption through some sort of trafficking agency, that got the children out of Ireland and into that Latin American country, from which they were adopted, thereby circumventing two Irish laws — entirely illegal, but perhaps quasi-legitimized by the birth mothers (two) transporting the children out of Ireland.
Undoubtedly Roberts and his wife spent a great deal of money for this illegal process, circumventing Irish laws and arranging for the transit of two Irish children from separate birth-mothers to a foreign nation. Come 2012, those two children have been with the Roberts' for roughly 10 years, since they were adopted as "infants".
Some might feel an impulse dismiss this information, mistakenly believing Roberts and his wife were doing a good thing for a children needing a home.
That would be an inaccurate belief. As recognized, such an inter-country adoption would only come about at great cost, and those who utilize this method are creating a for-profit black market in adoptive children, trafficking across international borders, and doing so from mothers who have not yet given up their children except for that profit. Such actions are creating a very unsavory profit-for-children human trafficking market that even necessitates immediate contact with new birth mothers in dire circumstances to offer financial gain. The entire arrangement is thoroughly predatory, turning children into only financial commodity, and even providing motivation for their birth mothers to give them up! That's an important ethical recognition.
Roberts is not deserving of any sort of respect here, and is only the latest example of people in position believing themselves above the law, beyond scrutiny and exempt from repercussion.
It all now makes sense.
The circumstances of these two adoptions explain not only why this would be overlooked by an overall sympathetic media, but also why a sitting Chief Justice of the U.S. Supreme Court would not want this information to become public fodder well into his tenure. Its release and public discussion would discredit Roberts as an impartial judge of the law, and undoubtedly lead to his impeachment.
This also explains why Roberts would have a means to be blackmailed, and why that leverage would still exist even after the institution of ObamaCare.
… And it has led to flipping the swing-vote on ObamaCare, which fundamentally changed the relationship between citizen and government, making us de facto property of the state, with our relative worth in care and maintenance able to be determined by the government. Essentially it was a coup without firing a shot, much less needing even an Amendment to the Constitution.
And it is consistent with Obama's Chicago-style politics, that has previously involved opening other sealed divorce records in order to win election.
Join my Twitter feed | Like my Facebook page
It will be interesting to see how this plays out. Roberts has got to be FURIOUS with the fact he NOW knows through the VIDEOS OF PROFESSOR GRUBER, that the writers of Obamacare knew damn well it wasn't a tax, never intended it to be a tax, and yet that's what they argued before the Supreme Court LYING their butts off, and made a total mockery of Roberts. I don't think Obama or liberals envisioned Obamacare having a "Round 2" in the Supreme Court.
I would think Roberts decision is not only an easy one from a legal perspective, because we KNOW it was not intended as a tax, nor was it constitutional as a tax either, but Robert's is likely excited to finally be able to reveal his original decision before being blackmailed, and spare the country of this Frankenstein of a bill. I've covered the unconstitutional tax in the past, so I am not going to do it again here, but the path to that resolution is MUCH longer, and probably would not be heard until there was zero chance of reversing course. Even now, to reverse course on Obamacare will be BRUTAL, but insurance companies are in the business of making money, and I am sure they are not waiting for the law to be struck down to begin planning a return to a SANE healthcare where men don't need birth control.
I'm sure his own Impeachment and private family life being dragged through the press will be on his mind Chief Justice Roberts mind too though. His oldest child is 10 if I recall. Is he willing to put them through that? Would you harm your children? As outsiders we want to make it a black and white decision, but it has many layers, and I for one hope and pray that as Americans we pray for Justice Roberts and his family during what is going to be VERY TOUGH time no matter what. With absolute control of the both houses of Congress, Roberts is as likely to be Impeached as Obama was under the Democrat led Senate, but my guess is Roberts would step down in disgrace.
WE BETTER PRAY HE WAITS UNTIL 2016…
AND PRAY THE GOP TAKES THE WHITE HOUSE…
OTHERWISE…
OBAMA WILL FLIP THE SUPREME COURT TO 5-4 LIBERALS!!!
What does more damage? Obamacare or an out of control President AND Supreme Court? I'm not sure I know right now. This is all very very complicated, and much more involved than most every day Americans are aware of.
PLEASE SHARE THIS TO MAKE THEM AWARE!
Join my Twitter feed | Like my Facebook page
Join my Twitter feed | Like my Facebook page
The Supreme Court appeared divided Wednesday along ideological lines after hearing a challenge of ObamaCare tax subsidies that, if struck down, could affect up to 8 million policy holders.
The liberal justices peppered Michael Carvin, the lawyer for the health law challengers, with skeptical questions almost from the outset over his argument to limit the subsidies.
When Solicitor General Donald Verrilli Jr. — who represents the Obama administration — stepped to the lectern, the liberal justices fell silent, and Justices Samuel Alito and Antonin Scalia took over.
But Chief Justice John Roberts, who was the deciding factor in the last major ObamaCare case in 2012, said almost nothing in nearly 90 minutes of back-and-forth. And the questions posed by Justice Anthony Kennedy, often a key swing vote on the bench, did not make clear how he will come out. During the hearing, Kennedy posed tough questions to both sides.
The justices met Wednesday to determine whether the law makes people in all 50 states eligible for federal tax subsidies — or just those who live in states that created their own health insurance marketplaces. This question matters because roughly three dozen states opted against their own marketplace, or exchange, and instead rely on the U.S. Health and Human Services Department's Healthcare.gov. If the court rules against the Obama administration, insurance subsidies for people in those states would be in jeopardy.
Justice Ruth Bader Ginsburg said the law set up flexibility for states to either set up their own markets or rely on the federal Healthcare.gov. Giving subsidies only to people in some states would be "disastrous," Ginsburg said.
Scalia later challenged Verrilli.
"It may not be the statute Congress intended, but it may be the statute Congress wrote," Scalia said of the provision in question. The case focuses on four words in the law, "established by the state." The challengers say those words are clear and conclusive evidence that Congress wanted to limit subsidies to those consumers who get their insurance through a marketplace, or exchange, that was established by a state.
Verrilli argued that the law can only be read more broadly and noted that millions of people would lose health insurance if the court rules against the administration.
Alito wondered if the justices could delay the effect of such a ruling to allow states and perhaps the federal government to act. Scalia said he believes Congress would act.
"This Congress, Your Honor?" Verrilli said to widespread laughter in a packed courtroom that included leading congressional Democrats and Republicans.
Kennedy voted to strike down the health law in 2012, but on Wednesday he asked questions of both sides that made it hard to tell where he might come out this time. He suggested that challenger Carvin's argument raised a "serious" constitutional problem affecting the relationship between states and the federal government.
He reportedly said throwing out the subsidies would cause a "death spiral."
On the other hand, he seemed less than convinced by Verrilli's reading of the law to allow the subsidies nationwide. Reuters reports that Kennedy said the lawyer for ObamaCare challengers could win anyway based on the reading of the law.
After arguments ended, Carvin told reporters they still believe their case is "very compelling."
The "IRS pulled a bait and switch," Carvin said, suggesting they ignored the statute.
Independent studies estimate that 8 million people could lose insurance coverage if the subsidies were to be struck down.
This could have dramatic consequences on the new health care system, and put pressure on Washington to respond. Obama administration officials have suggested they have no alternative plan if the subsidies are struck down, while some Republican lawmakers have begun crafting their own alternatives, just in case.
One option would be to provide financial assistance for families that have already picked coverage, while a longer-term "fix" is crafted.
A recent analysis by the health care firm Avalere found that, if the court, rules against the administration, those who would lose their subsidies as a result would see premiums increase an average 225 percent.
Of the judges who have ruled on lawsuits over the subsidies, Democratic appointees have sided with the administration and Republican appointees have been with the challengers.
The last time such a fundamental ObamaCare matter was before the court, in 2012, Roberts was the only justice to essentially cross party lines with his vote in 2012. His fellow conservatives on the court voted to strike down ObamaCare in its entirety.
The lawyers arguing the case Wednesday also squared off three years ago. Carvin argued part of the broad challenge to the health care law in 2012. Verrilli, the administration's chief Supreme Court lawyer, successfully defended it.
A decision in King v. Burwell, 14-114, is expected by late June.
The Associated Press contributed to this report.
Read the article at Fox News here:
THE VOICE OF REASON
FOR MORE LINKS ON THIS ABYSMAL FAILURE KNOWN AS OBAMACARE:
FOR MORE ON ALL OBAMA'S TREASONOUS ACTS!
FOR MORE ON OBAMA'S UTTER LAWLESSNESS:
BE SURE TO CHECK OUT THE GIFT SHOP!