Join my Twitter feed | Like my Facebook page
By: Voice of Reason
FOR MORE NEWS BY VOICE OF REASON CLICK HERE!
FINALLY! SOMEONE WHO GETS IT!
SINCE THAT OFFICE JUST HAPPENS TO THE PRESIDENCY HE HIJACKED…
[USING HIS FASLE CREDENTIALS]
GIVEN THE DAMAGE CAUSED, I HOPE HE IS GIVEN THE ULTIMATE PENALTY!
Obama must simply be arrested and prosecuted for impersonating a public officer. This can be done in Washington DC without involving Congress. Obama is in fact not allowed to be impeached.
As I have said in the past, if you are just now becoming familiar with the so called "Birther" issue as many like to call it, I suggest you look into the facts of the matter, not the nonsense spewed by Obama and his supporters. Plain and simple: No one spends MILLIONS hiding their past if there is nothing to hide. Furthermore, the "Birther" issue has been debunked.
It was LAW ENFORCEMENT, not Right-Wing Tea-Baggers who proved the birth certificate Obama presented was a fraud when they set out to SHUT UP the "Birthers" by proving the birth certificate was authentic. As it turns out, not only did Arpaio's team prove the birth certificate is a fraud, it is a REALLY bad one from what they say.
In addition to the "Birther" issue as it's been known since 2008, there is the issue of Team Obama accidentally turning in THREE COMPLETELY DIFFERENT VERSIONS of his alleged birth certificate to Alabama in his run for President. Good luck getting liberals to conjure up anything that sounds even remotely intelligent to support that screw up. They won't. You'll be called a racist in minutes of beginning THAT debate. Recently the ALABAMA SUPREME COURT PUNTED ON THE ISSUE BY ESSENTIALLY RULING NOT TO RULE ON THE MATTER.
Many intervals of the "Birther" investigation are laid out in the post titled: ALABAMA SUPREME COURT PASSES THE BUCK, RULES "NO OPINION" IN OBAMA ELIGIBILITY CASE. I suggest taking a look. The most damning of the links in my opinion is: SHERIFF ARPAIO'S LEAD INVESTIGATOR DROPS BOMB ON WHITE HOUSE. At some point, even with liberals, common sense simply has to prevail. Sadly, the "Birther" issue is far from the minds of most conservatives these days. TREASON is a word heard much more frequently. The birth certificate is old news.
BREAKING: THE WEEK OF 4/6
THE SAME JUDGE WHO HALTED OBAMA'S AMNESTY NOW HAS HIS HANDS ON 150 PAGES OF EVIDENCE THAT BARACK IS USING A STOLEN SOCIAL SECURITY NUMBER!
Join my Twitter feed | Like my Facebook page
Rick Wells writes: Dr. Orly Taitz is an attorney who has been leading the effort since the early days of the false Obama "presidency" to expose the fraud that has been perpetrated upon the American people by this Manchurian mystery man of unknown origin. She has been at the forefront of investigation, exposing and litigating his false identity and the endless cover-ups that surround it.
Atty Taitz has gone one step further, submitting the fraudulent social security number of Hussein Obama to Judge Andrew Hanen, the same judge who issued an injunction against the illegal dictatorial amnesty. Taitz has a case filed in July of 2014 which is also before Judge Hanen and which is further along in the legal process than the one filed by 26 states which was the source of the amnesty injunction.
Dr. Taitz issued an update on her website, informing the public about the status of latest effort to bring justice to the greatest fraud of all time. Included in that update was the following, potentially quite explosive revelation in light of what seems to be an honest judge undeterred by political influence or intimidation.
Taitz wrote:
I provided Judge Hanen with 150 pages of evidence, some of it under seal, which show that Barack Obama, aka Barry Soetoro, aka Barry Soebarkah is one of the individuals, who is using a stolen Social Security number, namely Connecticut number 042-68-4425, which was issued to Harry Bounel, resident of Connecticut, born in 1890.
Her complete April 2nd update on the action appears below:
Update on cases: How decision by Judge Hanen helped American workers and we are waiting to see if Judge Hanen will take on the issue of SSN fraud committed by Obama in light of his use of a stolen CT SSN and in light of massive SSN and IRS fraud that we see in relation to illegal immigration.
Barack Obama tried to provide his donors with cheap labor by his executive amnesty. Judge Hanen in Brownsville, Texas stopped this executive amnesty through his injunction order. We are now seeing amazing positive results for American workers which are related to this order by Judge Hanen. As large corporations see that they will not be able to get cheap foreign labor, they are increasing salaries to keep American workers on the jobs. Shortly after the decision by Judge Hanen, Walmart announced salary increases for low wage workers from $7.25 to $9. This is about 25% increase. Pay increases will also affect higher paid workers. Now, TJ Maxx, Target and Mcdonalds are following in Walmart's steps.
We are seeing increases in salaries of American workers across the board. This is happening because one judge had the strength of character to stop corruption and lawlessness of Obama regime. I would like to remind the readers that I was the first to file the amnesty challenge before Judge Hanen. I filed my case challenging DACA executive amnesty back in July of 2014. By the time 26 states filed their action, I already had 2 injunction hearings before Judge Hanen and got an order to show cause issued by Judge Hanen to Obama administration, to show cause why he shouldn't rule in my favor.
Recently, I filed a motion seeking to amend the complaint and include new additional facts, namely the fact that many illegal aliens are using stolen identities, stolen Social Security numbers. I was one of the victims of identity theft as my SSN was stolen according to a written admission by the IRS. When I sought a copy of the fraudulent tax return and request for refund filed by the thief with the IRS, I was denied my request.
I could get the identity of the thief by the bank account number which the thief attached to his request for a refund. By refusing the victims' requests for fraudulent records filed under their names, IRS is aiding and abetting criminals. Further, Social Security administration is aiding and abetting criminals, when it refuses to provide copies of the original SSN applications when there is evidence of falsification and destruction of a computer record.
I provided Judge Hanen with 150 pages of evidence, some of it under seal, which show that Barack Obama, aka Barry Soetoro, aka Barry Soebarkah is one of the individuals, who is using a stolen Social Security number, namely Connecticut number 042-68-4425, which was issued to Harry Bounel, resident of Connecticut, born in 1890.
Rick Wells is a conservative writer who recognizes that our nation, our Constitution and our traditions are under a full scale assault from multiple threats. Please "Like" him on Facebook, "Follow" him on Twitter or visit www.rickwells.us
Read the article here at UFP News:
Join my Twitter feed | Like my Facebook page
FOR MORE ON OBAMA'S LACK OF ELIGIBILITY FOR PRESIDENT:
Of the Highest Reports: I never use the word "bastard" because one was born of parents not married. But when it comes to a person who has usurped a public office, e.g., the highest office of our nation, I do. OBAMA IS A BASTARD !!!
NOTE: All children born of parents who are not married are gifts from God and they are to be raised as such. They are not mistakes and punishments, as Obama claims in his argument to murder unborn children.
The fact is that Obama is illegitimate and any attempt to impeach him would be an unlawful attempt to validate his "presidency" — nothing can be done to validate him as "the President," so he cannot be lawfully impeached. I don't know if Michelle Bachmann is trying to open up discussion in Congress about whether Obama is a usurper, or if she is trying to validate his "presidency" and "laws," "executive orders" and "appointments" he has signed, all of which are in fact void ab initio. If the House of Representatives unlawfully impeaches Obama, then they will also say that everything Obama has signed is legal. If the House acknowledges that Obama is a usurper and therefore cannot be impeached, they will for the first time be formally acknowledging the fact that Obama has usurped the Office of the President.
NOTE: Congress has been avoiding the word "usurper," because they knew he was ineligible in 2008 and 2012 when they counted the electoral votes without objecting to his ineligibility. For the members of Congress to come to the conclusion now that Obama is a usurper would be like putting the rope around their own necks. So, I doubt that they will change direction now. I believe that if they unlawfully try to impeach Obama it will not be for usurpation, but some other reason. They want the American people to think they are working for and representing them, when in fact they are avoiding the fact that Obama is a usurper and therefore willfully violating our representative form of government. Has anyone here read the articles of impeachment filed by Michelle Bachmann? Is usurpation mentioned in the articles? Probably not.
Our Constitution specifically provides that a president can be impeached. It does NOT provide for the impeachment of a usurper. Obviously a usurper is NOT a president. Dr. Vieira in Thought Must Precede Action states:
"Although Mr. Obama may have succeeded in gaining physical access to the office-space a legitimate President of the United States occupies in the White House, he never acquired legal access to "the Office of President," because, not being "a natural born Citizen," he was never constitutionally eligible, and is not now eligible, for that "Office". For Article II, Section 1, Clause 5 of the Constitution declares (in pertinent part) that "[n]o Person except a natural born Citizen * * * shall be eligible to the Office of President". If words have any meaning, a "Person" whom the supreme law of the land declares not to be "eligible to the Office of President" can never "gain access to" that "Office" in the sense of legally holding it or asserting any claim to it."
Definition of "Office"
"Office" is defined to be a right to exercise a public or private employment, and to take the fees and emoluments thereunto belonging.
NOTE: We know that Obama's father was never an American citizen, so the evidence proves that Obama is not a natural born Citizen and therefore he does not have the right to be a president of the United States of America. We need go no further to prove that Barack Hussein Obama II was never constitutionally eligible, and is not now eligible for the "Office of the President."
Join my Twitter feed | Like my Facebook page
Article II, Section 1 clause 5 of our Constitution requires that a president have 100% natural allegiance to the United States.
Obama does not have the required allegiance.
The law does not apply the impeachment process for a usurper, but does provide for the arrest and prosecution of a usurper without involving Congress. The following is from Robert Christopher Laity, whose complaint of usurpation was denied for appeal by the U.S. Supreme Court, (i.e., "Certiorari Denied), which is what the Court says if it does not want to take the time for a case.
"According to U.S. Magistrate for the WDNY, Leslie Foschio, the USDC in DC is the proper venue to try Obama for usurpation. Ronald Machen, US Attorney for DC, however, has been evading the issue for years. Also see: DC Code 22-1404. Thus far there have been four complaints regarding Obama's usurpation filed with the Washington DC Police Department — the last was filed on May 15, 2014."
§ 22-1404:
Whoever falsely represents himself or herself to be a judge of the Superior Court of the District of Columbia, notary public, police officer, or other public officer, or a minister qualified to celebrate marriage, and attempts to perform the duty or exercise the authority pertaining to any such office or character, or having been duly appointed to any of such offices shall knowingly attempt to act as any such officers after his or her appointment or commission has expired or he or she has been dismissed from such office, shall suffer imprisonment in the penitentiary for not less than 1 year nor more than 3 years. In addition to any other penalty provided under this section, a person may be fined an amount not more than the amount set forth in § 22-3571.01.
Definition of "Public Officer"
"Public officer" is defined as an individual who has been elected or appointed to exercise the functions of an office for the benefit of the public. The president or state governors, are public officers charged with the duty to ascertain that the law is enforced and obeyed.
NOTE: A case (appeal) I filed in the U.S. Supreme Court seventeen years ago regarding state government corruption in Alaska was also denied by the U.S. Supreme Court with "Certiorari Denied" even though I included the evidence proving that the state employees named as defendants were stealing 3 million dollars annually from the federal government, i.e., taking 3 million every year (taxpayers' money) from the federal government to implement the Alaska Coastal Management Program (ACMP), but willfully violating the state and federal statutes for implementing the Program. It tells you much when you see the highest court in the nation rejecting a case involving serious government corruption. The corruption I complained of was state corruption, but now the U.S. Supreme Court in conspiring in the corruption. They willfully violate state and federal statutes so they can continue unlawfully disposing public waterfront lands with a negotiated contract—violating competitive bidding requirements. The same was being done with oil leases in Alaska, before I left. The mayor of Juneau, one of the defendants named, on a City of Juneau sidewalk threatened me by telling me that it would be in my best interest to leave town. Lawyers told me to watch carefully as I crossed the street.
How did such a case get dismissed in Alaska? The judge, Superior Court Judge Walter L. Carpenetti, "decided" that all of the thirty-six defendants were immune even though they were not permitted to make discretionary decisions on the disposal of public lands. The Alaska Supreme Court later decided that, because the waterfront land was not put up for competitive bid and that I, therefore, did not make a competitive bid for the land, that I had no way to prove that I would have won the bid — case "dismissed". Guess who was then immediately appointed by the Democrat governor, Tony Knowles, and then later became the Chief Justice of the Alaska Supreme Court. If you guessed Walter L. Carpenetti, you guessed correctly.
Join my Twitter feed | Like my Facebook page
TRESPASSER ON PUBLIC LANDS!
One young lawyer who had just moved to Juneau, came up to me on the street to tell me that all law students in law school know that they "Should never take a complaint of the wrongful actions of a wolf to a pack of wolves." She also said, "They are not afraid of your bark, but of your bite." She was absolutely right: I had complained of the wrongful actions of thirty-six wolves (ugly wolves) and although I did not know it at the time, I was complaining to a pack of wolves from the day I filed my complaint in the Juneau Superior Court.
If you file an appeal to the U.S. Supreme Court regarding the wrongful actions of anyone who daily walks the halls of government, including those impersonating a public officer, you will not receive justice: The Court is thoroughly corrupt. I found this out the hard way, after investing many years of my time and much money seeking justice for the American people and myself.
The woman seen above shaking Obama's hand, Sonia Sotomayor, (thanking him for appointing her), is also a usurper—impersonating a justice in the Supreme Court.
By: Voice of Reason
FOR MORE NEWS BY VOICE OF REASON CLICK HERE!
THE VOICE OF REASON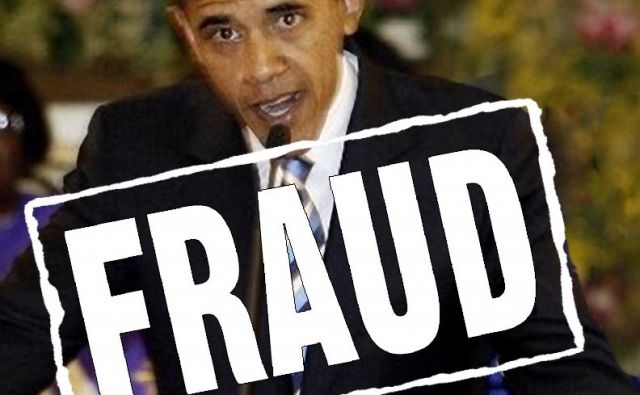 FOR LINKS ON OBAMA'S LACK OF ELIGIBILITY FOR PRESIDENT: