Jeb Bush had a tough time when a female college student told him his brother, George, and his shock-and-awe debacle in Iraq had created ISIS. Jeb winced and did some ducking and covering. He'd already fumbled a question from Megyn Kelly of Fox News that, if he knew what we know now, would he have done what his brother did. He said he would have also invaded Iraq and that his older brother was one of his campaign's foreign policy advisers.
Once Jeb realized he'd stumbled into a hornet's nest, he quickly back-peddled and said he had not understood Kelly's question. He said he thought he was being asked if he didn't know now what his brother didn't know then, would he invade Iraq? In other words, are you, Jeb, as cavalier and oblivious to reality as your brother was? Suddenly realizing how much bad freight his brother's war carried, he revised his answer: Of course he would not have invaded Iraq.
There was a rare element of accountability, here, something rarely seen vis-à-vis the Iraq War — or wars like Vietnam, for that matter. The question would not have plagued another candidate quite as much. Beyond voting for the war, which Hillary Clinton did and now calls a "mistake," even before 9/11 Jeb Bush was part of the Project For A New American Century, which functioned as a blueprint for the invasion of Iraq. The PNAC fellows were about sustaining America as ruler of the world; there is little indication they were very much concerned about the truth.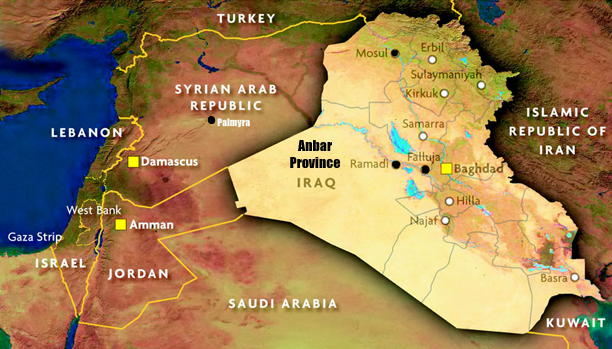 UNHCR map of Iraq; ISIS controls cities with black dots
Last week, thanks to a sand storm that grounded US planes, ISIS (or the Islamic State) was able to take Ramadi, the capital of Anbar Province. Since then, they've taken the ancient Syrian city of Palmyra. ISIS already controlled Falluja, a small city between Ramadi and Baghdad, and Mosul to the north — plus a lot of sand in between. As is its inclination, the ISIS forces reportedly executed a lot of people in Ramadi. No doubt they did the same in Palmyra.
The Islamic State is largely synonymous with the Sunni dominated Anbar Province in western Iraq; its control extends into Syria. Much of the top leadership of the Islamic State is made up of former Saddam generals angry about US Proconsul Paul Bremmer's cavalier decision to completely eliminate the Iraqi army. In the same misguided spirit, Bremmer also disbanded the Bath Party. These decisions, taken in concert, amounted to one of the stupidest foreign policy decisions of modern times, according to the national security consultant Richard Clarke.
So who should be held accountable? Or better yet, who's gonna ever get it right?
A news collective, founded as a blog in 2004, covering war, politics, environment, economy, culture and all the madness
Source:
http://thiscantbehappening.net/node/2762