Story Views


Now:
Last Hour:
Last 24 Hours:
Total:
John Kerry Stages Recovery Photo With Unsecured Landline Phone?
Thursday, June 11, 2015 6:44
% of readers think this story is Fact. Add your two cents.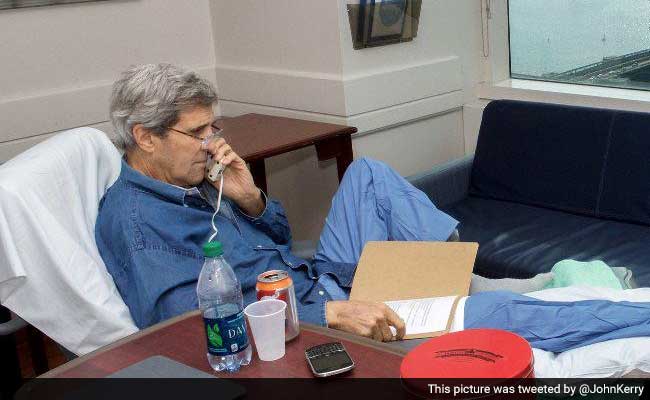 From the administration that not so long ago was noted for spending so much time controlling every aspect of its media relations we see yet another more recent and seemingly indifferent example of their attempt to calm the growing questions regarding John Kerry's status after he disappeared from public view following what was reported as a biking accident in the French Alps.
Kerry is seen here in a photo trying to show he is both working and recuperating. He appears to be talking into what would be an "open" hospital landline which if so, means there is mostly likely no-one on the other end of that line making the photo-op a particularly clumsy attempt to lessen the interest in Kerry's sudden disappearance. There appears to be no sign of a cast even though the administration has indicated the Secretary of State broke his femur. If reports of that injury are true it would indicate the use of a metal rod and/or screws to secure the femoral fracture which is considered major surgery often requiring considerable rehabilitation.
The administration indicated Secretary Kerry is still conducting official business while in the hospital, namely speaking to foreign leaders about the threat of climate change.
No joke – that's the topic the administration chose to use to express how Mr. Kerry is still very much "working hard" for America.
Read more at Ulsterman:
http://ulstermanbooks.com/john-kerry-stages-recovery-photo-with-unsecure-landline-phone/