Maine Supreme Court upholds 65 new laws after Tea Party governor misses deadline for vetoes
Maine Gov. Paul LePage pauses at the end of his prepared remarks as he testifies before a U.S. House Energy and Commerce Subcommittee hearing to review draft legislation on hydropower, on Capitol Hill in Washington on May 13, 2015. Photo by Jonathan Ernst for Reuters.
DON'T MISS STORIES. FOLLOW RAW STORY!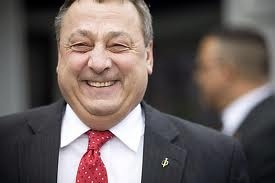 Maine's top court ruled on Thursday that the state's combative Republican governor, Paul LePage, had missed a deadline in July to veto 65 bills he had intended to block, and that those bills were now law.
The decision by six of the seven justices of the state's Supreme Judicial Court came in response to an official question from the governor's office on July 17, the day after state legislators informed him that he had missed his veto deadline.
LePage, first elected on a wave of Tea Party support in 2011, had argued that the legislature had blocked him from returning the bills earlier by temporarily adjourning. The court rejected that argument in a 55-page opinion that included LePage's initial question.
"We are acutely aware that our conclusions will render
ineffective the Governor's objections to 65 bills, a result that we do not take lightly," the justices wrote. "Nonetheless … we are guided by the need for certainty in, and confirmation of, the constitutionally identified process that has been employed in Maine for so many years."
LePage, who has quarreled with legislators throughout both his terms in office, had previously told reporters he would not enforce the new measures, which range from providing treatment for drug overdoses to tax breaks for some military veterans.
He was noncommittal in his response to the decision on Thursday.
"This was not about winning or losing. It was about doing things right," LePage said in a statement. "We look forward to moving on and continuing to work for the Maine people." source