When you do this kind of business you pray and hope to find that one needle of truth in the haystack… That one thread of hope that ties your suspicions to the truths that you've searched for all along. Rarely does that opportunity present itself on a scale of grandeur that you're expecting, but more often it presents itself as a pat on the back from those who are seeking the same truth. That is the case with this article…
While I don't expect Donald J. Trump to connect directly with me to sit on LIVE television to discuss the real problems that we can talk about fixing today and enacting tomorrow, I do expect him and his very highly paid staff to see this article. Why? Because this article is the article that will let Donald Trump know that we've already pulled his illuminati card BEFORE he steps foot in office. Yes I wrote that correctly…
Donald Trump will be elected President of the United States. Period. The powers that be want him there and they will accept nothing less than the energy that he is providing towards the furthering of THEIR opinions and philosophies. It's funny to say this but we are literally watching a BILLIONAIRE become another puppet for those that we oppose. I guess when you think about it, it's not really that far-fetched, is it? The same man that admits to funding special interest for years but never tells us what they are is running for President. The same man that will file bankruptcy to keep his money and deprive local and federal tax dollars that are so desperately needed from people of his wealth status is running for President. The elite are orchestrating this propanganda that we're seeing Trump spew and only WE can stop him…
One thing is certain… The deception and propaganda that Donald Trump "just happens to be" a BILLIONAIRE with our best interest at heart and in mind is the furthest thing from the truth. This deception will be the reason MILLIONS are effected in irreversible ways from principles and standards of living that they've always enjoyed, even under the hands of the most idiotic leaders. IF, and do mean IF, we're going to stop this plan from hatching that was obviously realized in 1990, we're going to have to spread this information wide and far wide. We have to wake people up to this deception… When Trump starts handing out "Make America Great Again" hats with his logo on them, know that he is buying you off… This deception cannot live and thrive if you do not place your belief or support in him or his destructively selfish ways.
Our education on the way "dark leadership" works is key to figuring out how and why these puppets start getting all the spotlight and attention that they do… After you see these videos you will understand that Trump is nothing more than an elaborate deception sent here to shred up the last of our Constitution that we've enjoyed "freedom" under for so long. BEWARE of Trump's false promises and easily verifiable lies. We don't need another Barack Obama in 2016… This country has had enough deception, race-baiting, mass injustices publicly promoted and exploited, false flags, and economic enslavement that is worsening and is continually denied. Isn't it time for BETTER? ~Sincere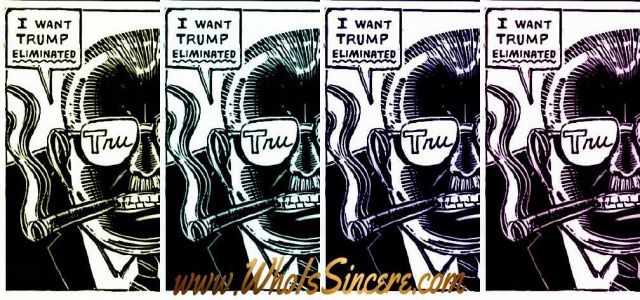 THE VIDEO DONALD TRUMP DOESN'T WANT YOU TO SEE!!
MORE OF MY ARTICLES:
#JADEHELM: This Could Get Me Killed! (Confessions Of A Veteran)
JADE HELM: Trump Exposed, Army After Next, Illuminati Propaganda, Israel/Russia/China/Taiwan
Check My Website!
www.WhoIsSincere.com
Follow Me On Facebook!
https://www.facebook.com/officialwhoissincere