In the following video, President Obama addressed the nation after the tragedy at Umpqua Community College in Oregon in which 13 were killed and many more injured. The President once again used a tragedy like this as an opportunity to advance…you guessed it: gun control. The President also used this tragedy as an opportunity to advance… you guessed it: more lies.
PERHAPS THAT IS WHY THE STATE OF OREGON TOLD OBAMA TO GO SOMEWHERE ELSE AND PROMOTE HIS PHONY GUN NARRATIVE, AND NOT TO COME TO THEIR STATE.
FOR MORE NEWS BY VOICE OF REASON CLICK HERE!
At minute 3:00, Obama repeats what he says virtually every time he chooses to politicize a gun tragedy we experience in this country. He says, "The United States is the only advanced nation on earth in which we do not have sufficient common sense gun safety laws, even in the face of repeated mass killings…"
WHAT COMMON SENSE LAWS WOULD HAVE PREVENTED THESE KILLINGS?
PLEASE… TELL US…
In the following video, even Mark Kelly, husband of former Rep. Gabrielle Giffords, who was injured in a mass shooting, and the founder of Americans for Responsible Solutions, cannot name a single gun law that would have stopped the Oregon shooting. Why do you suppose that is? Because crazy cannnot be stopped. P-E-R-I-O-D.
FOR MORE NEWS BY VOICE OF REASON CLICK HERE!
CHECK OUT THE NEW GOOGLE+ PAGE!
Quora Asks: Would Stricter Gun Control Laws Have Prevented Recent Mass Shootings In America (Newtown, Purdue, etc.)? Which Laws (Specifically) Would Have Made a Difference?
Nate Waddoups, a big believer in justice suggests:
We could make it illegal to shoot people.
In fact we did, and that didn't solve the problem.
We could make it illegal to take guns into schools.
In fact we did, and that didn't solve the problem.
The cat is out of the bag. The train has left the station. The ship has sailed. The Supreme Court has upheld the right of citizens to own guns and carry them in public. Guns are plentiful in the US, and that is, for better or worse, not going to change.
The existing laws against using guns to kill people make it abundantly clear that laws don't stop nutcases from using guns to kill people.
I've given up on gun control. It's been tried, and it doesn't work.
I WANT NUTCASE CONTROL!
STARTING WITH OBAMA! (LGS Addition)
So far, there is only EVIDENCE of one type of "Common Sense" gun control Obama supports. That is CONFISCATION! Take a look at PROOF from a copy of a Department of Injustice Memo that leaked (above). It clearly states the Obama administration believes CONFISCATION is the ONLY remedy that will work. Let me ask you: How many times has Obama given up on something he had his mind set on? Can you count one? That's what I thought. Furthermore, anyone remember when Michelle Obama Promised Barack Would Confiscate All Firearms Before Leaving the White House? Did you think she was kidding? See the videos below for more on Obama's GUN CONFISCATION PLANS!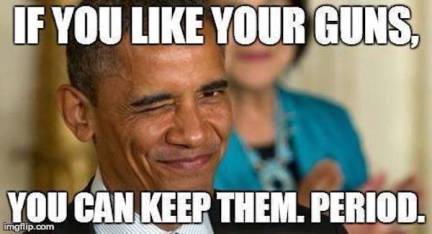 In the following video, take a look at a report done by the Center for Western Journalism on the gun confiscation plans. In the second video, a military police informant caller gave leaked footage from a meeting he had with FEMA public servants about gun confiscation that would take place during a martial law scenario. Get this info out to everyone you know.
FOR MORE NEWS BY VOICE OF REASON CLICK HERE!
FOR MORE NEWS BY VOICE OF REASON CLICK HERE!
CHECK OUT THE NEW GOOGLE+ PAGE!
In the following video, the NRA's Chris Cox talks about the DOJ memo where Obama plans to CONFISCATE GUNS:
FOR MORE NEWS BY VOICE OF REASON CLICK HERE!
Now that we know Obama means CONFISCATION when he says "Common Sense" gun control, let's examine his comments at the 1:10 minute mark and the 1:55 minute mark:
"Our Thoughts and prayers are not enough. It does not capture the heartache, and grief, and anger, that we should feel, and it does nothing to prevent this carnage from taking place somewhere else in America."
Since we know Obama's solution is CONFISCATION, and we KNOW Obama is a Marxist, then let's examine FACTUALLY how gun confiscation has worked out in the past under Marxist ideology. First, for anyone questioning Obama's Marxist leanings, see the section below detailing Obama's Marxist connections.
Depending on what source you use, you'll surely get different numbers, but they will ALL be in the TENS OF MILLIONS when you tally up the number of deaths of people who were disarmed by their governments, particularly under the Marxist ideology. It is estimated Marxist regimes murdered nearly 110 million people from 1917 to 1987 alone.
QUESTION FOR OBAMA, SINCE HE'S ALREADY HAD THE DEPARTMENT OF INJUSTICE BEGIN PLANNING FOR GUN CONFISCATION:
Does he think that thoughts and prayers were enough to capture the heartache, and grief, and anger, that that the families of 110 million dead felt? My math isn't so good, but which number of deaths is higher? 13 or approximately 110 million?
Moving right along. At the 5:20 minute mark, Obama says that "gun states with the most gun laws tend to have the fewest deaths…"
I beg to differ. Gun Watch Reports:
There is an urban myth floating around the Internet under some variation of the title: The United States is ranked 3rd in Murders throughout the World. But, if you remove just 4 cities from the statistics:
Take out Chicago, Detroit, Washington DC and New Orleans, the United States is 4th from the bottom for murders.
These 4 cities also have the toughest gun control laws in the United States.
This tell you anything?
PS: These cities are also run by DEMOCRATS! Imagine that.
The assertions in the above sound plausible, but they are false. The United States is not "3rd in murders throughout the world." This list, though incomplete, shows that their are dozens of countries with intentional homicide rates much higher than the United States, including Russia, Jamaica, South Africa, Brazil, Ukraine, Latvia, Georgia, and many others.
The crime rate has been dropping in the United States, so the numbers should be even lower now, but looking at the numbers for 2011 shows these numbers of murders in the four cities mentioned:
Chicago murders, 2011 – 431 (The numbers moved up in 2012 to 532)
Washington D.C. murders, 2011 – 108
New Orleans murders 2011 – 200
While Chicago murders are up about a hundred in 2012, it does not make a large difference in the analysis. The four cities listed have a total of 1,083 murders in 2011. Total murders for 2011 in the United States were 14,612. The 1,083 is only 7.4% of the total. This is not enough of a change to move the position of the United States international standing on the rate of murder very much, let alone from the mythical "third from the top" to the equally mythical "4th from the bottom".
As with many myths, there is a kernel of truth in the underlying idea. If you remove the subcultures from the United States that do not originate in Europe, and have no significant numbers in Europe (African American and American Hispanics) the murder rate for the United States falls into the middle of European murder rates.
STATES WITH THE MOST GUN LAWS HAVE THE FEWEST DEATHS?
REALLY? WHAT HAPPENED TO OBAMA'S HOME STATE THEN?
A recent survey by polling company YouGov asked Americans what they thought was the most dangerous major city in America. The choice of the majority of respondents? Chicago.
From the YouGov poll:
The latest research from YouGov shows that according to the public America's three largest cities are also its most dangerous. Chicago, the third most populous metro area in the country, is seen as the most dangerous, with 53% of Americans saying that the city is 'unsafe' while only 33% say it is 'safe'. New York City is the seen the second most dangerous, followed by LA and DC. Texas' two largest cities, Dallas and Houston, are seen as being safest.
Here's a graph showing the results:
FOR MORE NEWS BY VOICE OF REASON CLICK HERE!
Chicago was the only city that a majority of respondents said is unsafe.
According to the blog Hey Jackass!, which tracks crime and murder in Chicago, Chicago goes a little more than 20 hours on average in between murders, and 84.6% of those murdered were murdered by gunshots.
This past weekend, which was bloodier than this time last year, a 17-year-old boy was among those murdered.
After an especially bloody Independence Day weekend, Chicago Police Superintendent Garry McCarthy demanded even tougher gun laws, this time on the state and local level. However, Chicago already has strict gun laws – some of the toughest in the country.
Contrast this with Detroit and the attitude of its police chief, James Craig, on gun control. Craig actually changed his mind on gun control and has urged the people of Detroit to arm themselves. Moreover, crime in Detroit has been falling all throughout 2014, and Craig attributed this to the fact that the people of Detroit are taking his advice.
Chicago is at a crossroads: Keep doing what it's been doing, go into a deeper spiral of violence and cause the further downfall of other areas like education and tourism, which brings in over $12 billion to the city's economy.
Or Chicago can allow its citizens to defend themselves, which Detroit has proven is successful, and help lift itself out of the hole that it's in.
Feature image shows a collage of some of Chicago's youngest crime victims.
FOR MORE NEWS BY VOICE OF REASON CLICK HERE!
CHECK OUT THE NEW GOOGLE+ PAGE!
At the 6:45 minute mark, "Ask news organizations, because I won't put these facts forward, ask news organizations to tally up the number of Americans killed in terrorist attacks over the last decade and the number killed by gun violence. Post those side by side in your news reports. It won't be coming from me, it will be coming from you."
Ok, way to TELL the news that you aren't telling them what to report but then telling them EXACTLY what you want printed.
MOTOR VEHICLE DEATHS VS. GUN DEATHS:
I'd like to add two columns please. Gun haters can spin numbers however they want, however these numbers, reported in Breitbart, are directly from Obama's CDC:
The Centers for Disease Control and Prevention's (CDC) final report on death statistics for 2013 shows there were 35,369 deaths from motor vehicle accidents versus 505 deaths from the accidental discharge of firearms.
That is not a typo—35,369 versus 505. Americans are 70 times more likely to die in a vehicle accident than by the accidental discharge of a firearm.
DEATHS FROM FALLING VS. DEATHS FROM GUNS:
In the following example, the numbers are from the year 2000, but since the point is SO obvious, I didn't bother researching more recent facts.
in 2000, there were 13,322 deaths from Falls.
Source: National Safety Council "estimates based on data from National Center for Health Statistics and U.S. Census Bureau. Deaths are classified on the basis of the Tenth Revision of the World Health Organization's "The International Classification of Diseases" (ICD). Numbers following titles refer to External Cause of Morbidity and Mortality classifications in ICD-10. One year odds are approximated by dividing the 2000 population (275,306,000) by the number of deaths. Lifetime odds are approximated by dividing the one-year odds by the life expectancy of a person born in 2000 (76.9 years)."
SHOULD WE CONFISCATE CARS AND STAIRS TOO?
FOR MORE NEWS BY VOICE OF REASON CLICK HERE!
CHECK OUT THE NEW GOOGLE+ PAGE!
At the 7:30 minute mark, Obama says, "We have a Congress that explicitly blocks us from being able to collect data on how to prevent gun violence…."
ANYONE REMEMBER THIS?
OR HER?
AND OBAMA WONDERS WHY HE'S BLOCKED FROM COLLECTING INFORMATION? REALLY?
FOR MORE NEWS BY VOICE OF REASON CLICK HERE!
At the 11:30 minute mark, Obama continues his lying streak by saying, "This is not something I can do by myself. I've got to have a Congress, and State Legislatures, and Governors who are willing to work with me on this."
LOOK WHO'S ALREADY WORKING ON EXECUTIVE ORDERS ALL BY HIMSELF!
The White House confirmed that President Obama was preparing a series of executive actions on gun control to match his recent passion on the issue after the latest mass shooting in Oregon.
"It's a high priority and will continue to be until we start to see more progress on this issue in this town," White House Press Secretary Josh Earnest told reporters today at the press briefing.
Earnest said he would "quibble" with anyone who criticized the president for not voicing any specific gun control proposals during his press conference, asserting that the White House was working behind the scenes for more executive actions on guns.
"I can tell you that they're not stumped, they're continuing to review the law that's on the books and continuing to consult with legal authorities but also others who may have ideas about what steps that can be taken to keep guns out of the hands of criminals," Earnest said.
He admitted, however that he had no details for what the White House was working on, but asserted that the process was a "scrub" that was "ongoing."
Earnest welcomed Hillary Clinton's own gun control proposals announced this morning, but admitted that he hadn't seen the full details of the proposal.
He also pointedly criticized the "gun show loophole" for allowing criminals and people with mental problems to buy weapons, blaming organizations like the National Rifle Association for blocking action in Congress on the issue.
Finally, at some point Obama mentioned we have enough guns for every man woman and child in this nation. What I find convenient is how he left out his federal agencies (NOT the military) have purchased roughly 12 BILLION hollow point bullets during his administration as Obama has armed the every agency imaginable to the teeth. The video above that says 2 BILLION hollow point bullets was before several more purchases were made. That's enough to shoot every man, woman, and child in the U.S. 36.92 times EACH.
Hollow points are NOT used for target practice either. Have you ever seen what a Hollow Point does to it's target? So, Mr. President, what (or who) are THEY for?
FOR MORE NEWS BY VOICE OF REASON CLICK HERE!
YOU TELL ME WHO THE REAL PROBLEM IS!
LEARN HOW FEDERAL AGENCIES ARE ALL NOW FULLY ARMED!
OBAMA DECIMATING MILITARY WHILE ARMING FEDERAL AGENCIES
DEPARTMENT OF AGRICULTURE LOADS UP ON BODY ARMOR???
U.S. POST OFFICE WAS ANNOUNCING A GIANT AMMO PURCHASE
THE I.R.S. GETS THEIR OWN S.W.A.T. TEAM?
EPA GETS THEIR OWN S.W.A.T. TEAM
SOCIAL SECURITY ADMINISTRATION GETS THEIR OWN S.W.A.T. TEAM
DEPARTMENT OF EDUCATION STOCKPILING FIREARMS AND AMMO.
FOOD & DRUG ADMIN. BUYS NIGHT VISION SUB MACHINE GUNS
D.H.S. MOST RECENT PURCHASE: 6 BILLION HOLLOW POINT BULLETS
FOR PROOF OF OBAMA'S COMMUNIST/MARXIST CONNECTIONS:
Amy Elizabeth at GOP The Daily Dose writes:
Don Fredrick authored a book, "The Obama Timeline," which contains a compilation of strange oddities surrounding the created identity that is Barack Hussein Obama, an excerpt from which is featured below.
It DEFIES LOGIC to think believe that all of these events and circumstances that Mr. Fredrick discovered in his research could be attributable to random occurrences. ANYONE WHO IS WILLING TO BELIEVE THAT THEY ARE SERIOUSLY LACKING IN SENSE AND REASONING ABILITY. It simply could not and did not happen.
Many of the facts that are listed are familiar to most of us, many probably are not. Taken in their totality, they are quite suspicious. Adding to the "mystery" is the nature of these associations. As Frederick says, not only is the web of associations intricate, but it is a web of "shady" individuals.
A DECEPTION HAS BEEN AND CONTINUES TO BE PERPETRATED UPON THE AMERICAN PEOPLE, of that there can be no legitimate doubt. The question is by whom and to what end. One thing we know for certain is that it is not being conducted for the benefit of the American people.
The book, published in July of 2009, is even more timely today than it was when our national nightmare had just begun. A audio interview featuring Mr. Fredrick follows as well.
In the four years I have been gathering information about—and evidence against—Barack Hussein Obama, I have encountered hundreds of coincidences that strike me as amazing. None of those coincidences, by themselves, may mean much. But TAKEN AS A WHOLE it is almost impossible to believe they were all the result of chance. Consider the Obama-related coincidences:
Obama just happened to know 60s far-left radical revolutionary William Ayers, whose father just happened to be Thomas Ayers, who just happened to be a close friend of Obama's communist mentor Frank Marshall Davis, who just happened to work at the communist-sympathizing Chicago Defender with Vernon Jarrett, who just happened to later become the father-in-law of Iranian-born leftist Valerie Jarrett, who Obama just happened to choose as his closest White House advisor, and who just happened to have been CEO of Habitat Company, which just happened to manage public housing in Chicago, which just happened to get millions of dollars from the Illinois state legislature, and which just happened not to properly maintain the housing—which eventually just happened to require demolition.
Valerie Jarrett also just happened to work for the city of Chicago, and just happened to hire Michelle LaVaughan Robinson (later Obama), who just happened to have worked at the Sidley Austin law firm, where former fugitive from the FBI Bernardine Dohrn also just happened to work, and where Barack Obama just happened to get a summer job.
Bernardine Dohrn just happened to be married to William Ayers, with whom she just happened to have hidden from the FBI at a San Francisco marina, along with Donald Warden, who just happened to change his name to Khalid al-Mansour, and Warden/al-Mansour just happened to be a mentor of Black Panther Party founders Huey Newton and Bobby Seale and a close associate of Nation of Islam leader Louis Farrakhan, and al-Mansour just happened to be financial adviser to a Saudi Prince, who just happened to donate cash to Harvard, for which Obama just happened to get a critical letter of recommendation from Percy Sutton, who just happened to have been the attorney for Malcolm X, who just happened to know Kenyan politician Tom Mboya, who just happened to be a close friend of Barack Hussein Obama, Sr., who just happened to meet Malcolm X when he traveled to Kenya.
Obama, Sr. just happened to have his education at the University of Hawaii paid for by the Laubach Literacy Institute, which just happened to have been supported by Elizabeth Mooney Kirk, who just happened to be a friend of Malcolm X, who just happened to have been associated with the Nation of Islam, which was later headed by Louis Farrakhan, who just happens to live very close to Obama's Chicago mansion, which also just happens to be located very close to the residence of William Ayers and Bernardine Dohrn, who just happen to have been occasional baby-sitters for Malia and Natasha Obama, whose parents just happen not to mind exposing their daughters to bomb-making communists.
FOR MORE NEWS BY VOICE OF REASON CLICK HERE!
After attending Occidental College and Columbia University, where he just happened to have foreign Muslim roommates, Obama moved to Chicago to work for the Industrial Areas Foundation, an organization that just happened to have been founded by Marxist and radical agitator Saul "the Red" Alinsky, author of Rules for Radicals, who just happened to be the topic of Hillary Rodham Clinton's thesis at Wellesley College, and Obama's $25,000 salary at IAF just happened to be funded by a grant from the Woods Fund, which was founded by the Woods family, whose Sahara Coal company just happened to provide coal to Commonwealth Edison, whose CEO just happened to be Thomas Ayers, whose son William Ayers just happened to serve on the board of the Woods Fund, along with Obama.
Obama also worked on voter registration drives in Chicago in the 1980s and just happened to work with leftist political groups like the Democratic Socialists of America (DSA) and Socialist International (SI), through which Obama met Carl Davidson, who just happened to travel to Cuba during the Vietnam War to sabotage the U.S. war effort, and who just happened to be a former member of the SDS and a member of the Committees of Correspondence for Democracy and Socialism, which just happened to sponsor a 2002 anti-war rally at which Obama spoke, and which just happened to have been organized by Marilyn Katz, a former SDS activist and later public relations consultant who just happened to be a long-time friend of Obama's political hatchet man, David Axelrod.
Obama joined Trinity United Church of Christ (TUCC), whose pastor was Reverend Jeremiah Wright, a fiery orator who just happened to preach Marxism and Black Liberation Theology and who delivered anti-white, anti-Jew, and anti-American sermons, which Obama just happened never to hear because he just happened to miss church only on the days when Wright was at his "most enthusiastic," and Obama just happened never to notice that Oprah Winfrey left the church because it was too radical, and just happened never to notice that the church gave the vile anti-Semitic Nation of Islam leader Louis Farrakhan a lifetime achievement award.
Although no one had ever heard of him at the time, Obama just happened to receive an impossible-to-believe $125,000 advance to write a book about race relations, which he just happened to fail to write while using the cash to vacation in Bali with his wife Michelle, and despite his record of non-writing he just happened to receive a second advance, for $40,000, from another publisher, and he eventually completed a manuscript called Dreams From My Father, which just happened to strongly reflect the writing style of William Ayers, who just happened to trample on an American flag for the cover photograph of the popular Chicago magazine, which Obama just happened never to see even though it appeared on newsstands throughout the city.
Obama was hired by the law firm Miner, Banhill and Galland, which just happened to specialize in negotiating state government contracts to develop low-income housing, and which just happened to deal with now-imprisoned Tony Rezko and his firm Rezar, and with slumlord Valerie Jarrett, and the law firm's Judson Miner just happened to have been a classmate of Bernardine Dohrn, wife of William Ayers.
In 1994 Obama represented ACORN and another plaintiff in a lawsuit against Citibank for denying mortgages to blacks (Buycks-Roberson v. Citibank Federal Savings Bank), and the lawsuit just happened to result in banks being blackmailed into approving subprime loans for poor credit risks, a trend which just happened to spread nationwide, and which just happened to lead to the collapse of the housing bubble, which just happened to help Obama defeat John McCain in the 2008 presidential election.
In 1996 Obama ran for the Illinois State Senate and joined the "New Party," which just happened to promote Marxism, and Obama was supported by Dr. Quentin Yong, a socialist who just happened to support a government takeover of the health care system.
In late 1999 Obama purportedly engaged in homosexual activities and cocaine-snorting in the back of a limousine with a man named Larry Sinclair, who claims he was contacted in late 2007 by Donald Young, who just happened to be the gay choir director of Obama's Chicago church and who shared information with Sinclair about Obama, and Young just happened to be murdered on December 23, 2007, just weeks after Larry Bland, another gay member of the church, just happened to be murdered, and both murders just happened to have never been solved. In 2008 Sinclair held a press conference to discuss his claims, and just happened to be arrested immediately after the event, based on a warrant issued by Delaware Attorney General Beau Biden, who just happens to be the son of Joe Biden.
In 2003 Obama and his wife attended a dinner in honor of Rashid Khalidi, who just happened to be a former PLO operative, harsh critic of Israel, and advocate of Palestinian rights, and who Obama claims he does not know, even though the Obamas just happened to have dined more than once at the home of Khalidi and his wife, Mona, and just happened to have used them as occasional baby-sitters. Obama reportedly praised Khalidi at the decidedly anti-Semitic event, which William Ayers just happened to also attend, and the event Obama pretends he never attended was sponsored by the Arab American Action Network, to which Obama just happened to have funneled cash while serving on the board of the Woods Fund with William Ayers, and one speaker at the dinner remarked that if Palestinians cannot secure a return of their land, Israel "will never see a day of peace," and entertainment at the dinner included a Muslim children's dance whose performances just happened to include simulated beheadings with fake swords, and stomping on American, Israeli, and British flags, and Obama allegedly told the audience that "Israel has no God-given right to occupy Palestine" and there has been "genocide against the Palestinian people by (the) Israelis," and the Los Angeles Times has a videotape of the event but just happens to refuse to make it public.
In the 2004 Illinois Democrat primary race for the U.S. Senate, front-runner Blair Hull just happened to be forced out of the race after David Axelrod just happened to manage to get Hull's sealed divorce records unsealed, which just happened to enable Obama to win the primary, so he could face popular Republican Jack Ryan, whose sealed child custody records from his divorce just happened to become unsealed, forcing Ryan to withdraw from the race, which just happened to enable the unqualified Obama to waltz into the U.S. Senate, where, after a mere 143 days of work, he just happened to decide he was qualified to run for President of the United States.
Obama just happened to save $300,000 on the purchase of a $1.65 million Chicago mansion for which he deposited only $1,000 in earnest money, while the seller's adjacent empty lot which was appraised at no more than $500,000 just happened to be sold at the inflated price of $625,000 to Rita Rezko, who just happened to earn only $37,000 per year working for Cook County government, and who just happened to be married to Tony Rezko, who just happened to be Obama's main money man for his political campaigns, and who only days before the Obama mansion purchase just happened to obtain a $3.5 million loan from wealthy Iraqi Nadhmi Auchi, who just happened to have been kicked out of Iraq, and who just happened to have been convicted of corruption charges in France, and who just happened to ask Rezko to ask then-U.S. Senator Obama to help him obtain a visa to travel to the United States.
Join my Twitter feed | Like my Facebook page
Rita Rezko just happened to borrow the money for the $625,000 empty lot from the Mutual Bank of Harvey, which just happened to be run by Tony Rezko's pal Amrish Mahajan, whose wife Anita just happened to have been charged with fraudulently receiving $2 million in Illinois taxpayer dollars for drug tests never performed by her company, K. K. Bio-Science, which just happened to have a no-bid contract with the state, and whose computers just happened to disappear right before investigators arrived to take them away for evidence.
Obama just happened to obtain a $1.32 million mortgage for his mansion even though the payments of $8,000 per month (plus at least $1,500 per month in property taxes) exceeded 50 percent of his $162,100 U.S Senate salary income, and even though Michelle Obama was claiming that she and her husband were still paying off substantial student loans and were struggling to pay for piano lessons for their daughters, one of whom just happens to look remarkably like one of the daughters of Malcolm X.
Obama just happened to obtain his mansion mortgage from Northern Trust Bank, whose Board of Directors just happened to include Susan Crown, who just happened to be part of the wealthy Crown family, which just happened to donate to Obama's campaigns, and which just happened to have ownership in defense contractor General Dynamics Corporation, and the Crown family just happened to sit on the board of energy company Exelon, formerly known as Commonwealth Edison, which just happened to have had Thomas Ayers as its CEO, and the Crown family also owned the Maytag appliance company, which just happened to move its operations to Mexico, after its employees just happened to donate to Obama's campaign, after he just happened to pledge that he would keep their jobs in Galesburg, Illinois.
In June 2005, just months after Obama became a U.S. Senator, Michelle Obama just happened to be named a "non-executive director" of the board of TreeHouse Foods, a supplier of Wal-Mart, for a salary of $51,200 in 2005 and $101,083 in 2006, and she just happened to be given 7,500 TreeHouse stock options, worth approximately $72,375, even though she just happened to know nothing about the private sector or running a business.
In 2006 Obama pushed for a $1 million earmark for the University of Chicago, and his wife Michelle just happened to be promoted to Vice-President of Community and External Affairs for the hospitals with a salary increase from $121,900 to $316,962, and she just happened to receive public relations help from Obama's political strategist David Axelrod, whose mother just happened to write for a communist newspaper.
In 2006 Sarah P. Herlihy, an associate of the Chicago law firm of Kirkland and Ellis, whose employees later contributed $87,722 to Obama's presidential campaign, and whose partner Bruce I. Ettleson just happened to be a member of Obama's campaign finance committee, just happened to write a paper calling for the elimination of the "natural born citizen" requirement in the U.S. Constitution.
Obama just happened to visit Kenya in 2006 to support his cousin, Raila Odinga, a Muslim socialist candidate for president, who just happened to have ties to both al-Qaeda and Libya's Muammar Qaddafi, and who just happened to have been educated in communist East Germany, and who just happened to name his son Fidel, and who just happened to plan on establishing Shari'ah Muslim law in Kenya, and whose activities prompted the Kenyan government to lodge an official protest of Obama's passport abuse and misconduct, and Obama's actions just happened to have been denounced by the U.S. State Department as being in direct opposition to U.S. National Security, and after Odinga, for whom Obama just happened to have raised $950,000, lost the election, his Muslim followers just happened to burn Christian women and children alive in a church where they had sought refuge.
In 2006 Obama endorsed Alexi Giannoulias in his race for Illinois State Treasurer and stated that he is "…one of the most outstanding young men I could ever hope to meet"—even though Giannoulias just happened to be only 29 years old and even though his family's Broadway Bank just happened to finance Chicago crime figures like Michael "Jaws" Giorango, a Chicago thug with convictions for bookmaking and promoting prostitution, and even though virtually all of Chicago's Democrat politicians were keeping their distance from Giannoulias, whose reputation was so questionable he even failed to get the endorsement of the Chicago Democrat Party—which just happens to almost never be concerned about questionable reputations.
Obama's mother, Stanley Ann Dunham, once worked for the Ford Foundation's Asia program, which just happened to be run by Peter Geithner, who just happened to be the father of Timothy Geithner, who just happened to neglect to pay Social Security taxes on much of his income, which just happened to somehow qualify him to be Obama's Treasury Secretary.
Join my Twitter feed | Like my Facebook page
During the 2008 campaign Obama's passport records just happened to have been illegally searched by an employee of a firm headed by John O. Brennan, and Lt. Quarles Harris, Jr., who was cooperating with federal investigators in connection with the incident, just happened to be found with a bullet in his head, and the murder just happened never to be solved, and Obama later just happened to make Brennan his terrorism and intelligence advisor.
On election night in 2008 in Chicago's Grant Park, Obama just happened to wear a black suit and a red tie, and his older daughter just happened to wear a red dress, and his younger daughter just happened to wear a stark black dress, and his wife Michelle just happened to wear an arguably unattractive black dress that appeared to have a giant red X design, which just happened to prompt some to wonder if their clothing just happened to denote black power, communism, and Malcolm X, and at the very least prompted others to wonder why anyone would have his daughter wear a jet-black dress for a celebratory occasion—or where one could even just happen to find a store that sells black dresses for little girls.
FOR MORE NEWS BY VOICE OF REASON CLICK HERE!
FOR MORE ON BARACK COMING FOR OUR GUNS!
Obama to Limit Free Speech About Guns Now
Veterans: Obama is Coming For Your Guns, and he Will Get Them!
Michelle Obama Promises Barack Will CONFISCATE ALL FIREARMS
Obama Plans to Ban Bullets by Executive Order
If They Come For Your Guns, Do You Have A Responsibility To Fight?
How Will You Respond When They Come For YOUR Guns? Better Think!!!
IT'S OFFICIAL: THEY ARE COMING FOR THE GUNS!
U.S. Military Told to Prepare to Fight Fellow Americans
Homeland Security Drones Looking For Civilians Carrying Guns
MUST GO VIRAL! – PLEASE SHARE WITH EVERY PERSON YOU KNOW!!!!!
ARMY TOLD TO USE LETHAL FORCE AGAINST "UNARMED U.S. CIVILIANS"
MUST READ!!! – If You Won't Fight, You'd Better Start Running!
The "New Army Manual" – Does It Destroy the 1st Amendment?
ARMY MANUAL: Use Lethal Force on Peaceful Protesters
The Government is Seriously Cracking Down on Preppers
FOR MORE NEWS BY VOICE OF REASON CLICK HERE!
CHECK OUT THE NEW GOOGLE+ PAGE!
BE SURE TO GO MY PROFILE'S BELOW AT OTHER SOCIAL MEDIA:
FACEBOOK | TWITTER | PINTEREST | STUMBLE UPON | TUMBLER
THE VOICE OF REASON