WHY HAVE MASS SHOOTINGS GONE UP 700% UNDER OBAMA?
Is Obama really shedding tears for all these mass shootings? I doubt he's shed a single tear. What do we know about mass shootings, and the media in general?
Here is what we KNOW: We know The Mainstream Media Is in the Business of Polarizing the Masses, we know there have been multiple Examples of the Mainstream Media Manipulating "News" to Serve an Agenda, and we know The Elites Use Mass Media To Manipulate the Consensus Reality Of Society.
Take last night for example: In last night's terror, the media rushed to conclusions concerning the identities of the San Bernardino shooters continued Wednesday night as CNN law enforcement analyst Harry Houck (no relation to this writer) speculated during Erin Burnett OutFront that the perpetrators "could be some right-wing group, for all I know" despite the fact that little is known about them.
Houck's prediction was set up by host Erin Burnett, who asked him about who could be behind this attack considering its "unprecedented nature":
"We've only had two multiple shooter incidents since the year 2000 and none of them have anything been like this, but if it's not an international incident, what could it be?"
TWO? TWO?
BELOW I TAKE A LOOK AT THE 700% INCREASE IN MASS SHOOTINGS…

FOR MORE NEWS BY VOICE OF REASON CLICK HERE!
CHECK OUT THE NEW GOOGLE+ PAGE!
Authorities in San Bernardino, Calif., saying 14 people were killed and 14 others were injured in a mass shooting on Wednesday at a center for people with developmental disabilities. This is at least the third mass shooting since the rampage in Colorado Springs last Friday.
DEVELOPING: At least 14 dead, up to 17 wounded | San Bernardino, Calif.
(Paloma Esquivel / Los Angeles Times)
Law enforcement officials confirmed that at least 14 people were dead and up to 17 wounded in a shooting at the Inland Regional Center in San Bernardino. Sources said that as many as three assailants, who were heavily armed and possibly wearing body armor, opened fire on a holiday party. Investigators are now searching for a black sport utility vehicle that may have fled the Waterman Avenue office building.
NOV. 29, 2015 - 3 dead; 9 injured | Colorado Springs, Colo.
(David Zalubowski / Associated Press)
CHECK OUT THE NEW GOOGLE+ PAGE!
A gunman entered a Planned Parenthood clinic in Colorado Springs, Colo., and started firing. Police named Robert Lewis Dear as the suspect in the attacks. Three people were killed — university police Officer Garrett Swasey, Iraq war veteran Ke'Arre M. Stewart and Jennifer Markovsky, who had accompanied friends to the clinic. Each was the parent of two children.
OCT. 1, 2015 - 9 dead, 9 injured: Roseburg, Ore.
(Rich Pedroncelli / Associated Press)
Christopher Sean Harper-Mercer shot and killed eight fellow students and a teacher at Umpqua Community College. Authorities described Harper-Mercer, who recently had moved to Oregon from Southern California, as a "hate-filled" individual with anti-religion and white supremacist leanings who had long struggled with mental health issues. He owned 14 weapons, all purchased legally. Harper-Mercer, 26, killled himself after exchanging gunfire with deputies.
JULY 16, 2015 - 5 dead, 3 wounded: Chattanooga, Tenn.
FOR MORE NEWS BY VOICE OF REASON CLICK HERE!
CHECK OUT THE NEW GOOGLE+ PAGE!
Photos of four slain Marines are placed at a makeshift memorial at a military recruiting center in Chattanooga (Joe Raedle / Getty Images)
A gunman opened fire on two military centers more than seven miles apart on Thursday, killing four Marines and a Navy sailor.
A man identified by federal authorities as Mohammod Youssuf Abdulazeez, 24, sprayed dozens of bullets at a military recruiting center, then drove to a Navy-Marine training facility and opened fire again before he was killed.
22 Year-Old Goes OFF On Obama On TV
JUNE 18, 2015 – 9 dead: Charleston, S.C. Charleston, S.C., church shooting suspect Dylann Storm Roof. (EPA)
Dylann Storm Roof is charged with nine counts of murder and three counts of attempted murder in an attack that killed nine people at a historic black church in Charleston, S.C.
Authorities say Roof, a suspected white supremacist, started firing on a group gathered at Emanuel African Methodist Episcopal Church after first praying with them. He fled authorities before being arrested in North Carolina.
MAY 23, 2014 – 6 dead, 7 wounded: Isla Vista, Calif.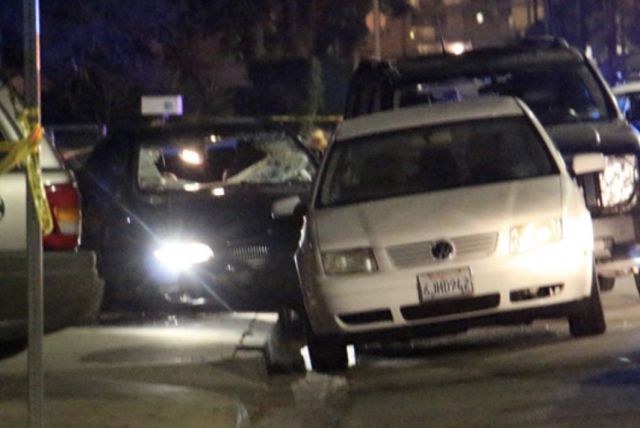 A car window is shot out after a series of shootings near the UC Santa Barbara campus. (Associated Press / KEYT-TV)
Elliot Rodger, 22, meticulously planned his deadly attack on the Isla Vista community for more than a year, spending thousands of dollars in order to arm and train himself to kill as many people as possible, according to a report released by the Santa Barbara County Sheriff's Office. Rodger killed six people before shooting himself.
May 23, 2014 — University of California, Santa Barbara. — 7 dead (including gunman). A drive-by shooter went on a nighttime rampage near a Santa Barbara university campus that left seven people dead, including the attacker, and seven others wounded, authorities said Saturday. President Obama, as of this writing, has not issued an official statement or comment on the shootings.
April 2, 2014 – 3 killed; 16 injured: Ft. Hood, Texas. A gunman at Fort Hood, the scene of a deadly 2009 rampage, kills three people and injures 16 others, according to military officials. The gunman is dead at the scene.
September 16, 2013 — Navy Shipyard, Washington. — 10 shot and wounded (including gunman). Gunfire was reported fired at approximately 8.20 a.m. and police SWAT teams entered building number 197 at the base headquarters in an attempt to apprehend the shooter who is reported to be armed with an AR-15 assault rifle. President Obama gave an emotional address, calling for "meaningful action"
December 14, 2012 — Newtown, Conn. — 27 dead (including gunman). The shooting at Sandy Hook Elementary on Friday was the second-deadliest school shooting in U.S. history, leaving 27 dead — including 20 young children. President Obama gave an emotional address, calling for "meaningful action"
September 27, 2012 — Minneapolis, Minn. — 7 dead (including gunman), 2 injured. Andrew John Engeldinger, a recently laid off employee of Accent Signage Systems, entered the office building and opened fire. (No public comments from the president.)
August 5, 2012 — Oak Creek, Wis. — 7 dead (including gunman), 4 injured. White supremacist Wade Michael Page entered a Sikh Temple, opening fire on congregants. He later shot and injured a police officer responding to the scene.
July 20, 2012 — Aurora, Colo. — 12 dead, 59 injured. During a midnight screening of "The Dark Knight Rises," a gunman opened fire on the suburban Denver movie theater, killing 12 and injuring dozens of others. Two days later, Obama delivered a ten-minute speech from the University of Colorado that made no mention of gun control.
May 31, 2012 — Seattle, Wash. — 6 dead (including gunman). A man opened fire in a cafe, fatally wounding four people, then killed another in a carjacking before killing himself.
(No public comments from the president.)
April 2, 2012 — Oakland, Calif. — 7 dead. A former student of Oikos University, a Korean college, entered a building on the campus and shot repeatedly at random targets. (No public comments from the president)
February 22, 2012 — Norcross, Ga. — 5 dead (including gunman). A man shot and killed two of his sisters and their husbands and then himself in a Korean health spa. (No public comments from the president.)
October 12, 2011 — Seal Beach, Calif. — 8 dead, 1 injured. Scott Evans Dekraai, 41, stormed a hair salon where his ex-wife worked and killed eight people.
(No public comments from the president.)
January 8, 2011 — Tucson, Ariz. — 6 dead, 14 injured. Jared Lee Loughner, 22, opened fire in a Safeway parking lot, killing six people and injuring others including U.S. Rep. Gabrielle Giffords, who was shot in the head at point-blank range. Two months later, Obama addressed gun control issues in an op-ed for the Arizona Daily Star
10). August 3, 2010 — Manchester, Conn. — 9 dead (including gunman), 2 injured. A driver for Hartford Distributors killed eight people and then himself in this workplace shooting. (No public comments from the president.)
November 29, 2009 — Parkland, Wash. — 5 dead (including gunman). A Washington man walked into a coffee shop and shot four police officers execution-style. (No public comments from the president.)
November 5, 2009 — Fort Hood, Texas — 13 dead, 30 injured (including gunman). In the deadliest shooting to ever happen on an American military base, an Army Major serving as a psychiatrist went on a shooting spree that killed 13.
April 3, 2009 — Binghamton, N.Y. — 14 dead (including gunman), 4 injured. Jiverly Wong, a naturalized immigrant from Vietnam, gunned down students and employees at the American Civic Association, where he had been taking English lessons.
March 10, 2009 — Geneva County, Ala. — 11 dead (including gunman), 6 injured. A 28-year-old man killed his mother then drove ten miles to kill several members of his extended family, neighbors and a bystander. The victims ranged in age from 18 months to 74 years old. (No public comments from the president.)
March 29, 2009 — Carthage, N.C. — 8 dead, 3 injured (including gunman). A gunman opened fire on a nursing home, killing seven residents and a nurse. (No public comments from the president.) source – HuffPost
CHECK OUT THE NEW GOOGLE+ PAGE!
Has anyone else noticed when compiling the data for mass shootings (where four or more people have died as per FBI definition of mass murder) under the last five presidents, clearly there's a startling outlier under the Obama administration. Largest push for gun control in American history just so happens to coincide at a time when there are more mass shootings than ever before in American history. What are the odds? We're talking a 700+% increase in random mass shootings where four or more people are killed just since George W. Bush was president…
FOR MORE NEWS BY VOICE OF REASON CLICK HERE!
CHECK OUT THE NEW GOOGLE+ PAGE!
The contemporary term False flag describes covert operations that are designed to deceive in such a way that the operations appear as though they are being carried out by entities, groups, or nations other than those who actually planned and executed them. Operations carried out during peace-time by civilian organizations, as well as covert government agencies, may (by extension) be called false flag operations if they seek to hide the real organization behind an operation. What do we KNOW? We KNOW Obama's has hatred of guns goes back decades, and Michelle Obama was dumb enough to say publicly Obama will confiscate all guns before leaving office. Is there really a question whether Obama is behind some of this? Have you EVER known Obama to let something go he believes in? Furthermore, when Obama cannot achieve something legally, has that ever stopped him? I rest my case, but the video above goes deeper…
FOR MORE ON BARACK COMING FOR OUR GUNS!
Mainstream Media Admits: Gun "Control" Equals Gun "Confiscation"
New Court Ruling Paves Way For Mass Gun Confiscation In America
Obama Arms ISIS, Pushes Gun Control on Very Same Day
Patriots Guard Home of Veteran to Stop VA From Confiscating His Guns
Never Letting a Crisis Go To Waste; The Gun Gestapo Recruits Hillary
Obama to Limit Free Speech About Guns Now
2nd Amendment in the Hands of the U.N. – Obama Does Believe in Guns
Veterans: Obama is Coming For Your Guns, and he Will Get Them!
Congress Won't Pass Gun Legislation: Obama Will Start BANNING Bullets
How Will You Respond When They Come For YOUR Guns? Better Think it Through!
If They Come For Your Guns, Do You Have A Responsibility To Fight?
Michelle Obama Promises To Confiscate All Firearms Before Leaving the White House
U.S. Military Told to Prepare to Fight Fellow Americans
Homeland Security Drones Looking For Civilians Carrying Guns
MUST GO VIRAL! – PLEASE SHARE WITH EVERY PERSON YOU KNOW!!!!!
ARMY TOLD TO USE LETHAL FORCE AGAINST "UNARMED U.S. CIVILIANS"
MUST READ!!! – If You Won't Fight, You'd Better Start Running!
The "New Army Manual" – Does It Destroy the 1st Amendment?
The Government is Seriously Cracking Down on Preppers
State Deputy on Tape Saying MRAP Vehicles To Fight Legal Gun Owners
The Government is AFRAID of VETERANS & They Should Be!
SEAL Veteran: Military Leaders Being Asked if They Will Disarm Americans
10 Things That Would Start an Armed Revolt in America
What Would a Second American Revolution Look Like?
4 Star General Warns Marines About New Battleground - The Homeland
Bone Chilling Interview With DHS Security Official – Obama Will NOT Rest
We are Preparing for Massive Civil War, Says DHS Informant
Leaked DOJ Memo: Government Plans To Outlaw and Confiscate All Guns…
Leaked Video: FEMA Preparing Military Police For Gun Confiscation
FOR MORE NEWS BY VOICE OF REASON CLICK HERE!
CHECK OUT THE NEW GOOGLE+ PAGE!
BE SURE TO GO MY PROFILE'S BELOW AT OTHER SOCIAL MEDIA:
FACEBOOK | TWITTER | PINTEREST | STUMBLE UPON | TUMBLER
THE VOICE OF REASON