http://simplyjews.blogspot.com/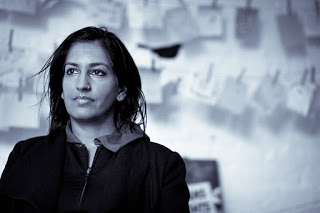 Jasbir K. Puar is a US-based queer theorist, presently an associate professor in the Department of Women's and Gender Studies at Rutgers University. Puar is author of Terrorist Assemblages: Homonationalism in Queer Times. Puar is a proponent of divestment from Israel and a board member of the US Campaign for the Academic and Cultural Boycott of Israel.
This is not about politics, Zionism or even pseudo-sciences. All this and more you can find in the article Jasbir Puar is another Israel-hating academic fraud By Elder of Ziyon, which you should read in its entirety.
I would like to pick and choose, and here is my favorite paragraph of the lady's writings:

In this project I attempt to articulate what I am calling the computational sovereignty of Israeli settler colonialism: occupation and apartheid. This twerking of sovereignties stands as a challenge to the literatures of biopolitics, deploying a notion of population beyond the human, non-human, animal frame. How do objects compose a population? How do toxicities populate and become populations?
Of course I cannot shake off the feeling that the spirit of another grand lady of (pseudo)-sciences, one Judith Butler, roams freely among the choice members of American academia and possesses them at will. But in this case the spirit does an even more thorough job, inspiring the possessed to invent a cute neologism, such as this adorable use of the word "twerking" in otherwise impenetrable gobbledygook of quasi-academic verbiage.
I even had a thought of proposing to Ms Puar to switch to twerking instead of producing such prodigious volumes of crapola. Wouldn't something like this be vastly better?
But then – I don't really believe she would be any good at that…
http://simplyjews.blogspot.com/
Source:
http://simplyjews.blogspot.com/2016/05/jasbir-k-puar-twerking-science.html