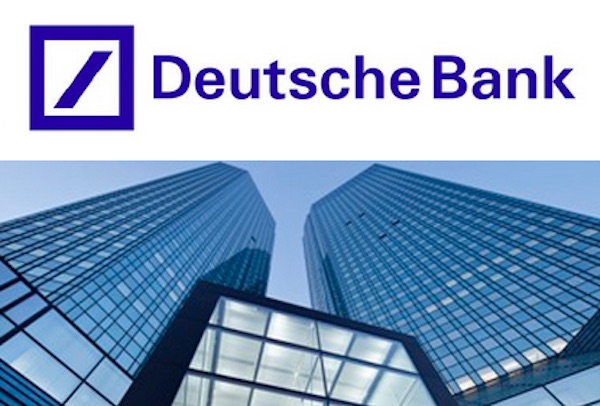 Just before the weekend, Dr. Jim Willie made time for one last interview with TF Metals right before the 4th of July weekend. Slightly different than most of the interviews you hear, the format in this instance was such that subscribers got to ask the majority of the questions that concerned them, and the end result is 90 minutes of in your face Jim Willie that you won't want to miss! As usual, the interview was great fun, extremely informative, and Jim answered questions on at least 20 different topics.
Before the subscribers are ready with their questions, the first 20 minutes Dr. Willie goes on a wild rant that dealt primarily with Deutsche Bank, a topic that has become all too familiar, and what he expects the impact of Brexit to be on Great Britain, NATO, and ultimately the relationship between the U.S. and Britain.
ON DEUTSCHE BANK:
On the topic of Deutsche Bank, Jim begins by saying that the head of the IMF said earlier this week that Deutsche Bank poses a systemic risks to the global banking system as a whole, however we already knew that (or anyone who listens to Dr. Willie knew that anyway). Dr. Willie adds a few key pieces of information.
GET YOUR FREE GUIDE TO SURVIVING MARTIAL LAW HERE
BE SURE TO CHECK THELASTGREATSTAND.COM FOR SURVIVAL GEAR!
First, Dr. Willie said if you chart the stock decline of Deutsche Bank, and superimpose it with that of Lehman Brothers during their decline of 2007-2008, you'd be able to see they are almost a perfect match, which gives Deutsche Bank just a few months at best before going belly up. What he said next should chill everyone banking in Italy, Portugal, and Spain to the bone.
The same person who tried to give a valuation to Lehman in 2007 recently did the same for Deutsche Bank. Despite best efforts to be conservative in 2007, the estimates were off by 250%. In other words Lehman was valued at 2.5x less than originally projected when the dust settled. Using the same conservative formula, Deutsche Bank's current valuation puts it at -$400 Billion. If the same factor of 2.5x is applied, it means Deutsche Bank is a $1 Trillion Dollar ticking time bomb.
From there, Dr. Willie said there is good news and bad news. The good news is, Deutsche Bank will most likely be propped up, and deemed too big to fail. The problem he explains, is that a policy of too big to fail banks only does one thing: saves the banks and destroys the economy. Furthermore, Dr. Willie said if Deutsche Bank is propped up, more than likely Italian banks would fail, which would in turn cause Deutsche to collapse. All in all, he said the prognosis is god awful!
BRITAIN'S DECISION TO LEAVE THE EUROPEAN UNION:
As for Great Britain's decision to leave the European Union, Dr. Willie brought up some fascinating possibilities. He explained how just recently China released a new issue of bonds denominated in RMB from London for the first time ever. Dr. Willie suggested Britain's breakaway from the EU would free them up to negotiate their own trade deals with Russia, and likewise with China. When asked how that might impact NATO, Dr. Willie was quick to point out that the Brits have absolutely zero desire to go to war with Russia.
Dr. Willie has also spoken at length about Germany getting close with Russia. Personally, I can't help but remember what I said when fighting first broke out in Syria several years ago. As far back as that was, I envisioned a World War III scenario where the U.S. had no allies thanks to the failed foreign policy of Barack Obama. Obviously we're not there yet, but from the sound of it, we're moving in that direction.
GET YOUR FREE GUIDE TO SURVIVING MARTIAL LAW HERE
BE SURE TO CHECK THELASTGREATSTAND.COM FOR SURVIVAL GEAR!
IF YOU READ NOTHING ELSE, THE FOLLOWING POSTS ARE ESSENTIAL:
How Will the U.S. Conduct Trade With Worthless U.S. Dollars and No Gold? (Video)
Why Did Illuminated George Soros Liquidate 37% of His Stock to Buy Gold? (Video)
What Exactly Does Global Economic Collapse Coming May 2016 Mean?
Dr. Willie and Peter Schiff Together: Total Currency Collapse and Reset Coming
Economic Implosion Will Lead to Stock Market at 5,000 by 2017 Forecaster Says
When Obama Suspends 2016 Election, a Guide to Survive Martial Law (Videos)
FOR MORE GREAT MATERIAL FROM JIM WILLIE:
Dr. Jim Willie: The Corruption Cannot Stop the Masses! 3 Part Interview (Videos)
Dr. Jim Willie: Brexit Result Could Detonate Deutsche Bank!
Dr. Jim Willie: We've Got "Educated People" That Are Stupid As Bedposts
Dr. Jim Willie: Death Sentence for Banks, Businesses, Families, and the US Dollar
Dr. Jim Willie: There Are No Prisoners Taken in The Global Money War
Dr. Jim Willie: Deutsche Bank Could Very Well Collapse Entire Banking System
Dr. Jim Willie: 7 Signs U.S. Economy Collapses; Gold Will Soon Back US Dollar!
Dr. Jim Willie: "Violent Gold and Silver Breakout" Coming to Economic Markets!
Dr. Jim Willie: Western Economic Markets Collapsing; Eurasian Markets Rise
Dr. Jim Willie: The Dollar is Dead! Even Mainstream Media Realizes it!
Dr. Jim Willie – Secret Meeting at the G20 to Take Down the US Dollar
Dr. Jim Willie: Financial Deals Happening Behind Closed Doors; US Not Invited
Jim Willie: "The Quickening" is Approaching Global Economic Markets
Jim Willie: U.S. Dollar is Now a Matter of National Security Due to Poor Decisions
FOR MORE GREAT MATERIAL FROM PETER SCHIFF:
Peter Schiff: "Trump's Very Massive Recession May Have Already Begun"
Peter Schiff: Americans Fear Future With 'Dead-End Economy, Crap Jobs, and Awful Wages'
Peter Schiff: "Can Donald Trump Really Make America Great Again?"
Peter Schiff: Dollar Collapse Will Be the Single Biggest Event In Human History
Peter Schiff: Obama "Peddling Fiction" As Unemployed Tops 100 Million People
Peter Schiff: Here Comes the Great, Great, Great, Great Recession!
Peter Schiff: "Whatever Obama Was Calling Recovery… is OVER!"
CNBC Actually Admits Peter Schiff Was Right… Again (Video)
Peter Schiff and Reagan Advisor: Complete Economic Collapse Immediately Ahead
Peter Schiff: Warning! Economic Storm Clouds Ready to Rain
Peter Schiff: Death of the US Dollar Is Imminent; Fed Out of Options
SUBSCRIBE TO THE TOP STORIES OF THE WEEK IN THE NEWSLETTER HERE
FACEBOOK | GOOGLE+ | TWITTER | PINTEREST | STUMBLE UPON | TUMBLR
FREE GUIDE TO ECONOMIC COLLAPSE OR MARTIAL LAW…
AT THE OFFICIAL BLOG SITE BELOW!
FACEBOOK | GOOGLE+ | TWITTER | PINTEREST | STUMBLE UPON | TUMBLER