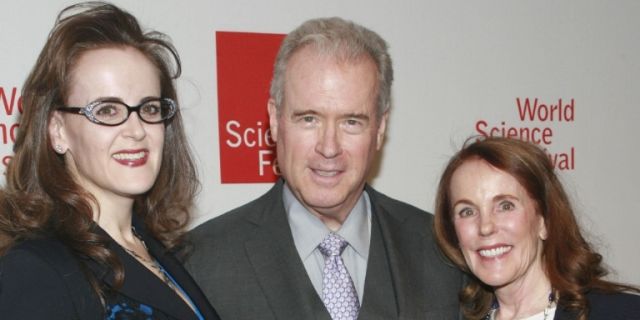 The owners of Breitbart News, the far-right nationalist website that White House Chief Strategist Steve Bannon ran until he joined the Trump campaign last summer, were revealed for the first time on Friday. According to Buzzfeed's Steve Perlberg, who live-tweeted a Standing Committee of the Senate Press Gallery, the site's CEO Larry Solov appeared as part of a process to secure press credentials for the site.
During the hearing, Solov revealed he owns the site, along with founder Andrew Breitbart's widow, Susie Breitbart, and the Mercers, a family of Republican megadonors.
Robert Mercer, the family's patriarch, is a hedge fund tycoon who has put tens of millions of dollars towards conservative candidates and causes. He's never been interviewed about his political interests, telling the Wall Street Journal in 2010, "I'm happy going through my life without saying anything to anybody."
It's one of his three daughters, Rebekah, who has become the face of the family. She often serves on boards of conservative organizations the family supports, including the Heritage Foundation. And, most significantly, she helped steer Donald Trump's 16-person transition executive committee. Before her foray into politics, Rebekah owned a Manhattan bakery with her two sisters.
It had previously been reported that Rebekah was instrumental in bringing together Trump and two of his most trusted advisors, Kellyanne Conway and Bannon. It seems the Mercer/Bannon relationship started around 2011 when the Mercers reportedly invested $10 million in Breitbart when it was a relatively unknown website. But the news that the family is actually part owners is brand-new. The ownership had, until now, been a closely held secret, with Solov admitting at the hearing last week: "I want to disclose as little as possible about financial and ownership structure."
The only reason the names came out is because Breitbart is making a case for White House press credentials. Before that happens, the committee is demanding proof of Bannon's resignation.
The press gallery rules state that in order to qualify, a reporter cannot be "engaged in any lobbying or paid advocacy, advertising, publicity or promotion work for any individual, political party, corporation, organization, or agency of the U.S. Government, or in prosecuting any claim before Congress or any federal government department, and will not do so while a member of the Daily Press Galleries. Applicants' publications must be editorially independent of any institution, foundation or interest group that lobbies the federal government, or that is not principally a general news organization."
Source TownandCountryMag.com via Kate Storey
Check out more contributions by Jeffery Pritchett ranging from UFO to Bigfoot to Paranormal to Prophecy
~~~~~
Most people who use social media have figured out that Facebook and Google are in cahoots with the government. For those who are well aware of the issues, it's high time you switched over to Seen.life. It is a website that is similar to Facebook but without all the censorship.
Firearm friendly, you may buy sell or trade anything allowed by site TOS rules.