Throughout the month of June 2015, the two brightest planets in the night sky, Venus and Jupiter, are going to converge a jaw-dropping close encounter.
When the sun goes down step outside and look west.
You don't have to wait until the sky fades to black.
Venus and Jupiter are so bright, you can see them shining through the twilight.The planets are especially beautiful when they surrounded by the cobalt hue of the early evening sky.
Every night in June the separation between Venus and Jupiter will visibly shrink.
One good night to check on their progress is June 12th. After dark, scan the sky around Venus with binoculars.
You can see the Beehive cluster, Venus will be oassing right by it
On June 18th, Venus and Jupiter will be only 6 degrees apart
On June 19th, something exciting happens:
the crescent Moon joins the show
On that evening, the Moon, Venus and Jupiter will form a bright isosceles triangle in the sunset sky. Isosceles means that two sides of the triangle are the same length
One night later, on June 20th, the vertices rearrange themselves, Forming yet another isosceles triangle
The nights of June 19th and 20th, by the way, are good to look through a telescope. In fact, even a small telescope will show you the fat crescent of Venus, the cloudtops and largest moons of Jupiter and the rugged terrain of Earth's own Moon.
Swing your optics around the triangle for a fast-paced heavenly show
Also visible is Earthshine-that is, Illumination of the night side of the Moon provided by sunlight reflected from Earth. This is sometimes called "the Old Moon in the New Moon's arms"
It's a beautiful sight - no telescope required
The main event occurs on June 30th
On that night Venus and Jupiter will be a jaw-dropping 1/3rd of degree apart
That's less than the diameter of a full Moon http://earthsky.org/tonight/watch-the-great-race-of-venus-and-jupiter-in-june-2015
Here's hopping you spend a lot of time under the stars and planets in June
Enjoy the Sunset sky Show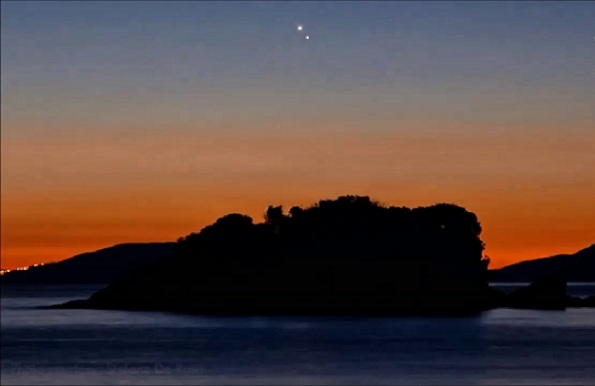 Image Credit: NASA