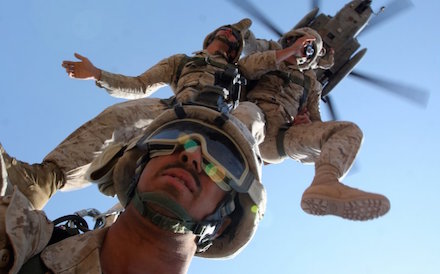 Before It's News Exclusive Report
Breaking: US troops have covertly entered an armed, boots-on-the-ground incursion in Syria where they are at risk, Dupré's insider sources revealed to her Thursday. Within the month, this covert miliary action will become an overt incursion. U.S. troops involved believe that the aim of this operation is not only to oust Syrian President Bashar Hafez al-Assad, but also to impact the U.S. presidential election. This is despite Hillary Clinton denying a planned large, on-the-ground troop presence in Syria and the action engendering and driving more Syrian refugees to secondary inhumane persecution; and the action creating more chaos and terrorism, as the U.S. did in Iraq and Libya.
Also Watch: Libya War Video Uncensored: Obama, Clinton War Crimes and Photo John Kerry Did NOT Want World To See Regarding Syria
"A Combat Surgical Hospital (CSH) has been detached to NW Iraq in anticipation of an overt armed incursion into Syria within a month," the source said. "It is intended to affect the US election."
Fourteen JSOC (Joint Special Operations Command) "advisors" have been trapped in Eastern Aleppo amid the recent Turkish incursion into the area, the source told Dupré. While America's elite hunter-killer forces JSOC counterterrorist mission is classified, they are viewed in and out of the US as modern imperialist forces.
Deja Vu Iraq, Libya… Nothing Humanittarian About Syrian Strikes
The stated purpose of the upcoming overt incursion will be "hot pursuit" of ISIS/ISIL/IS/Daesh in Syria. The real mission, however, will be to link with some of the troops caught in the crossfire and challenge mainly Russia/Syria and to a limited degree, Turkey.
A Syrian Arab Air Force (SAAF) bombing attack in Al Hasakah (targeting Kurds) was where another US force "just happened to be" stationed.
(Photo Above: Sgt. Alex C. Sauceda. Courtesy Department of Defense)
Preparing for upscaling the Syrian conflict, the U.S. propaganda machine has led Americans to focus on shortcomings of Assad rather than US militarism. This ploy is to encourage Clinton's escalation of war on Syria as a so-called "humanitarian war," an Orwellian oxymoron.
"It seems to be a very serious tactical error to focus on Assad rather than US militarism, unless you want US escalation," stated the head of Popular Resistance, Shift Wealth: Economic Democracy Its Our Economy, and Democratize the Media Clearing the FOG (Forces of Greed) Radio, Kevin Zeese in an email this week.
"The US loves the excuse of a humanitarian war — it is the cover they need for modern imperialism and empire," Zeese wrote.
A "humanitarian war' also is the cover that the US needs to use to escalate violence, thus justifying its permanent war of terror. Noam Chomsky calls this US military approach the "sledge hammer approach," explaining this is how the U.S. created ISIS and will continue creating more extremist groups that it will fight, as it reinforces the fear-based propaganda machine.
Bloomberg reported Friday, "The U.S. and Russia are intensifying efforts to find common ground in Syria, where multiple countries and different extremist and rebel groups have been battling each other for 5 1/2 years…. Russia entered the conflict last September on behalf of Assad, launching strikes by air and sea in its first military foray outside the former Soviet Union since it collapsed a quarter century ago."
Hundreds of thousands have died in the Syrian conflict. Millions more have fled as refugees, only to be persecuted where they flee in their struggle to survive what is ultimately U.S. driven imperialist chaos and destruction.
Friday, the Intercept backed Chomsky's explaination about how the US escalates violence. "Five years after the start of Syria's uprising, the Turkish military directly entered the fray last week, sending troops to occupy the northern Syrian town of Jarablus, previously held by the militant group the Islamic State," the Intercept reports in U.S. Strategy to Fight ISIS Has Set Off a New Conflict in Syria. "Turkey's intervention represents a significant escalation of the conflict, as well as a sign that the country is likely to take a more aggressive approach to foreign policy following July's failed military coup and subsequent purge."
Turkey's intervention indicates the U.S. strategy of empowering Kurdish groups to fight the Islamic State in Syria has helped trigger an entirely new conflict, this time between U.S.-backed militias and a NATO ally, according to the Intercept.
As Bloomberg reported Friday that the U.S. is ultimately seeking to oust Assad, Zeese wrote, "Americans are exceptionalists, falsely thinking they have a right to choose a government for Syria, Libya, Iraq etc."
The US has proposed a Joint Implementation Group near Amman, Jordan where the U.S. and Russia would coordinate air strikes against "Syrian rebel groups that the two countries agree are terrorists," according to the text of a proposal the Washington Post obtained.
Most countries in Syria are there because they are US allies, although some have their own interests. Russia seems to be involved to balance the US. It is, however, the US that seems to be the instigator of military escalation.
Libya and Iraq were advanced countries with strong social safety nets. Both are now chaotic governments with their people suffering, according to Zeese.
"The US removal of Ghaddafi and Saddam made matters far worse," Zeese warns. "The same would happen in Syria."
"The Turkish intervention is a game changer in northern Syria, similar to the Russian intervention last year," says Hassan Hassan, a senior fellow at the D.C.-based Tahrir Institute for Middle East Policy. "The rebels are more confident in Turkish help now and they'll likely become more forceful in the way they fight on other fronts.
"Washington wanted the opposition to become more involved in the fight against ISIS, and this is happening."
Related Articles by Deborah Dupré
Libya War Video Uncensored: Obama, Clinton War Crimes
Child Refugee Border Crisis Outrage Misdirected. It's US Foreign Policy-Driven
Photo John Kerry Did NOT Want World To See Regarding Syria
Highly Disturbing Leaked Photos Of 'Ship And Dump' Children. Whose Fault? Stunning Answer
100000 Iranian Volunteers Now In Syria To Fight US If Obama Strikes