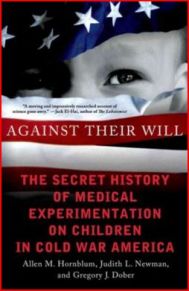 Copyright 2017, InterAmerica, Inc.
The book Against Their Will: The Secret History of Medical Experimentation on Children in Cold War America by Allen M. Hornblum, Judith L. Newman, and Gregory J. Dober [Palgrave and MacMillan, NY, 2013] is a book I've mentioned in the past, one that provides accounts of how the medical profession used children for various, horrendous experiments, mostly defective children, as early as the 1920s.
Nick has a new book coming, as noted here a few days ago, elaborating on his original tome, Body Snatchers in the Desert, which is a possible explanation for the Roswell incident.
While many think Nick is out on a limb with his suggestion, the book cited above gives support for his intriguing conjecture.
(I know none of you will get the book cited but I do hope you will give Nick's new book a read, to see how reasonable his views are.)
RR
http://ufocon.blogspot.com – The UFO Iconoclast(s)
Source:
http://ufocon.blogspot.com/2017/04/against-their-will-support-for-nick.html