by Ben Schreckinger
(abridged by henrymakow.com)
Starting in 1999, Putin enlisted two of his closest confidants, the oligarchs Lev Leviev and Roman Abramovich, who would go on to become Chabad's biggest patrons worldwide, to create the Federation of Jewish Communities of Russia under the leadership of Chabad rabbi Berel Lazar, who would come to be known as "Putin's rabbi."
A few years later, Trump would seek out Russian projects and capital by joining forces with a partnership called Bayrock-Sapir, led by Soviet emigres Tevfik Arif, Felix Sater and Tamir Sapir–who maintain close ties to Chabad. The company's ventures would lead to multiple lawsuits alleging fraud and a criminal investigation of a condo project in Manhattan.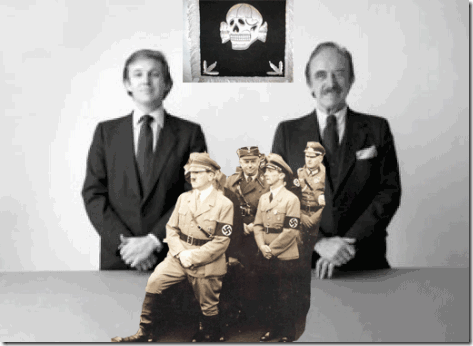 (Crossed hands, Donald and Dad. "Donald Trump's father Frederick C Drumpf was a close associate of the "corrupt powerful New York political fixer and power broker attorney, Abraham (Bunny) Lindenbaum", a top Zionist." Bunny Lindenbaum, and his son, Sandy Lindenbaum were high priests of the secret ultra orthodox Lubavitch Movement.")
Meanwhile, the links between Trump and Chabad kept piling up. In 2007, Trump hosted the wedding of Sapir's daughter and Leviev's right-hand man at Mar-a-Lago, his Palm Beach resort. A few months after the ceremony, Leviev met Trump to discuss potential deals in Moscow and then hosted a bris for the new couple's first son at the holiest site in Chabad Judaism. Trump attended the bris along with Kushner, who would go on to buy a $300 million building from Leviev and marry Ivanka Trump, who would form a close relationship with Abramovich's wife Dasha Zhukova. Zhukova would host the power couple in Russia in 2014 and reportedly attend Trump's inauguration as their guest.
With the help of this trans-Atlantic diaspora and some globetrotting real estate moguls, Trump Tower and Moscow's Red Square can feel at times like part of the same tight-knit neighborhood. Now, with Trump in the Oval Office having proclaimed his desire to reorient the global order around improved U.S. relations with Putin's government–and as the FBI probes the possibility of improper coordination between Trump associates and the Kremlin–that small world has suddenly taken on outsized importance.
TRUMP'S KIND OF JEWS
Founded in Lithuania in 1775, the Chabad-Lubavitch movement today has adherents numbering in the five, or perhaps six, figures….
Despite its small size, Chabad has grown to become the most sprawling Jewish institution in the world, with a presence in over 1,000 far-flung cities, including locales like Kathmandu and Hanoi with few full-time Jewish residents. The movement is known for these outposts, called Chabad houses, which function as community centers and are open to all Jews. "Take any forsaken city in the world, you have a McDonald's and a Chabad house," explained Ronn Torossian, a Jewish public relations executive in New York.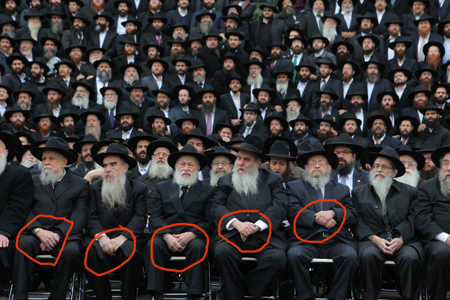 Chabad adherents differ from other Hasidic Jews on numerous small points of custom, including the tendency of Chabad men to wear fedoras instead of fur hats. Many adherents believe that the movement's last living leader, Rabbi Menachem Mendel Schneerson, who died in 1994, is the messiah and some believe he is still alive. Chabad followers are also, according to Klein, "remarkable" fundraisers.
As the closest thing the Jewish world has to evangelism–much of its work is dedicated to making Jews around the world more involved in Judaism–Chabad serves many more Jews who are not full-on adherents.
According to Boteach, a prominent rabbi in New Jersey and a longtime friend of Democratic Sen. Corey Booker, Chabad offers Jews a third way of relating to their religious identity. "You have three choices as a Jew," he explained. "You can assimilate and not be very affiliated. You can be religious and Orthodox, or there's sort of a third possibility that Chabad offers for people who don't want to go the full Orthodox route but do want to stay on the traditional spectrum."
This third way may explain the affinity Trump has found with a number of Chabad enthusiasts — Jews who shun liberal reform Judaism in favor of traditionalism but are not strictly devout.
"It's not a surprise that Trump-minded people are involved with Chabad," said Torossian. "Chabad is a place that tough, strong Jews feel comfortable. Chabad is a non-judgmental place where people that are not traditional and not by-the-book feel comfortable."
He summarized the Chabad attitude, which is less strict than the Orthodox one, as, "If you can't keep all of the commandments, keep as many as you can."
Torossian, who coincidentally said he is Sater's friend and PR rep, also explained that this balance is particularly appealing to Jews from the former Soviet Union, who appreciate its combination of traditional trappings with a lenient attitude toward observance. "All Russian Jews go to Chabad," he said. "Russian Jews are not comfortable in a reform synagogue."
PUTIN'S KIND OF JEWS
The Russian state's embrace of Chabad happened, like many things in Putin's Russia, as the result of a factional power struggle.
In 1999, soon after he became prime minister, Putin enlisted his two of his closest confidants, Roman Abramovich and Lev Leviev, to create the Federation of Russian Jewish Communities. Its purpose was to undermine the existing umbrella for Russia's Jewish civil society, the Russian Jewish Congress, led by oligarch Vladimir Gusinsky, a potential threat to Putin and President Boris Yeltsin. A year later, Gusinsky was arrested by Putin's government and forced into exile.
At the time, Russia already had a chief rabbi as recognized by the Russian Jewish Congress, Adolf Shayevich. But Abramovich and Leviev installed Chabad rabbi Berel Lazar at the head of their rival organization. The Kremlin removed Shayevich from its religious affairs council, and ever since it has instead recognized Lazar as Russia's chief rabbi, leaving the country with two rival claimants to the title.
The Putin-Chabad alliance has reaped benefits for both sides. Under Putin, anti-Semitism has been officially discouraged, a break from centuries of discrimination and pogroms, and the government has come to embrace a state-sanctioned version of Jewish identity as a welcome part of the nation.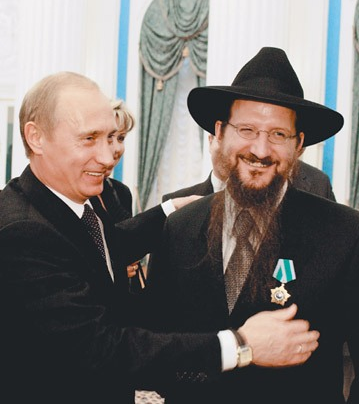 As Putin has consolidated his control of Russia, Lazar has come to be known derisively as "Putin's rabbi." He has escorted the Russian leader to Jerusalem's Western Wall and attended the opening ceremony of the Sochi Olympics, Putin's pet project, on the Jewish Sabbath. Putin returned that favor by arranging for Lazar to enter the stadium without submitting to security checks that would have broken the rules for observing Shabbat.
In 2013, a $50 million Jewish Museum and Tolerance Center opened in Moscow under the auspices of Chabad and with funding from Abramovich. Putin donated a month of his salary to the project while the Federal Security Service, the successor to the KGB, pitched in by offering relevant documents from its archives.
In 2014, Lazar was the only Jewish leader present at Putin's triumphal announcement of the annexation of Crimea.
But the rabbi has paid a price for his loyalty to Putin. Since the annexation, his continued support for the Russian autocrat has caused a rift with Chabad leaders in Ukraine. And for years, the Russian government has defied an American court order to turn over a trove of Chabad texts called the "Schneerson Library" to the Chabad Lubavitch headquarters in Crown Heights, Brooklyn. Shortly after the opening of the tolerance museum, Putin ordered the collection transferred there instead. The move made Lazar the custodian of a prized collection that his Brooklyn comrades believe is rightfully theirs.
If Lazar has any qualms about his role in all the intra-Chabad drama, he hasn't let on publicly. "Challenging the government is not the Jewish way," the rabbi said in 2015.